Planning to explore Pakistan, here are 30+ best places to visit in Pakistan where you should go and make your visit to Pakistan memorable.
Pakistan is a country with great potential of tourism. Tourist attractions range from beautiful natural elements in the Northern areas of Pakistan to hundreds of cultural and historical places in cities like Karachi, Lahore, Islamabad, the Nation's capital, Quetta and so on.
However, for a past few years, Pakistan has not been able to meet its potential tourist numbers due to several unfortunate reasons. Anyway, Pakistan is home to many such things which the tourists would love to see and here, we will be discussing a few of those " famous places in Pakistan".
Best Places to Visit in Pakistan
1. Badshahi Mosque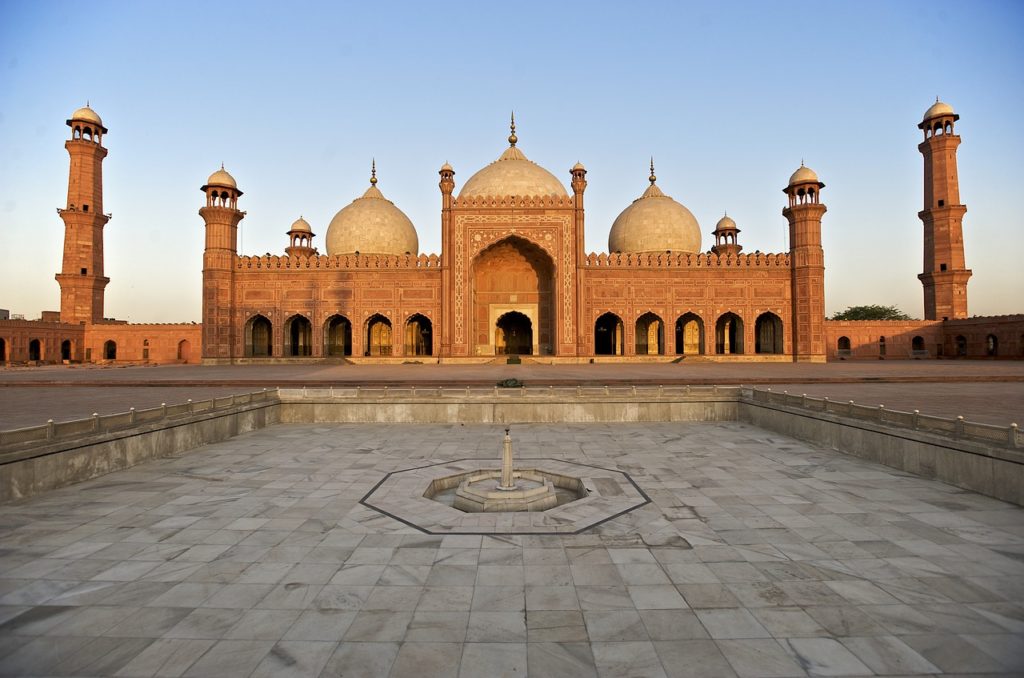 Badshahi mosque is one of the best places to visit in Pakistan. It is situated in Lahore, the capital of Punjab province of Pakistan.
The mosque was built in the Mughal era under the rule of Emperor Aurangzeb. It is a huge mosque with a capacity of 56,000 people at a single time.
The architecture, obviously of ancient Mughal era, is of utmost strength and beauty. It attracts tourists from around the world and around the country too.
2. Lahore Fort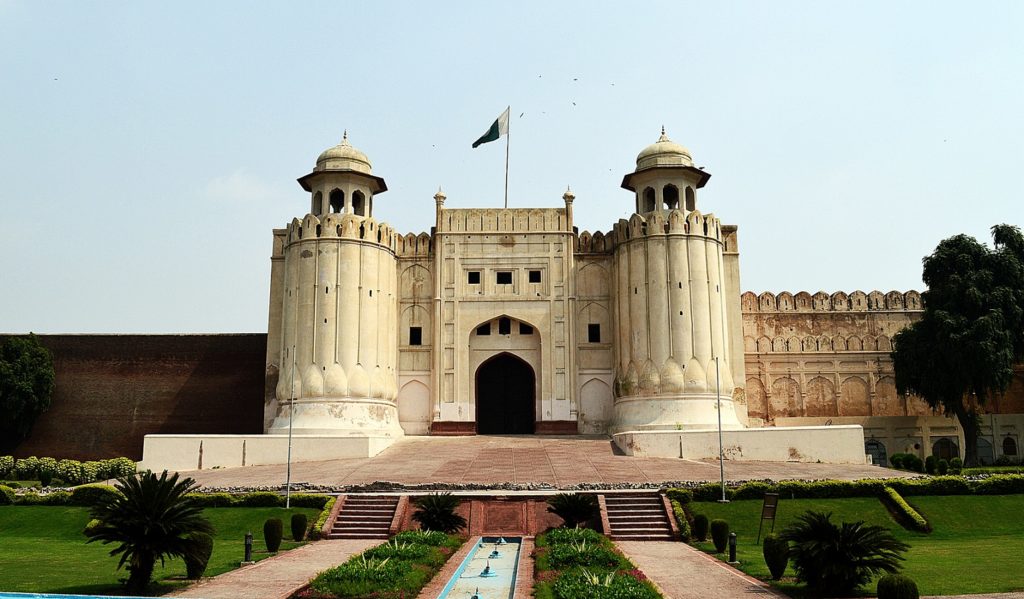 Lahore fort, or Shahi Qila, is a citadel in Lahore and one of the top travel destinations in Pakistan. It is a great attraction in Lahore. The construction of Lahore fort dates back to as far as the eleventh century, however, it has been rebuilt multiple times after that.
Emperor Akbar added architectural and artistic motifs on the fort that show both Muslims' and Hindus' designs. Then, Emperor Shah Jahan applied luxurious marbles in the fort whereas Emperor Aurangzeb built the famous Alamgiri Gate.
If you are visiting Lahore, this place should be in your list of best places to visit in Pakistan.
3. Minar-e-Pakistan
Very near to Badshahi mosque is the famous minaret named Minar-e-Pakistan. If you are in Lahore, then Minar-e-Pakistan should be in your list of best places to visit in Pakistan.
It has a very important historical background as the tower is built at the exact point where the first ever idea of separate nations for Muslims and Hindus was delivered. The Lahore Resolution was passed at this point by the All India Muslim League in 1940.
4. Mausoleum of Quaid-e-Azam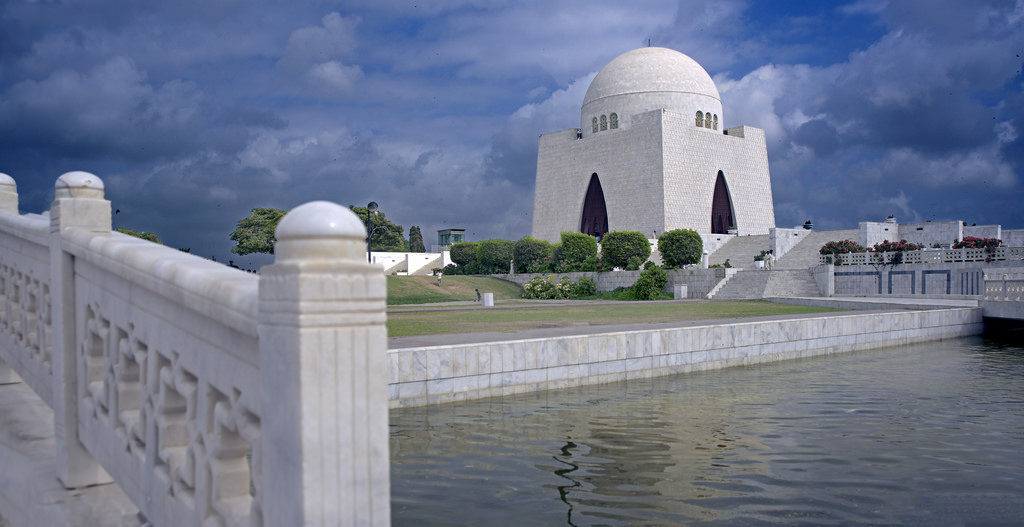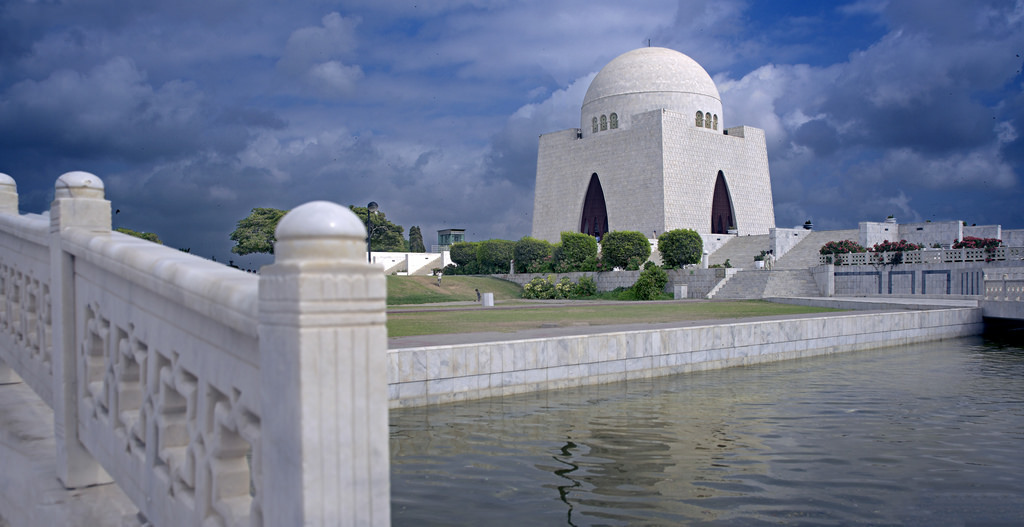 In the list of best places to visit in Pakistan, Mizar e Quaid should be in your list. It is Located in the former capital of Pakistan (Karachi), it is the tomb of the founder of the nation of Pakistan.
The tomb is surrounded by vast area of family park where people come from all over the country as well as from other countries to enjoy their time and pay gratitude to the founder of the nation who rests there.
5. Hunza Valley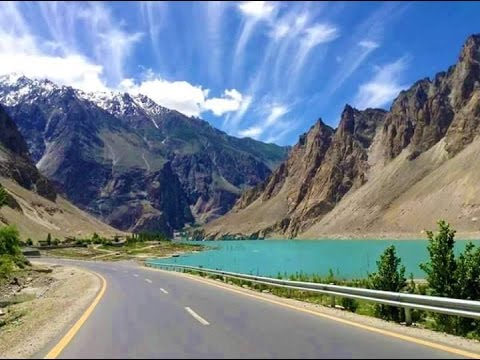 Pakistan is bestowed by God with a great number of places with immense natural beauty and Hunza is one of those. The valley is located in the Gilgit district. The snow-covered peaks, sone-covered leaves and lush green grass at certain times of the year give the place a spectacular look.
If you are a planning to come to Pakistan, then Hunza is a must visit place as this is top holiday destinations in Pakistan.
6. Makli Necropolises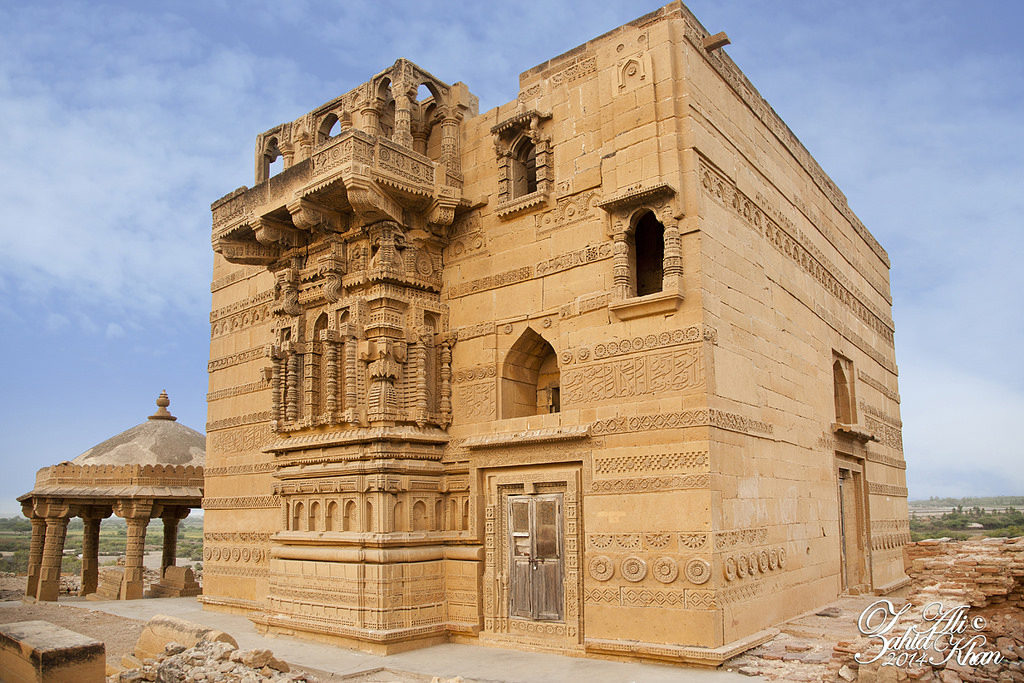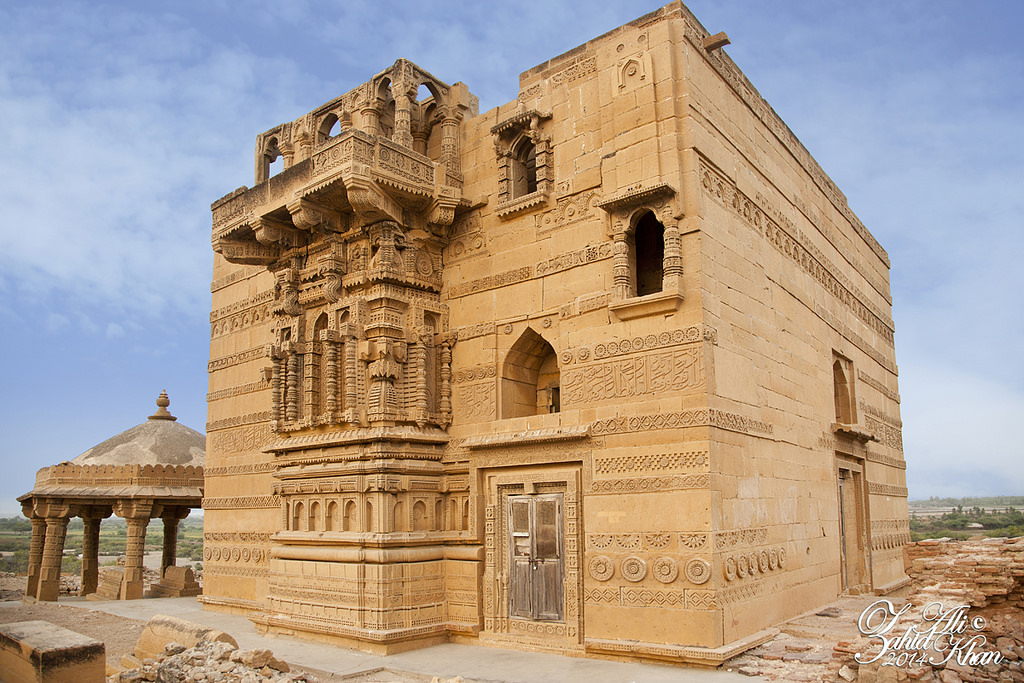 Makli Necropolises is one of the largest funerary sites in the world and was a UNESCO World heritage site in 1891. It is an excellent proof of Sindhi civilization of ancient times. It houses around 500,000 to 1 million tombs and includes several tombs of Sufi saints and scholars.
7. Lake Saiful Muluk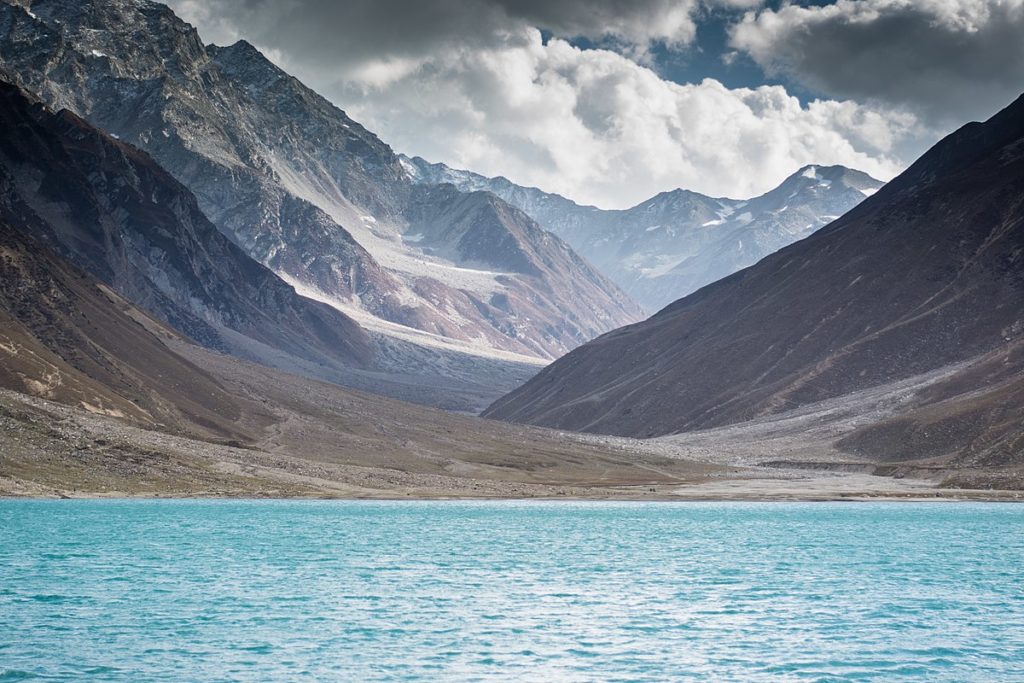 This lake is one of the most beautiful places in Pakistan and also in the world. Even it is one of the best things to do in Pakistan.
The lake is very near to Naran, another beautiful tourist attraction in the northern areas of Pakistan. The lake has clear, blue and cold water and the lake has a beautiful backdrop of snow-covered peaks. It is a perfect picturesque site which can feature your desktop wallpaper.
8. Ansoo Lake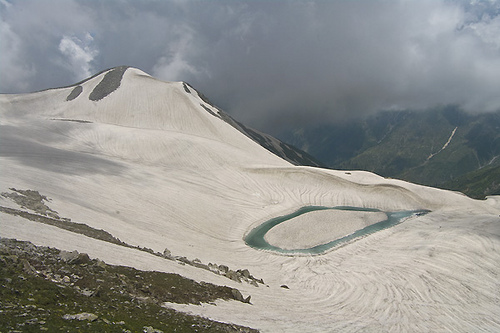 Ansoo means tear, and the lake is literally in the shape of a tear drop or a water drop. It is located in the Kaghan Valley. It is tough to get to the lake which also explains why the lake was undiscovered even by locals before 1993 when it was discovered by Pakistan Air Force pilots who were flying low in the area.
9. Khaplu Fort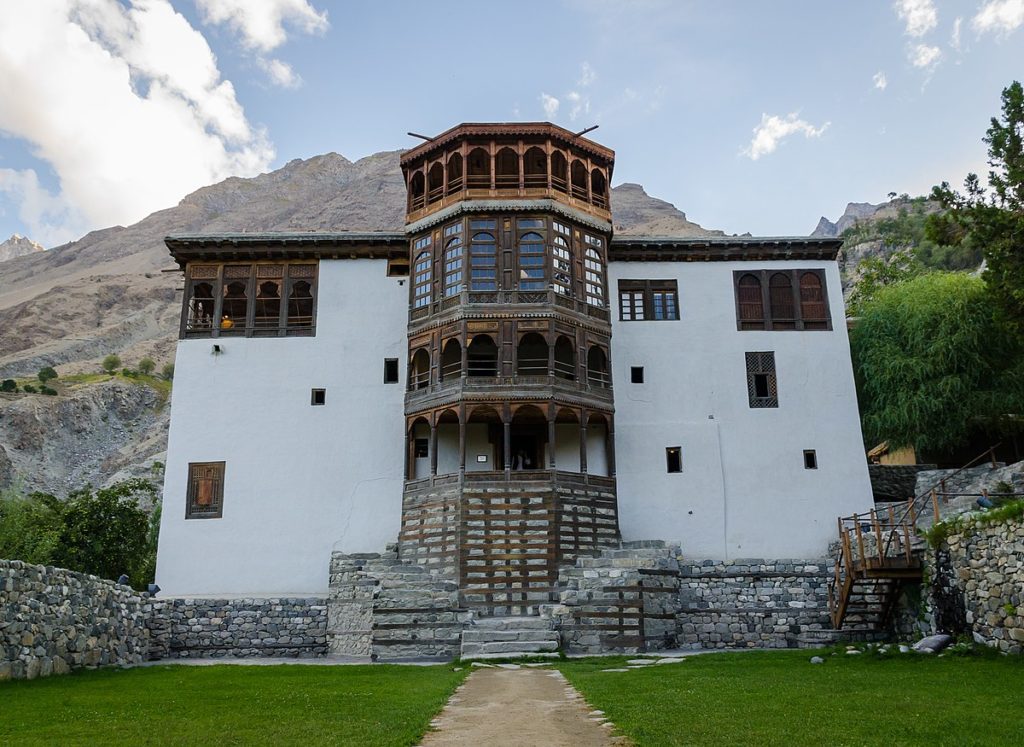 Khaplu fort, also known as Yabgo Khar meaning fort on the roof, is an old fort and palace located in Khaplu.
The fort was built in 19th century and is a tourist attraction for a long time now. The fort is a masterpiece for beautiful architecture and it also was the place of residence for the Raja of Khaplu. This an awesome beauty of Pakistan.
10. Gwadar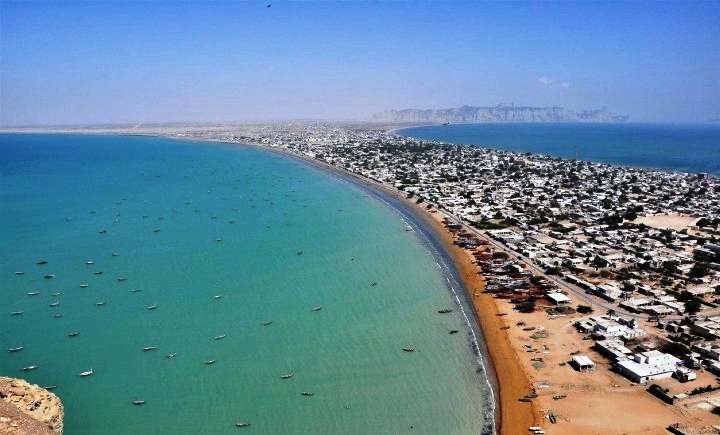 Gwadar has been the limelight of Pakistani news for some time now due its trade importance for Pakistan. However, the city has much more than just a harbor for trading; it has beautiful beaches with mountains covering them. It has been a popular picnic point for Pakistani locals for many years.
11. Gorakh Hill station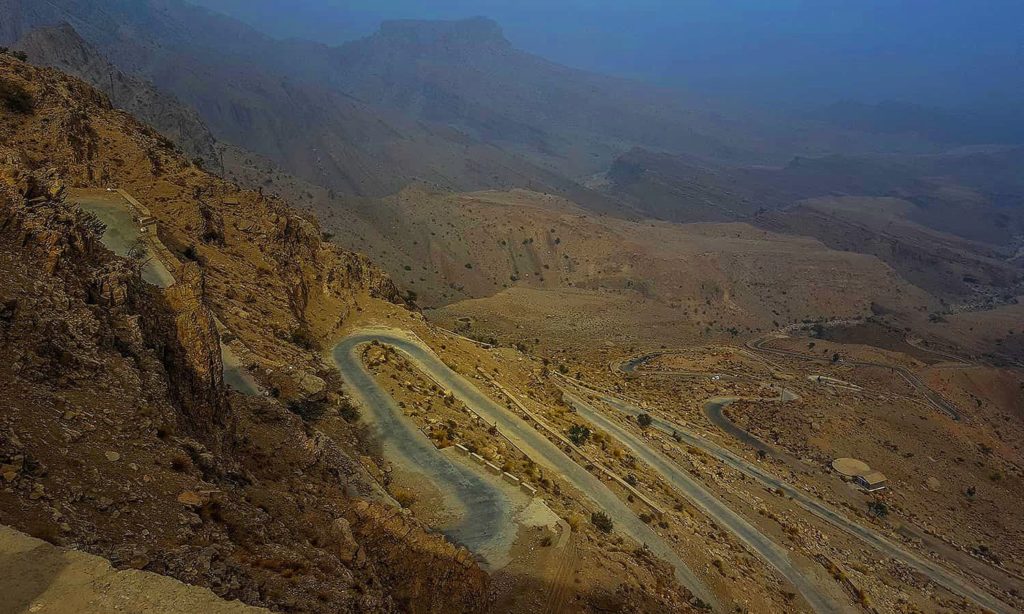 In top 30 best places to visit in Paksitan, Gorakh comes at number eleven. Gorakh is located in the Sindh Province 95 kilometers Northwest of Dadu.
The hill station has a very different climate than other areas of Sindh. Most of the Sindh has a warm climate whereas Gorakh has a cold climate and also faces snowfall at certain times. The site is very popular amongst local and international tourists.
12. Ranikot Fort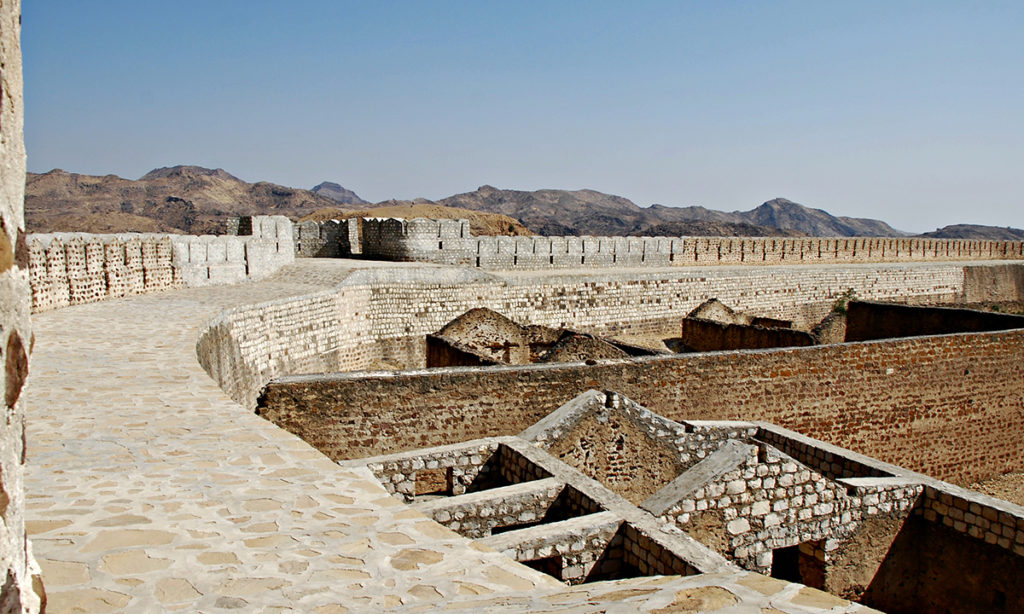 Ranikot Fort is very near to Jamshoro (top places to visit in Pakistan) and is the largest fort in the world with a circumference of around 32 kilometers. For the same reason it is also known as 'the great wall of Sindh'. Although the real builder of the fort is unknown, some archaeologists believe it to be built by the Arabs or by Persians in the 9th
13. Sheesh Mahal
Another architectural masterpiece from the Mughal era. It was built by Emperor Shah Jahan. The name, sheesh mahal, means 'palace of mirrors' and quite literally, it is made up of several mirrors of finest quality and other material including the high-quality marble. A part of the palace was reserved for the use of the royal family back then.
14. Mohenjo-Daro
It might seem as if there is not much to see in this ruined city covered in sand. However, lovers of history consider this place as their heaven.
Mohenjo-Daro was one of the largest settlements of the Indus Valley Civilization. The city was abandoned in the 19th century and it was only rediscovered in the 1920s.
15. Margalla Hills
It is a hill range in the Himalayas. It is located to the north of Islamabad and also a popular tourist attraction due to its beauty and the bird-watching activity.
Many birds including the Himalayan griffon vulture, paradise flycatchers, kestrel, shrikes, black partridge, Indian sparrow hawk, golden oriole and different types of pheasants can be seen there.
16. Daman-e-Koh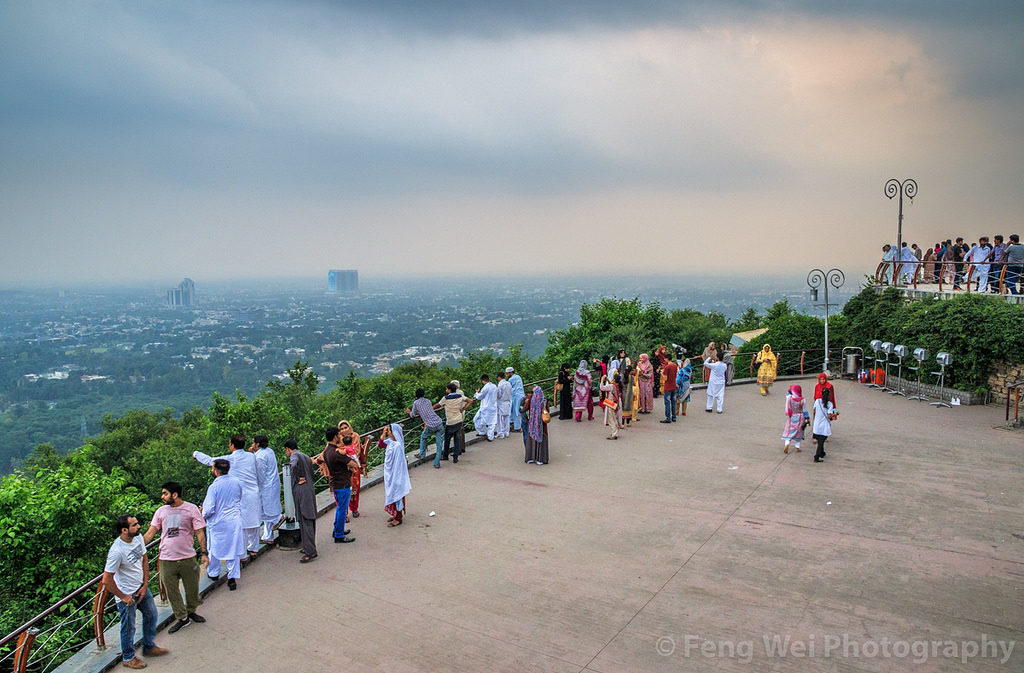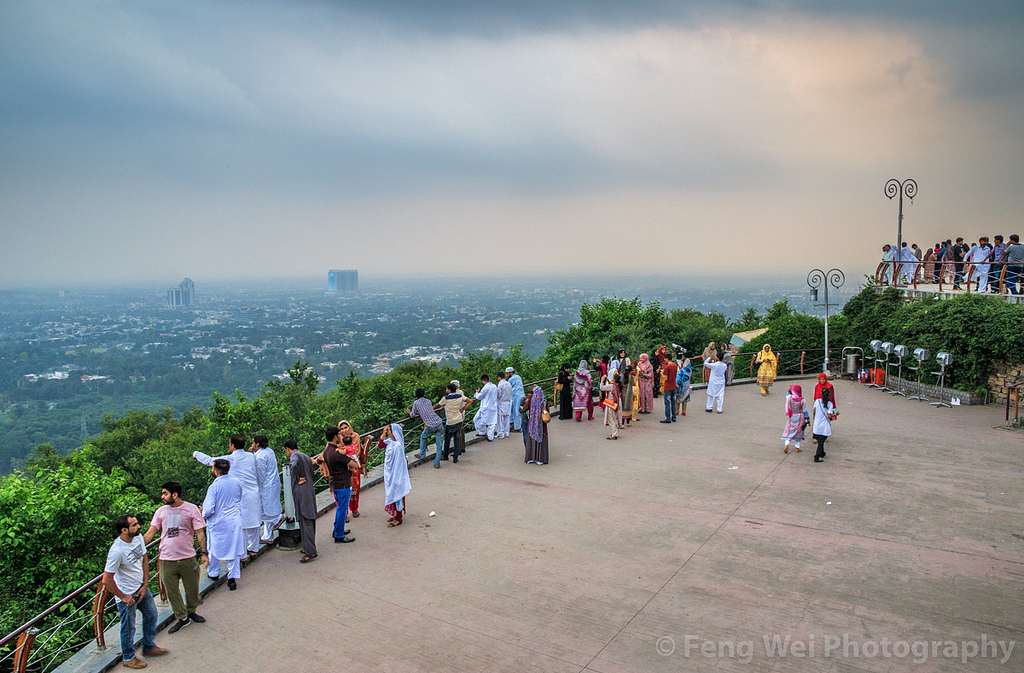 Daman e Koh is one of the best places to visit in Pakistan and great things to do in Islamabad. It is Llocated in the Margalla hills, Daman-e-Koh is a hilltop garden and its name literally translates from Persian to 'foothills'.
It is a viewing point for tourists for the hills above them. Monkeys are quite common in the area whereas Cheetahs can also be seen sometimes during the snowfall.
17. Faisal Mosque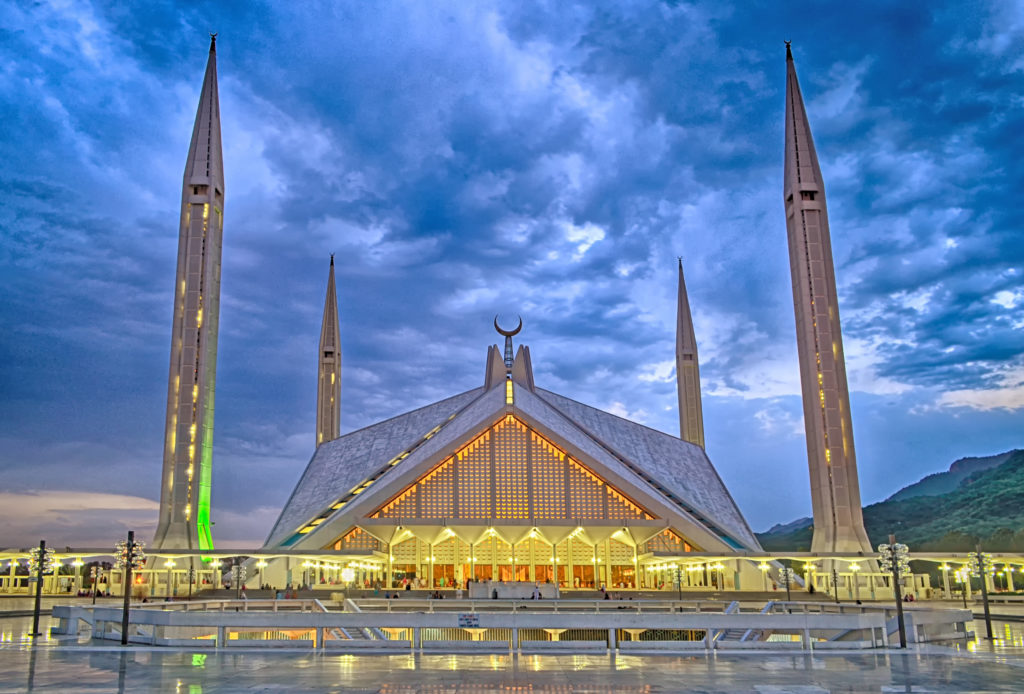 Is that a Bedouin tent? No, it isn't, but that's what it was meant to look like when it was built in 1987. The mosque is the biggest one in Pakistan and the fourth largest in the world. It was designed by a Turkish architect Vedat Dalokay.
The mosque is named after the Saudi King Faisal who gave a grant of $120 million to Pakistan. If you are in Islamabad, then it is worth visiting place because it one of the top attractions in Pakistan.
18. Pakistan Monument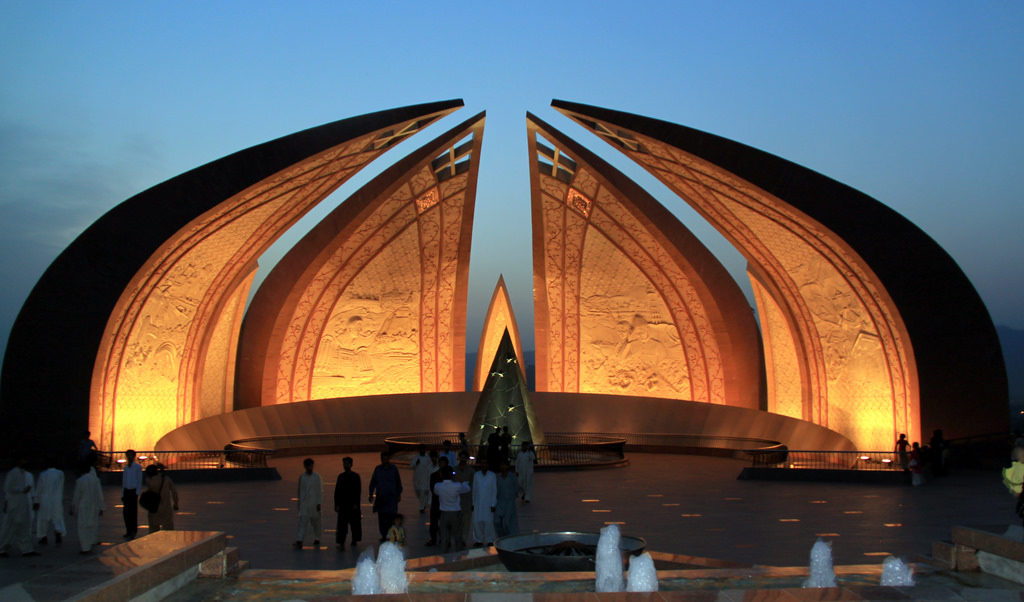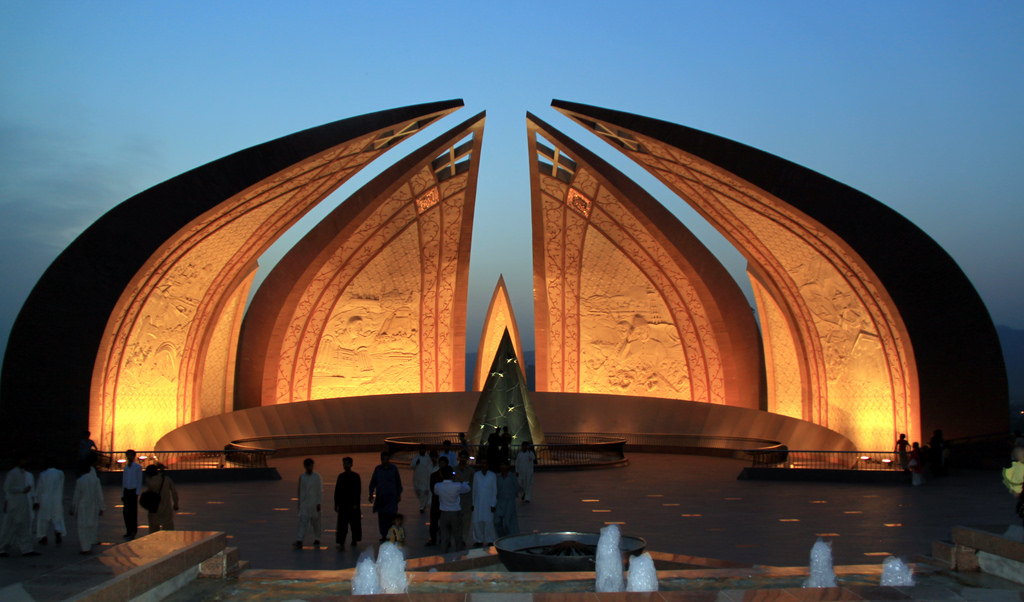 Another best places to visit in Pakistan and top things to do in Islamabad. It is a national monument and a heritage museum, it was built to show the unity amongst the people of Pakistan.
It has shaped like a blooming flower and is visible from far away due to its elevation. The monument covers several features that describe an idea of Pakistan, for example its four biggest petals represent the four provinces of Pakistan.
19. Masjid-e-Tooba (Gol Masjid)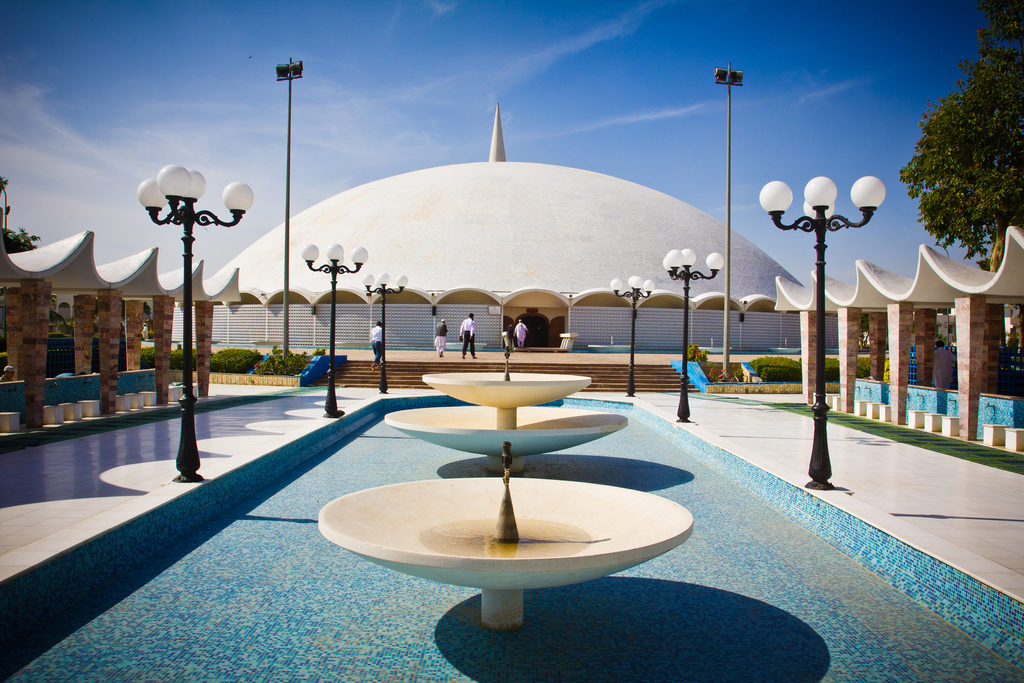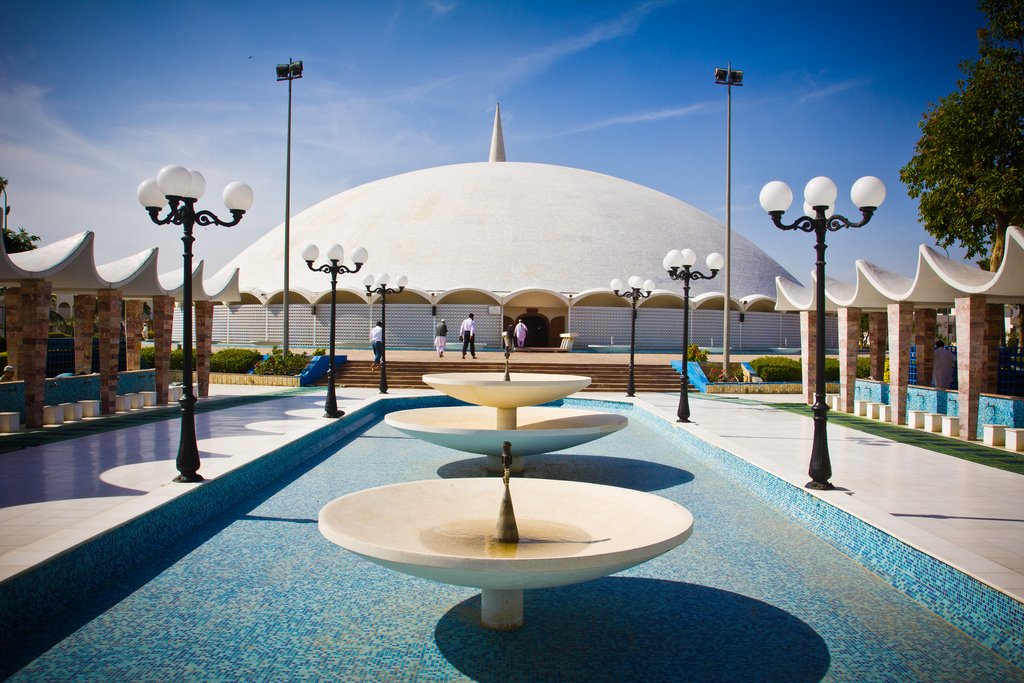 The mosque is situated in the DHA area of Karachi and has a very interesting history. Its builders, Dr. Babar Hamid and Zaheer Haider were certain that such a large dome can stand without a single pillar, while other people did not approve of this idea. However, they succeeded, and the mosque's dome stands without a pillar today.
20. Katas Raj Temples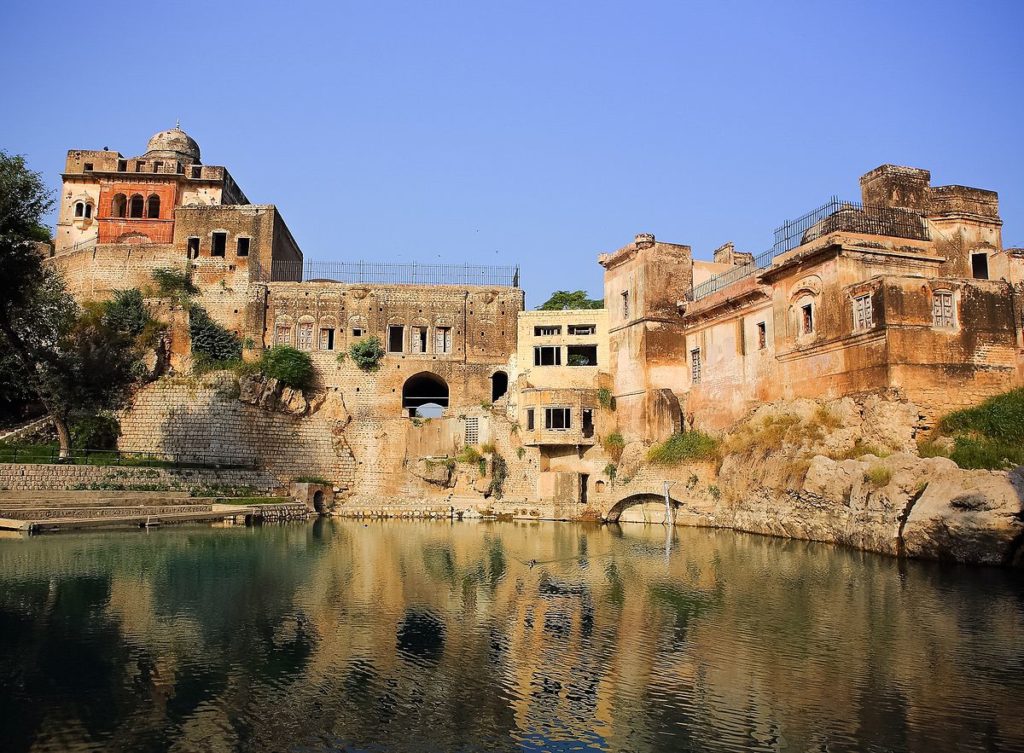 Also known as Qila Katas, it is a complex of several Hindu temples connected to each other by pathways. The temple complex covers a water named Katas which is considered sacred by Hindus.
These temples are also a part of Mahabharata which augments their historical and religious importance. The site is of interest to people fond of history. for Hindus, it is best places to visit in Pakistan.
21. Mohatta Palace Museum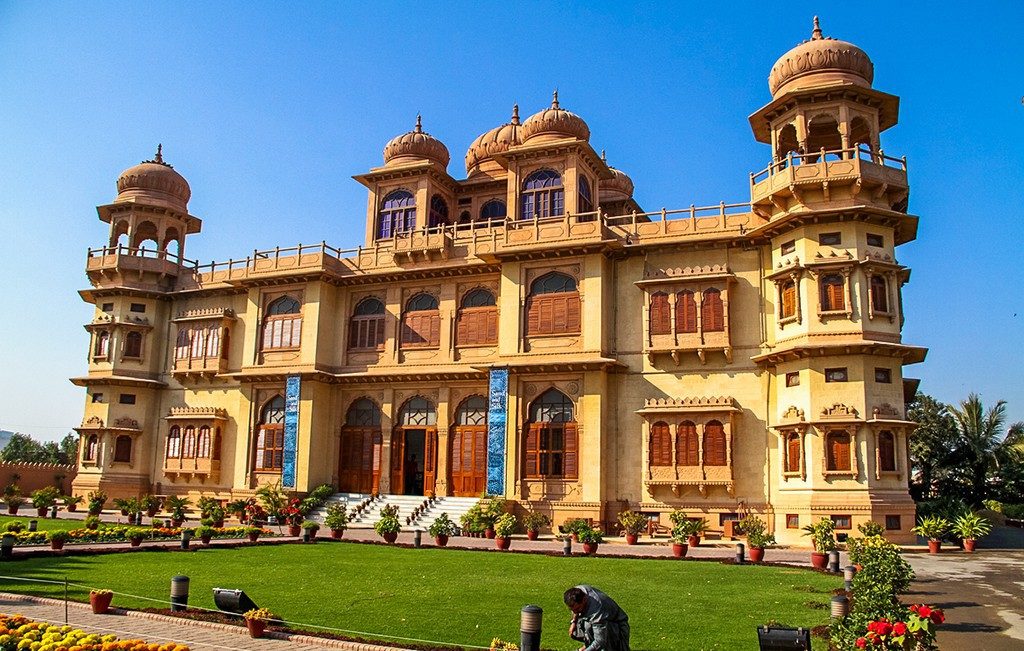 Mohatta Palace is located in Karachi and was built by Shivratan Chandraratan Mohatta, a Hindu Marwari businessman in 1927 as his summer home. The palace is built using pink Jodhpur stone and local Gizri yellow stone. The site shows olden time architecture of the Rajasthani people.
22. Tomb of Jahangir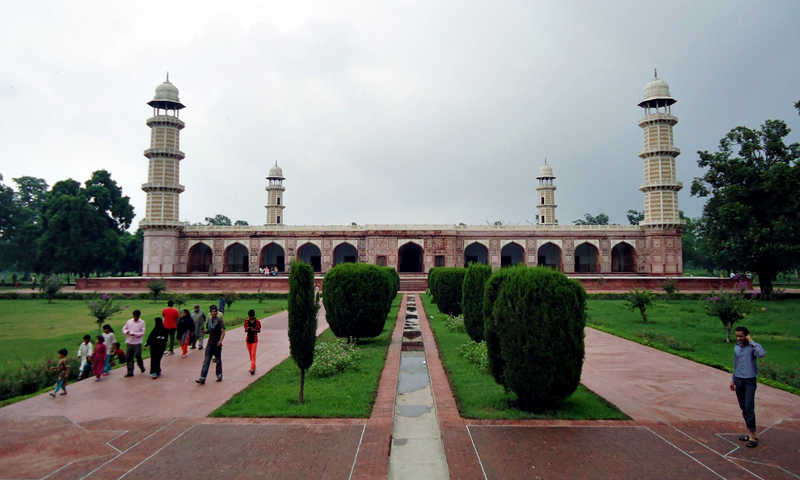 It is a 17th century mausoleum for the Mughal emperor Jahangir. It is an architectural masterpiece and its interior and exterior both are worth appreciating.
Its interior features marbles and frescoes while the exterior is covered with the pietra dura. The tomb of Jahangir's wife Nur Jahan is also located there. The tomb is also famous for its pleasant lush green gardens.
It is a must visiting place as it is one of the most famous places to visit in Punjab Pakistan.
23. Churna Island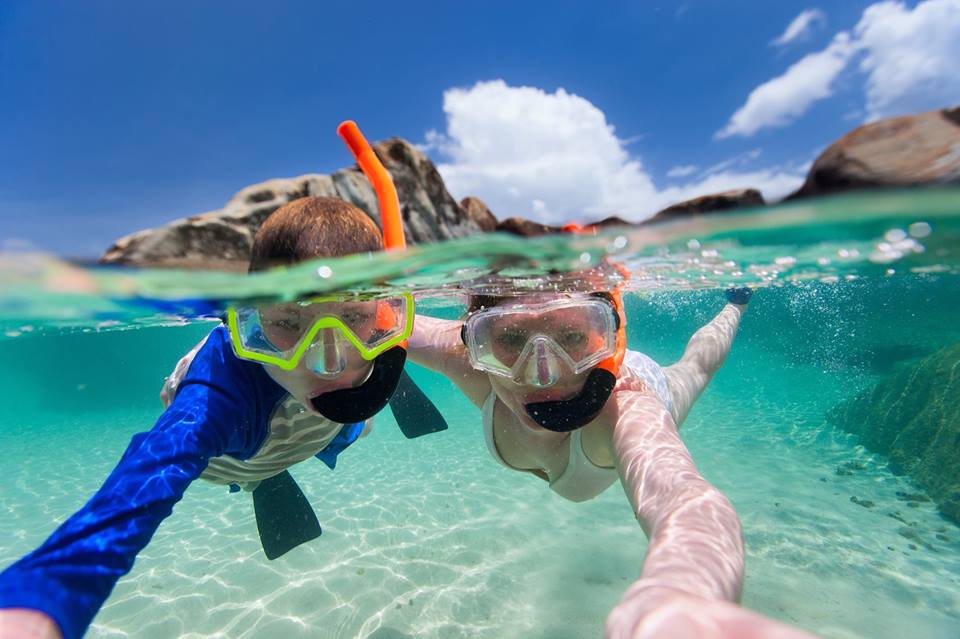 Located near Mubarak Goth, it is an uninhabited island in the Arabian sea. The island has gained fame recently in the past few years due to several recreational activities such as snorkeling, cliff diving, scuba diving and underwater photography. The area around the island is famous for scuba diving due to the presence of several different kinds of fishes and corals.
24. Clifton Beach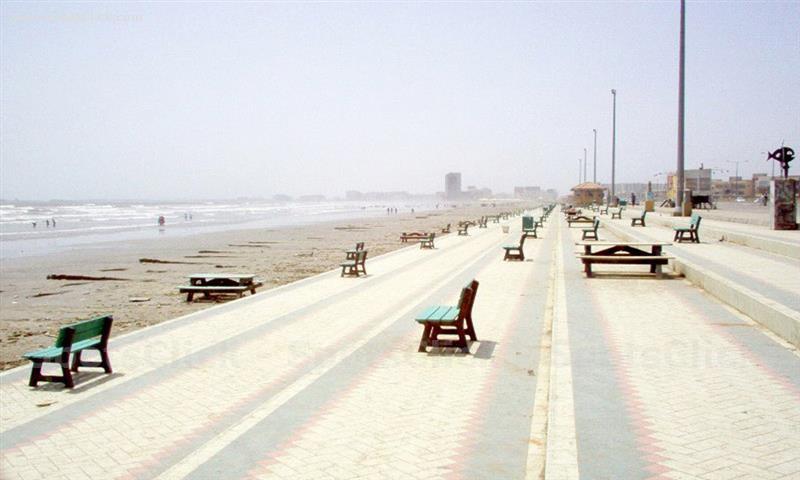 The beach is located in Karachi and was amongst the most popular and top silver sand beaches. Today, the beach is a famous tourist attraction and a popular picnic point amongst the locals. There are several restaurants and recreational activities at and near the beach such as camel riding, horse riding, buggy cart and so on.
25. Hiran Minar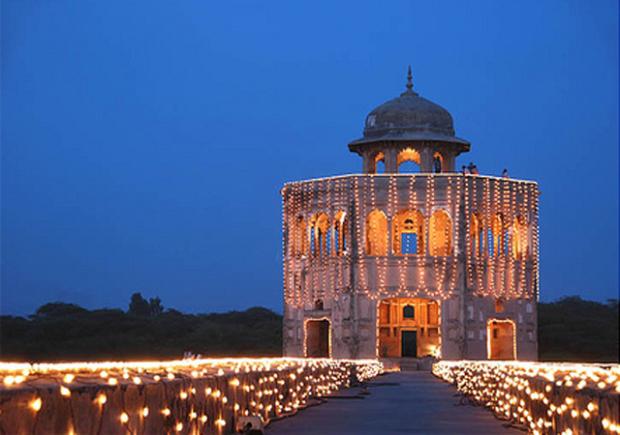 Hiran Minar is another top attractions and one of the famous places to visit in Punjab Pakistna. Hiran Minar, meaning the deer tower, is a complex in Sheikhupura built in the era of Emperor Jahangir in the memory of his pet antelope.
The complex was used by the royals of that time for hunting, whereas the minaret was built in in 1606 in the honor of Jahangir's pet antelope who was trained to help the emperor in hunting other animals.
26. Mall Road Lahore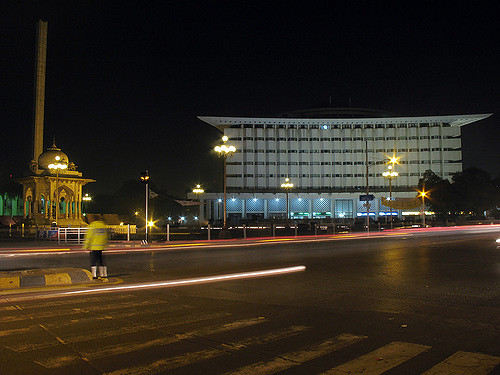 Mall road is a long street in Lahore which is famous for several reasons. First of all, most of the buildings on the street were built during the Mughal era or during the British Raj era.
Moreover, the street also has several shops where tourists can shop at very reasonable prices. Lastly, the street also has the Governor's house and the Provincial Assembly of Punjab.
27. Hawkes Bay Beach
Hawkes Bay Beach is located near Karachi and is named after Bladen Wilmer Hawke who was the owner of a beach house at the place in the 1930s. the beach is a nesting ground for several kinds of turtles.
28. Murree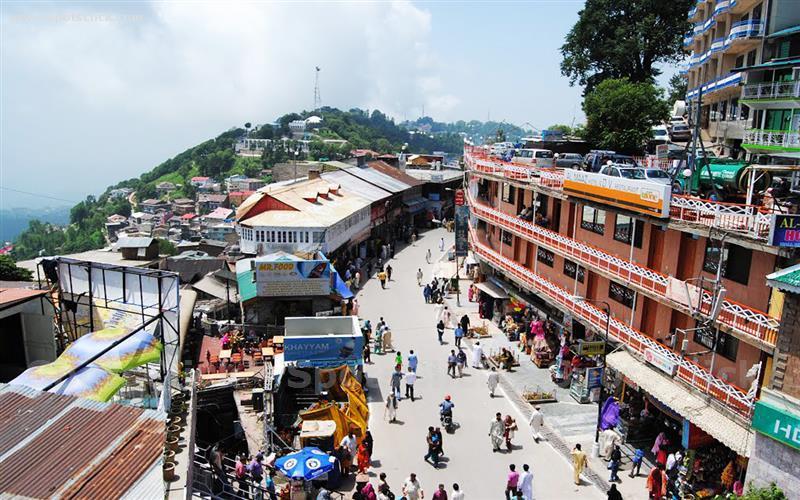 Murree is a hill station in the Norther region of Pakistan and is very famous not only amongst the international tourists but also amongst the locals. It has a very cold climate and is extremely beautiful. Chairlift in Murree is a popular activity amongst the visitors there.
29. Nathia Gali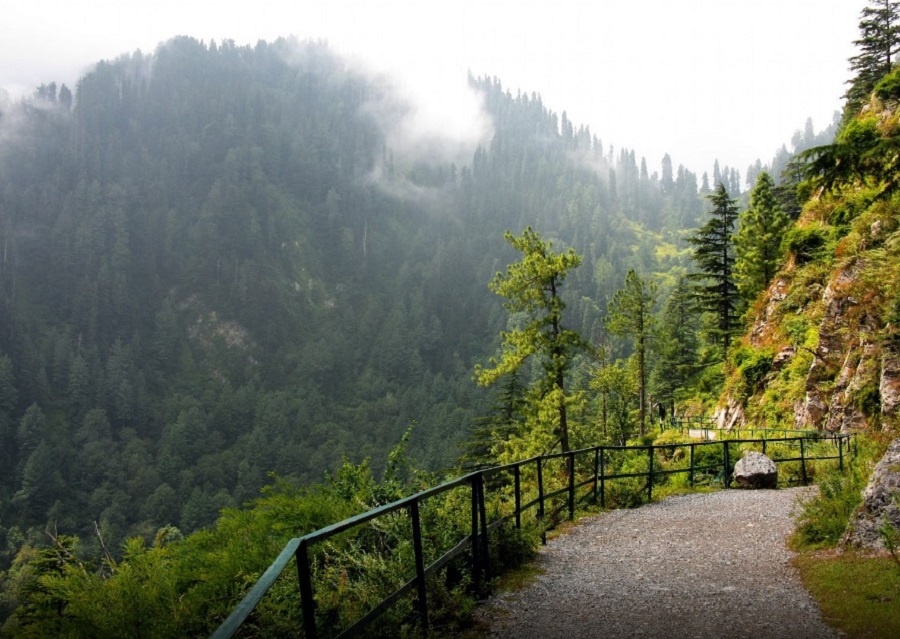 In Galyat, Nathia Gali is one of the best places to visit in Pakistan. Nathia Gali is a hill station in Khyber Pakhtunkhwa.
It is extremely famous for its scenic beauty and hiking tracks. There are several other hill stations in the region with similar attributes and most of their names end with 'gali'. The area is forested with pine, oak walnut and maple trees. Adding to this, it is situated very near to Murree.
 30. Bhurban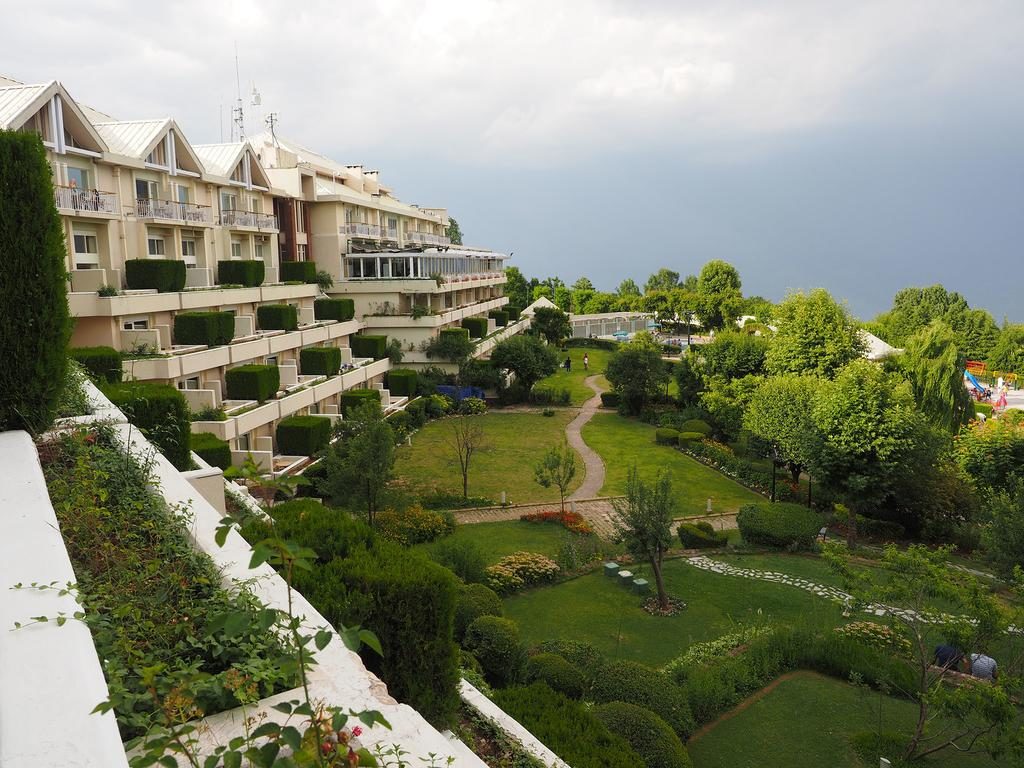 Located approximately 9 kilometers from Murree, Bhurban is another popular hill station amongst the tourists for its beauty and climate.
The town also has a branch of the famous Pearl Continental hotel which is also very famous amongst the tourists for its splendid service and the augmented natural beauty.
PS: We will keep adding more attractions, things to do and best places to visit in Pakistan. 
More Read:
10 Best Cities to Visit in Pakistan