As I walked through the forests and city streets of Nottingham, I kept stumbling across the roots of this historic city. The legacy of the folk hero is found 'round every corner. But Nottingham is so much more than Robin Hood and Sherwood Forest. Rufford Abbey, sustainable markets and shops, Wollaton Hall, and so much more await you. This itinerary will tell you exactly where to go in Nottingham for the best experience possible in just 2 days complete with tips from locals!
Discover the best things to do, places to stay, and places to eat in Nottingham. You'll get the best experience visiting Nottingham for the first time on a weekend trip, but this itinerary works regardless. If an activity isn't open on the weekend, I've noted an alternative for you. So, let's get going!
Is Nottingham a good choice for a city break?
Nottingham is an excellent choice for a city day trip in England. Nottingham is located in the Midlands, so the city is easily reached in the car or train from anywhere in the UK. The city is famous for its hero, Robin Hood, but also has a range of things to do for all ages and interests.
The city centre is home to a variety of independent shops and local markets in the Lace Market, the famous Nottingham Castle, and the Robin Hood Statue. Nottingham is near a variety of manor houses including Wollaton Hall and Chatsworth House, as well as some of the best walking trails in the region at Sherwood Forest and Rufford Abbey. Whether you've got one or two days to spare in Nottingham, you're sure to have a good time by following along the 2 day itinerary below…
Day 1 in Nottingham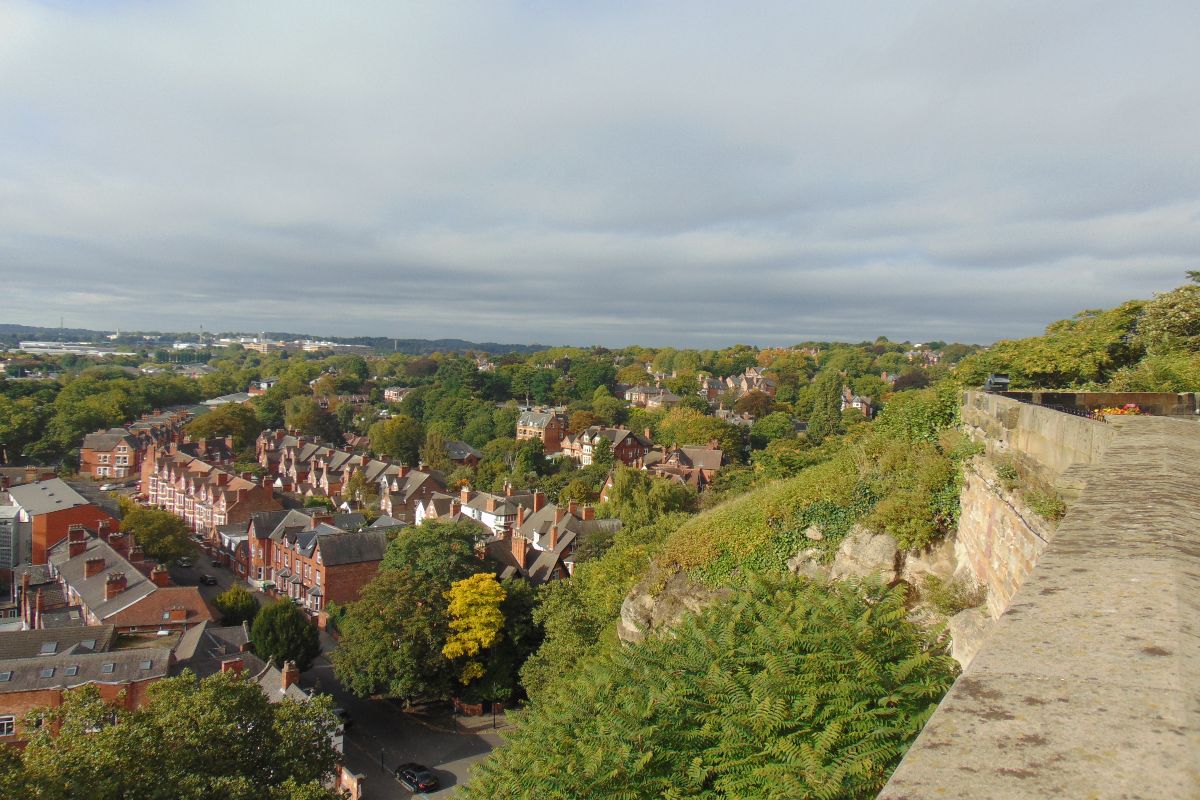 Where to go in Nottingham? Begin your journey in the city centre or Nottingam's Lace Market. Your first day in Nottingham will be spent among the quirky and independent city shops and the hidden gems on the city's doorstep. You'll see some of the must-visit attractions in the city like the Robin Hood statue and Nottingham Castle, but our Nottingham guide will give you all the tips you need.
Robin Hood Statue
Just below Nottingham Castle's main entrance is a statue to the city's iconic hero. This is one place you can't miss.
The Robin Hood Statue is basically a photo spot for tourists, so to get the most out of your visit here spend a quick minute looking around at the statue of his band of merry men and the images in the castle wall behind him. Once you've finished snapping up photos, walk on up to the castle.
Nottingham Castle
Past the gate, you'll enter into the castle grounds. Nottingham Castle does have a hefty entrance fee with added extras available. The Robin Hood Experience is worth doing for families and I recommend the Castle Cave Tours for everyone.
Before you enter the gift shop, you'll see a view of the castle on the hill above to your right. If you're expecting a classic medieval English castle, Nottingham will take you by surprise. This place is more of a manor house with a gallery inside and medieval caves hidden below.
Walk the steps up to the castle. Pause outside the restaurant to see a nice view of Nottingham city. I visited in the autumn, when the green leaves were starting to fade. Then, enter inside to explore all the art and history exhibits.
One of the best exhibits here is on the history of Nottingham. You'll hear the voices of actors speaking of riots and fighting for worker's rights throughout the years, then end on a display of the history of voting rights.
Nottingham Castle Cave Tour
Finish off your visit with your extra of choice. I booked a cave tour. For £5 extra, I didn't have huge expectations but was really surprised by how good it was. The guided tour begins in an old wine cellar, then to the former castle kitchens, and a mysterious room that holds many of the castle's legends.
The guide, all the while, gave us lots of information about the castle's history from its beginnings, the storming of the castle by King Edward III, to the castle's fiery destruction by rioters in the 1800s. If you're into history and not claustrophobic, the castle cave tour is worth doing!
Ye Olde Trip To Jerusalem
It wouldn't be an authentic English city trip without a trip to the pub. Step down the bank from the castle and you'll soon find the oldest inn in England. Ye Olde Trip to Jerusalem has a dark entrance, with rocky ceilings above you in part, and a wonky structure throughout.
The dark lighting and occasional suit of armor of the inn really does remind you that you're in Nottingham. There is a variety of drinks on offer here and plenty of locals to chat too, who were all happy to give me tips on where to go next. While drinking inside the pub is atmospheric, the courtyard with its bar stools was more my style.
National Justice Museum
Found in the Lace Market, the National Justice Museum is one of the best museums to visit in Nottingham. Found inside Nottingham's former courthouse and prison, the museum would be worth visiting alone just to visit the former cells. But it also has some interesting exhibits on justice.
Alongside its historic setting are the actors who bring this place to life. Stick around if you can to see the mock hangings and trails. I loved the underground cells the most, but the interactive parts of the court session were fun too. Like Nottingham Castle, this place is well-known and popular with families.
It's not quiet on the weekends, even when I visited outside the tourist season. So keep that in mind. I recommend skipping this if you're bringing younger kids as there's not much for them to interact with.
Nottingham City Centre
You can easily spend an hour or two wandering the city streets of Nottingham. This city is bustling. Students pass by on yellow e-scooters, locals carry reusable shopping bags as they grab goodies from the market, and crowds gather at the shopping centre. If you're just here for the usual high street shops, then join the crowds at the Victoria Centre. But here's a few places in Nottingham city centre that you shouldn't miss!
White Rose
White Rose is one of the most stylish charity shops I've ever visited in England. All about sustainable fashion, White Rose has two shops in Nottingham. White Rose 5 has mostly women's fashion and I did pick up some goodies, including an adorable pink hat that was much needed as the weather was getting chilly. There were also some designer brands on offer too.
Orientalmart
According to the students I bumped into at Cafe Nero, this is the place to go for Asian snacks and bubble tea. Indeed, when I got there it was full of students on their lunch break stuffing Japanese bread into their backpacks. Other than the amazing snacks though were shelves and shelves of fresh goodies, noodles, kitchenware, and frozen food.
Shop Zero
A small and cute zero waste shop. Step inside and you'll probably see a local stocking up on beans, lentils, and cereal. If you forgot to pack your reusable water bottle or cup, this is the place to get one. Across the street, you'll find our next destination.
Kitty Cafe
Great food and also cats. What more do you need? Open 'till 8pm on Saturdays, you can easily spend the last hours of your first day of Nottingham chilling with your new furry friends. The cats here are often rescues, former strays, or have medieval issues. Look, I'll admit I'm more of a dog person but I did fall in love with a grumpy faced cat who had a heart of gold.
Day 2 in Nottingham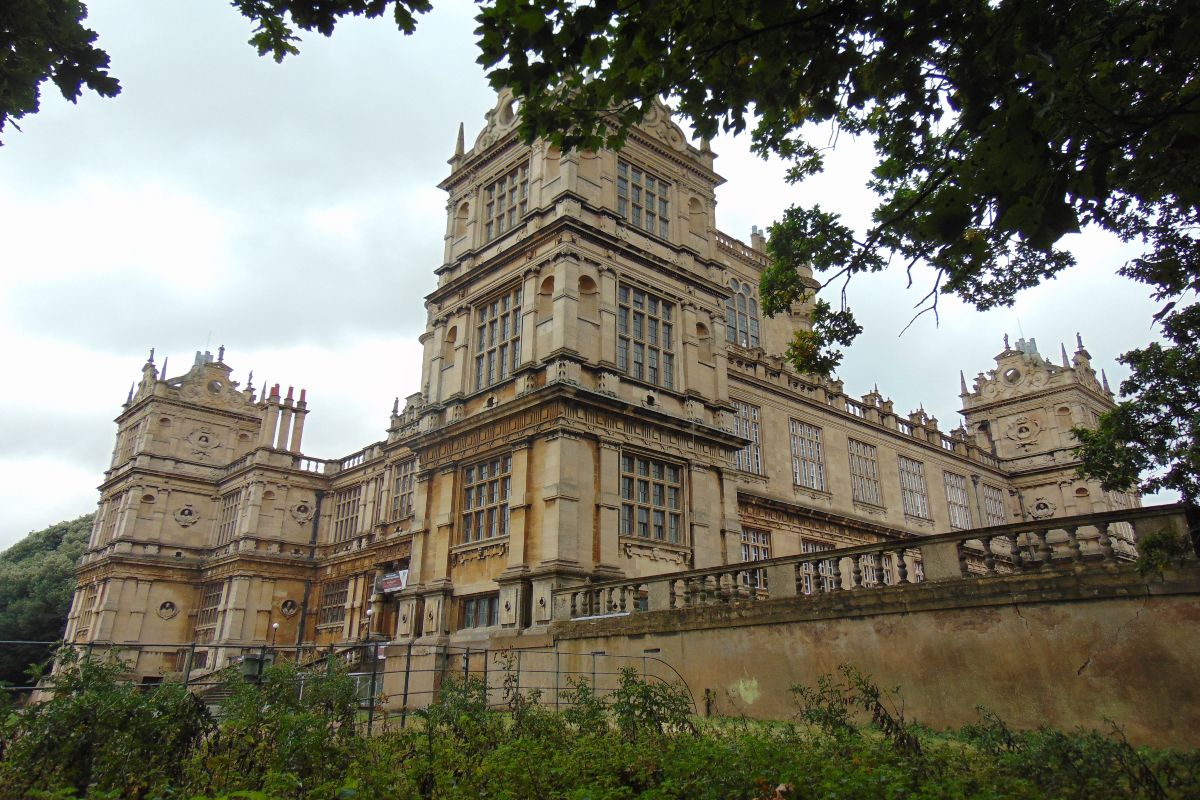 What else is there to do in Nottingham for two days? On day 2, we're stepping outside the city centre and exploring the beautiful places close to Nottingham. Find amazing views from a windmill, walk Sherwood Forest, and see the ruins of Rufford Abbey… All this and more to get off Nottingham's well beaten path.
Green's Windmill and Science Centre
One local mentioned to me that the views from Green's Windmill are worth a look. Then, I saw bags of flour for sale at Nottingham Castle from the same windmill and knew then I had to go for sure. Signs from the universe, maybe. Green's windmill is a quick drive from Nottingham's Lace Market.
I first saw the windmill as I walked up the steps to the sound of children playing in the school next door. Compared to the busy streets in the Lace Market, Green's Windmill is a slice of calm.
You'll be greeted at the door by volunteers. The windmill is free to enter, but donations are welcomed. You can use a paper guide that's at the door, but the volunteer guides are much better.
My guide talked me through the history of the windmill and parts of Nottingham's history you don't really hear about like how this street used to have tons of windmills to catch the wind from the nearby hills.
The steps are steep and I did get some flour and dust on my black leggings, thankfully it wiped off easily! The views here are even better than those from Nottingham Castle, in my opinion.
They do make flour here and occasionally you can see the windmill machinery at work. It wasn't working today, but my guide did explain the machinery and let me spin the wheel. I have the muscle capacity of overcooked noodles, though, so I don't think I'll have a career any time soon working at a mill.
Once you're done looking around, the community garden around the corner is also worth a look. Since I visited in autumn, there weren't too many fresh pickings though I saw some strawberries and an apple tree growing. Sadly, I was too short to reach the apples!
Sherwood Forest
Sherwood Forest is one place you can't miss in Nottingham. Free to visit, this forest is a place of legend. As you step towards the visitor's centre, you'll soon see another statue of Robin Hood at the door. We are here to relax and walk for about an hour, before heading into the nearby crafting shops.
There's a few trails to pick from here and all are well-signposted. I completed the Major Oak Trail to see the iconic tree of legend, but I was also told that the Wildwood Trail is good if you have more time and want to see the best nature of the forest.
The Major Oak Tree
Robin Hood and his band of merry men would rest in its shade, according to legend. We do know for sure that vagabonds and thieves would meet at this tree and coin exchanged hands. Known as the Major Oak Tree for its ancient age and size, the tree is also called The Outlaw Tree for its history.
This is the main highlight of Sherwood Forest and it is definitely worth a look, though I found the rest of the walk nice as well. The Major Oak Tree Trail lasts around 50 minutes. Towards the end of the trail, you come across a white birch tree area that looked stunning as the sun rays came through its leaves.
Sherwood Forest Arts and Crafts Centre
Finish the walk and step back inside the Sherwood Forest visitor centre. There's some gifts to buy here and a vintage coin maker that made me feel old. But the next highlight of our trip here is across the street. The Sherwood Forest Arts and Crafts Centre is inside an old stablehouse.
My sister had the best time here chatting about bows in The Forest Archer, which sells all kinds of medieval themed weapons, armor, and trinkets. Inside the arts and crafts centre you'll find all kinds of local artisans. From handmade chocolates to baby blankets, sculptures, cards, and more. A perfect place to pick up some Nottingham-themed gifts!
Rufford Abbey
In the words of one local who grumbled to me in the pub, "Rufford Abbey feels more like a forest than Sherwood Forest does." Sherwood Forest, while beautiful in its own way, is certainly touristy and the paths are well-walked. Larger and less crowded was the nearby Rufford Abbey. The abbey building itself is beautiful.
You'll have to walk up close on the grass to see the abbey ruins on its side properly, but you can't go inside because of the fences. Before exploring the abbey grounds, take a minute to see the shops and cafe here. There's a nice garden close to the entrance as well. But continue on to your left to begin the lakeside walk.
Lakeside walk at Rufford Abbey
Most who visit Rufford Abbey do the walk around the lake for good reason. It's a beautiful walk! It took me around 40 minutes, but you could walk it easily in 20 minutes if you don't stop every 5 seconds to take a photo. The walk is signposted and I never got lost. I did get off the path a few times.
Near the beginning, you'll see a longer path on the left towards the Ice Bunker. I didn't go to the Ice Bunker, but the path itself was quite pretty and lined by trees that would look gorgeous in summer. Around the lake, there are more forest parts where you'll find squirrels and ducks.
The main highlight of the lakeside walk at Rufford Abbey is of course the lake itself. There are a few bridges as you make your way across the lake, and each has a lovely view of the waters and a building in the distance. There's not too much to do here other than another cafe, so head on back to the entrance and enjoy the view as you go.
Wollaton Hall
About a 40 minute drive south of Rufford Abbey lies the movie star of Wollaton Hall. Featured in The Dark Knight Rises as Wayne Manor, the sight of Wollaton Hall is a familiar one. Before you enter Wollaton Hall, wander the grounds! I happened to be visiting at the same time as a school trip and as I came into the gardens I saw around 10 kids rolling down the grassy hill as another group sang the Batman theme song. You probably won't find that sight on your visit, but there's still plenty to see at Wollaton Hall.
Known for its deer park, the grounds of Wollaton Hall are mostly bare with only a few trees dotted around. Walk long enough and stay quiet and you'll soon see the deer in the distance. Unfortunately I couldn't get a good shot of deer during my visit, thanks to the chaotic orchestra mentioned above but maybe you'll have better luck!
Wander into Wollaton Hall and you'll find a small but charming collection of exhibits. The house itself is beautiful, though worn down in some parts towards the end of your self guided tour. Near the entrance, you'll see a miniature of the hall and some fish near the gift shop. I happened to be visiting during the "Titus: T. rex is King" exhibit, which was showing off the bones of a Tyrannosaurus rex.
An impressive sight and for the second time on this trip I was reminded that I am indeed short.  If there is an exhibit on, Wollaton Hall's interior is worth a visit otherwise there's not too much to see. I found the best thing to see here was the outside of Wollaton Hall itself. You'll definitely want to explore both sides of the building to get a shot off each.
That's your last day in Nottingham all wrapped up. Now you know there's so many places to visit in and around the town! Keep reading for recommendations on where to stay and the best places to eat, plus tips on getting around the city.
Where to stay in Nottingham
Finding the perfect place to stay in Nottingham was a bit difficult for me, as I wanted something dog-friendly and sustainable. I ended up staying at Birdholme Glamping and definitely have no complaints. I've collected the best places to stay below for every budget and travel type. Where will you stay in Nottingham? Let's find out!
Birdholme Glamping
First up is the relaxing and dog-friendly glamping sight of Birdholme Glamping. These wooden lodges are complete with a hot tub, kitchen, smart TV, and cozy bedrooms including a mezzanine bed that was difficult to leave at the end of my trip.
There's a small walking area for dogs here too, just make sure to keep 'em on the lead as you're right next door to some private land. Birdholme Glamping was close enough to everything I wanted to visit in Nottingham by car and there's a farm shop nearby too. If you're relying on public transport, I would suggest a different option.
De Vere Orchard Hotel
Sleek, eco-friendly, and 4 stars, the De Vere Orchard Hotel is a great pick for a bit of modern luxury and business trips. Complete with conference rooms, gym, and bar, De Vere Orchard Hotel is definitely a convenient pick for any trip. It's also located on the University of Nottingham campus, meaning you can easily get to the city centre and beyond on public transport from here.
Igloo Hostel
The best place to stay in Nottingham for budget travellers, IGLOO Hostel is a popular pick for students and backpackers travelling around the city. All rooms have Wi-Fi, most have a TV, and there are options to get your own private bathroom.
Thornton's Holt Camping Site
An eco-friendly camping site close to Nottingham with solar panels, a veggie garden, and plenty of recycling facilities. The camping site has pitches for tents, caravans, and motorhomes. Facilities on site include washrooms and laundry. Thornton's Holt has an indoor swimming pool that's open in the summer too.
Where to eat
The best places to eat in Nottingham can be found through the Lace Market. Nottingham's city centre is full of amazing and unique restaurants, cafes, and coffee shops. Here's a few suggestions of where you should eat in Nottingham on your 2 day trip.
The Canalhouse
The Canalhouse is one place you shouldn't miss. Step inside and you'll see the canal running through the pub. A bridge connected two sides of the pub! The food isn't bad either, with the usual British pub food, burgers and curries available. At the Canalhouse, you'll also find the biggest selection of craft beer in Nottingham. The beer garden is a nice place to sit and relax too, especially on a sunny day.
Fox Cafe
A cute and cozy fox-themed cafe, this place is a good pick for brunch after walking around the Lace Market. You do get a big plate for food for the money and there's a good variety on the menu for all dietary preferences, vegans included. The paninis are yummy! For coffee lovers, the oat milk lattes are always a winner here.
Good Karma Deli & Takeaway
Inside the zero waste shop of Dash Vegan is a small but fantastic takeaway. Of everything I ate in Nottingham, Good Karma Deli had the absolute best desserts. My only regret in my 48 hours in Nottingham was not grabbing more salted caramel blondies to go, though the carrot cake ice cream was good too! The deli is a bit of a walk from the city centre, but well worth the trip. If you have some extra time to spare, it's also close to Nottingham Arboretum which is one of the prettiest places in the city.
No.12
If you think vegetarian and vegan food is sad salads only, then No.12 will give you a shock. The restaurant is tapas style, so you can eat a little bit of everything off the menu. Served with local ingredients, No.12 is a must-visit for slow foodies. The restaurant is more upscale and considered one of the best vegetarian restaurants in the Midlands.
How to get around Nottingham
Nottingham is a busy city, but thanks to its train station and good road connections it is an easy city to reach wherever you're coming from. Here are my top transport tips for getting around Nottingham!
By Car
Nottingham has plenty of car parking around the city centre and beneath the Victoria Centre, though I never had a fantastic experience in any of them as they tend to be crowded and somewhat overpriced. If you can park and ride, you should as it'll save you some hassle especially during the tourist season.
By Public Transport
Your best choice for getting into the city centre of Nottingham. Buses can sometimes get around if you're around the Nottingham university routes. Other than that though, it's about what you'd expect for this size of a city. The train station, Nottingham City, is also a tram stop and a short walk from the Lace Market. The walk up from the station is also quite nice as you get to cross the bridge and have a view of the river.
By E-scooter
They do seem convenient at first glance, but I don't recommend using an e-scooter in the busy parts of Nottingham's Lace Market. You might end up bumping into someone or something! If you just need something quick outside the city centre though, the e-scooters can be handy.
On Foot
The best way to get around Nottingham is on foot. Most things to see in the city centre are less than 15 minutes away from each other, though you'll have to trek out further for some of the highlights. There are some uphill parts of Nottingham, but overall you shouldn't have any trouble on foot. Locals have been dealing with some less than ideal e-scooter riders, so keep your eyes out for those if you're in the Lace Market.
Day trips from Nottingham
Got time for more than 2 days in Nottingham? If the answer is yes, keep reading. Nottingham is located in the midlands, meaning it's ideally located in the heart of England. From Nottingham, great places like Chatwsorth House, Birmingham, Leamington Spa, and more are only a quick train journey away. Here are our top suggestions for things to do near Nottingham.
Chatsworth House
Don't be surprised if Chatsworth House looks familiar to you. The house has been featured in many films and TV shows over the years, including Pride & Prejudice (2005 & 1995). If you're in Nottingham in the winter, Chatsworth House is an absolute must-visit for a day trip. The house and grounds are beautiful, but the biggest event here has to be it's Christmas market.
In winter, the house is decorated from top to bottom in all the Christmas trappings. Chatsworth House is one of the most famous manor homes in England, so if you have the time make sure to pay it a visit from Nottingham!
Birmingham
Just over an hour's drive in the car or on the train, Birmingham is one the major powerhouse of the West Midlands region. Other than London, Birmingham is the most diverse city in the UK. If you want to see authentic British culture in action, Birmingham is where you'll see the most diverse mix of it.
Once a star of the Industrial Revolution, Birmingham is now a great pick for a family day trip thanks to the chocolate paradise of Cadbury World as well as the sealife centre.
If you're not used to England, you might be surprised by how much the accents change from Nottingham to Birmingham. The local "Brummie" dialect is one of the most iconic in the country.
I recommend coming to Birmingham by train from Nottingham, as Birmignham's Clean Air Zone charge can be a little tricky if you haven't visited the city before. And the train journey will take you around the same time anyway.
Leamington Spa
Located in nearby Warwickshire, Leamington Spa is a former spa town known for its gorgeous Regency architecture. The town was once upon a time a simple village, but boomed in the 18th century when it became a spa town. You can see the former spas inside Leamington Spa Art Gallery and Museum, which is  worth a visit while you're in town.
Because of its location and beautiful buildings, Leamington Spa is a popular pick for couples. You'll be hard pressed to find somewhere else in the UK with more independent shops and boutiques. Jephson Gardens is a romantic park  in the heart of the town, it's the perfect place to enjoy a coffee and a snack from one of the local cafes.
There you can also rent kayaks, pedalos and paddle boards to enjoy a leisurely hour or so on the River Leam. . Though I wouldn't call it a hidden gem, I've found Leamington Spa to be more quiet than its more popular touristy older sister Stratford-upon-Avon, plus it's easy to reach from Nottingham!
Matlock Bath
If you're after hidden gems, a day trip from Nottingham to Matlock Bath is an easy choice. A great pick for trekkers as it lies to the east of the Peak District National Park. Plus, you're getting a two-for-one deal here as the town of Matlock Bath is a short walk across the river from another town called Matlock.
Matlock Bath is known by cyclists for its many beautiful cycling trails around the town, river, and National Park. Matlock itself is a cute town, but there's not too much happening here usually unless you visit during the Matlock Victorian Christmas Market.
That's everything for my 2 day itinerary in Nottingham! Are you ready for your next city trip? If you have a wanderlust itch to scratch, check out my 2 day itineraries for Brussels and Prague!
Read Also:
Author Bio: Kelsie Colclough is a content writer at Livetheworld.com