Sun-kissed and snow-covered at the same time, India is a unique example of extreme diversity in terms of its people, culture, language, climate, and even food.
A country with such a rich culture and long history is gradually becoming a hotspot for history lovers, backpackers, adventurers, and foodies.
Being, home to such a diverse culture, India has made its name around the world for its delicate cuisines, a melting pot of flavors from its different states. The flavors change from one state to the other and evoke their local heritage and traditions.
Before you get befuddled by so many lip-smacking food choices in India, take a look at these 10 street foods of India from the big cities like Delhi, Mumbai, Rajasthan, Kolkata that you must try apart from the very well-known Indian curries.
10 Best Street Foods of India
1) Chole Bature and Chaats of Delhi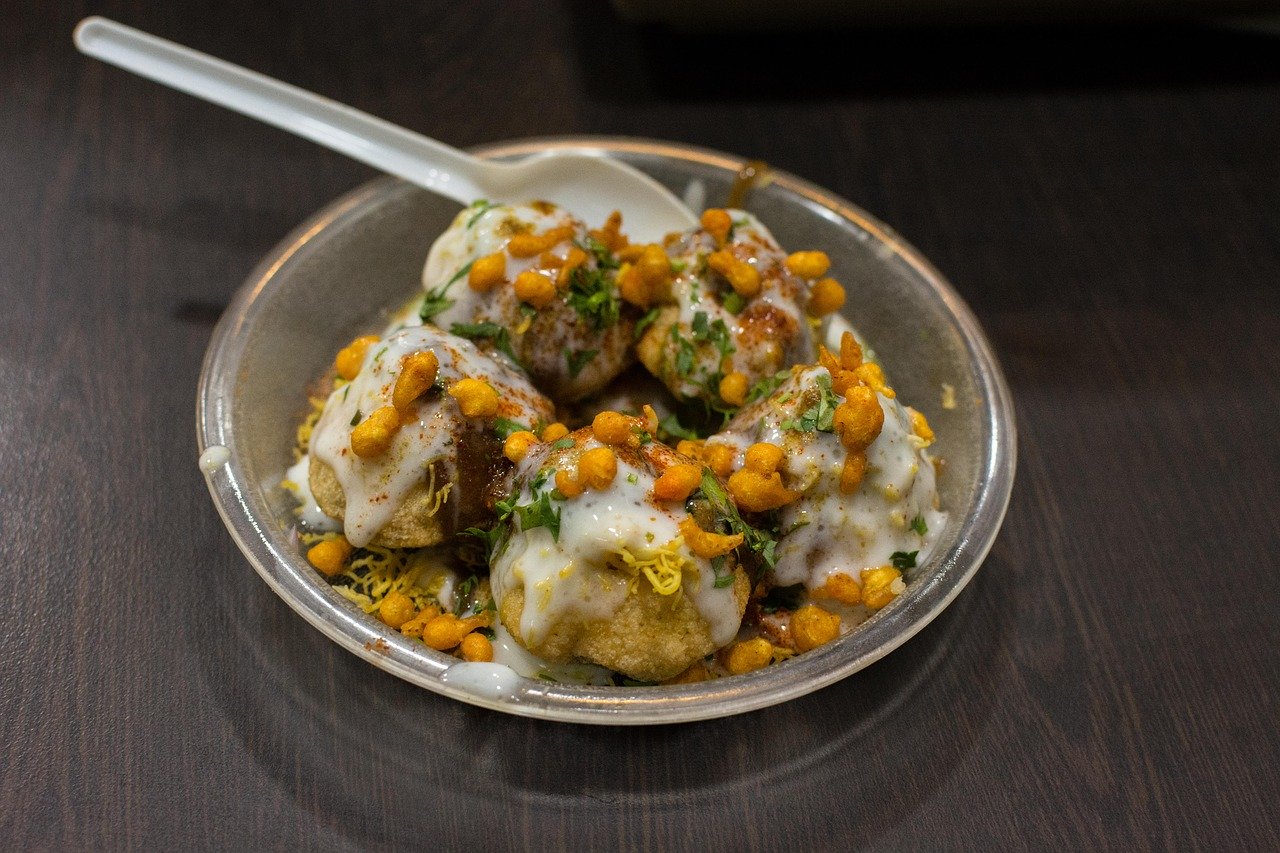 Delhi, the capital city of India is a good place to taste the North Indian dishes. Chole bature is famous around the city for its soft, crispy baturas, a form of Indian bread made of mashed potatoes, and served with a spicy chickpeas curry or chole. Scoop up the curry with a piece of your batura before you put it into your mouth in the morning for a delicious breakfast.
Chaats are very popular not only in Delhi but, across the country although, their flavors and ingredients vary from state to state. It is a mouth-watering combination of spices, sweet chutneys, curd along with boiled potatoes. Try out the aloo chaat, papri chaat, and golgappas from the local food joints.
Where to eat: Visit Sitaram Diwan Chand at Paharganj for chole bature; Daulat ki Chaat and Natraj Dahi Bhalle walla at Chandni chowk for chaats.
2) Vada Pao and Pao Bhaji of Mumbai
Vada Pao is the signature street food from Mumbai, a very busy city of Maharashtra, popularly known to the world as the city of Bollywood. Vada Pao is like a veg burger stuffed with deep-fried, tangy potato patty and served with delicious chutneys and seasoning. Enjoy it while taking a stroll in the busy, humid markets of Mumbai.
Pao Bhaji is a simple yet delicious meal ideal for evening or late-night snack made with veggies and served with buttered bread. It tastes best with sea breeze or the monsoon rains. Enjoy it while you surf the sands at Juhu beach.
Where to eat it: Try out Pao bhaji from the food stalls at Juhu beach. Try vada pao at Ashok Vada Pao at Kashinath Dhuru Marg, Dadar, Mumbai.
3) Daal Baati Choorma and Ghevar of Rajasthan
Rajasthan, a western state known for its historic forts and lakes in the desert is a bucket-list destination for every traveler. Daai baati choorma and Ghevar are two definitely signature dishes of Rajasthan.
Ghevar has an outlook similar to a doughnut but, different in its taste. It is a mixture of flour and ghee(clarified butter) fried deep in hot ghee and garnished with almonds, pistachio, or kesar. Ghevar is a very special dessert among the local communities and becomes the main item during every local festival.
Daal Baati Choorma, on the other hand, is a historic three-ingredient dish that was famous among the Rajput warriors. The dish comprises of the baatis, a dough of ghee, flour, and milk baked and served with daal, a mixture of five lentils cooked with exotic spices, and choorma, a crumbled dessert.
Legend has it that the Rajputs kept the doughs buried in the sand to get baked and dug them up after a battle and ate the baatis with camel or goat milk.
Where to eat it: Visit Krishna Daal Baati Restro, Udaipur for Daal Bati Choorma; Laxmi Mishtan Bhander, Jaipur for Ghevar.
4) Kulfi and Kaju Katli, Delhi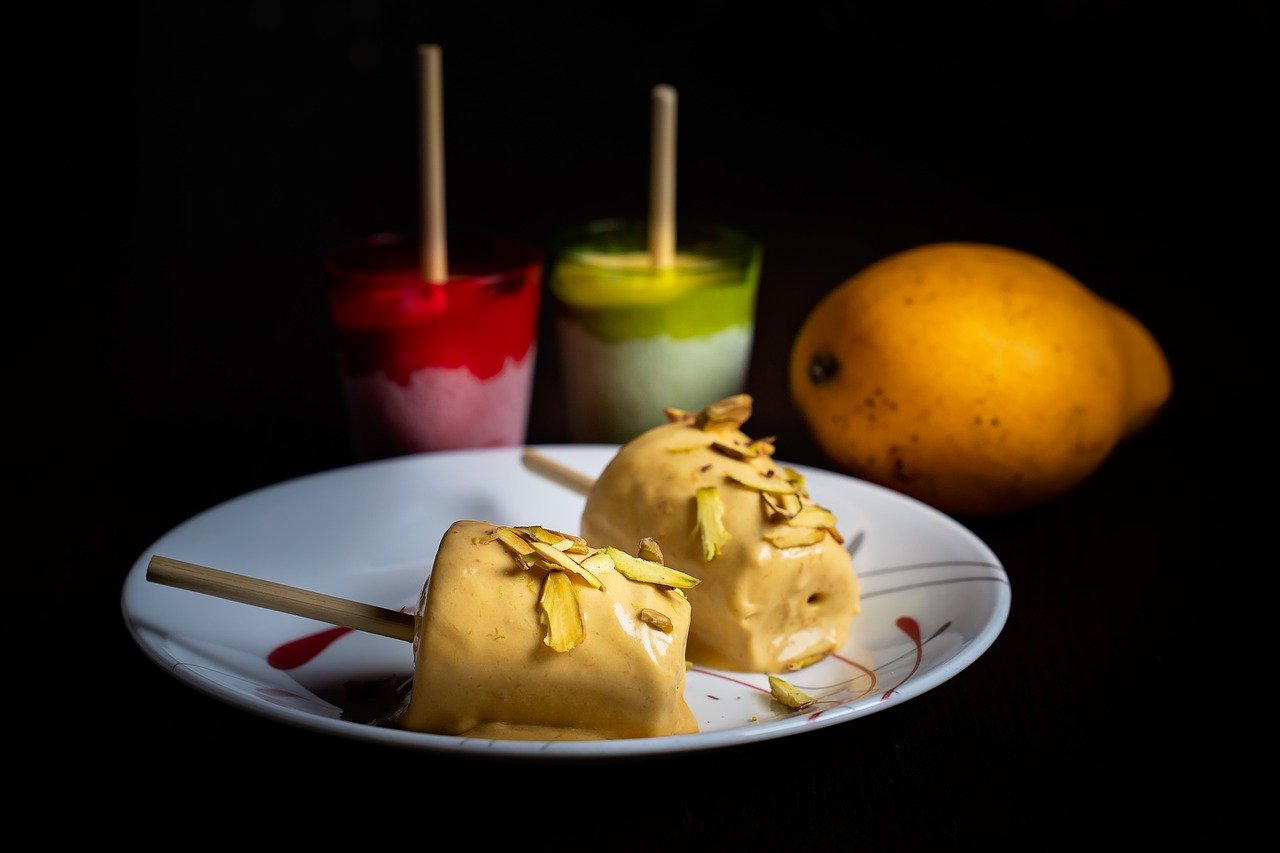 Apart from exploring the spicy flavors, Delhi is also a place to sweeten your mouth. Kaju Katli is a dessert made from ground cashew (Kaju) nuts and sugar syrup while, Kulfi is a frozen dessert, a close relative of ice-cream but differs in their ingredients.
Kulfi is made from full-fat milk which is boiled for hours to bring that silky texture within it. Later, it is served in different colors and flavors like mango, almond, pistachio, Kesar (saffron). This is a must-try in the hot summer days of Delhi.
Where to eat: Kaju katli is available in all the sweet shops of Delhi. To get the best kulfis, take a visit to Ravi Raj Di Kulfi in Karol bagh, opposite Ghaffar market: Roshan Di Kulfi also in Karol Bagh.
5)  Dhokla of Gujarat
Located on the western coast of India, Gujarat has a rich history that dates back to the Indus Valley civilization. Being ruled by several emperors of the Rajputs, Mughals, Marathas, the land of Gujarat has its own diverse culinary heritage. One of the most popular street foods that made a mark throughout the country is Dhoklas.
Gujrati Dhoklas are a spongy and tangy snack made from a mixture of besan or suji with turmeric, baking powder, and then baked to perfection. It is often garnished with coconut shreds, black mustard seeds and served with a sweet chutney or baked chilies.
Where to eat: Try dhoklas at Das Shurti Khaman, Ahmedabad.
6) Kathi/Egg rolls and Fish Fry of Kolkata
The City of Joy, Kolkata is the birthplace of the yummy Kathi rolls. Situated at the eastern fringe of the country in the state of West Bengal, Kolkata has perfected the art of rolling down paranthas (an Indian bread) stuffing it with fried eggs, juicy chicken, or meat, boiled potatoes, and veggies accompanied with various sauces.
It is an absolute must-try for foodies and travelers on-the-go. Enjoy a cup of chai (tea) served in earthen pots after gobbling up the roll to get the best essence of Kolkata.
Fish has a special place in the hearts of the Bengalis (the local community of Bengal) and the Kolkata Fish fry is the ultimate fish recipe that is arguably the most popular menu of the region.
The thick, juicy fillet of Bhetki fish is marinated in a mixture of onions, garlic, ginger, cilantro, black pepper, and salt and then deep-fried coating them with an egg mixture and bread crumbs. It is served hot with a spicy mustard sauce and garnished with mint and onion slices.
Where to eat: Kusum Rolls and Zeeshan in Park Street for Kathi rolls; Mitra cafe for the authentic Kolkata Fish fry.
7) Kebab and Biriyani of Lucknow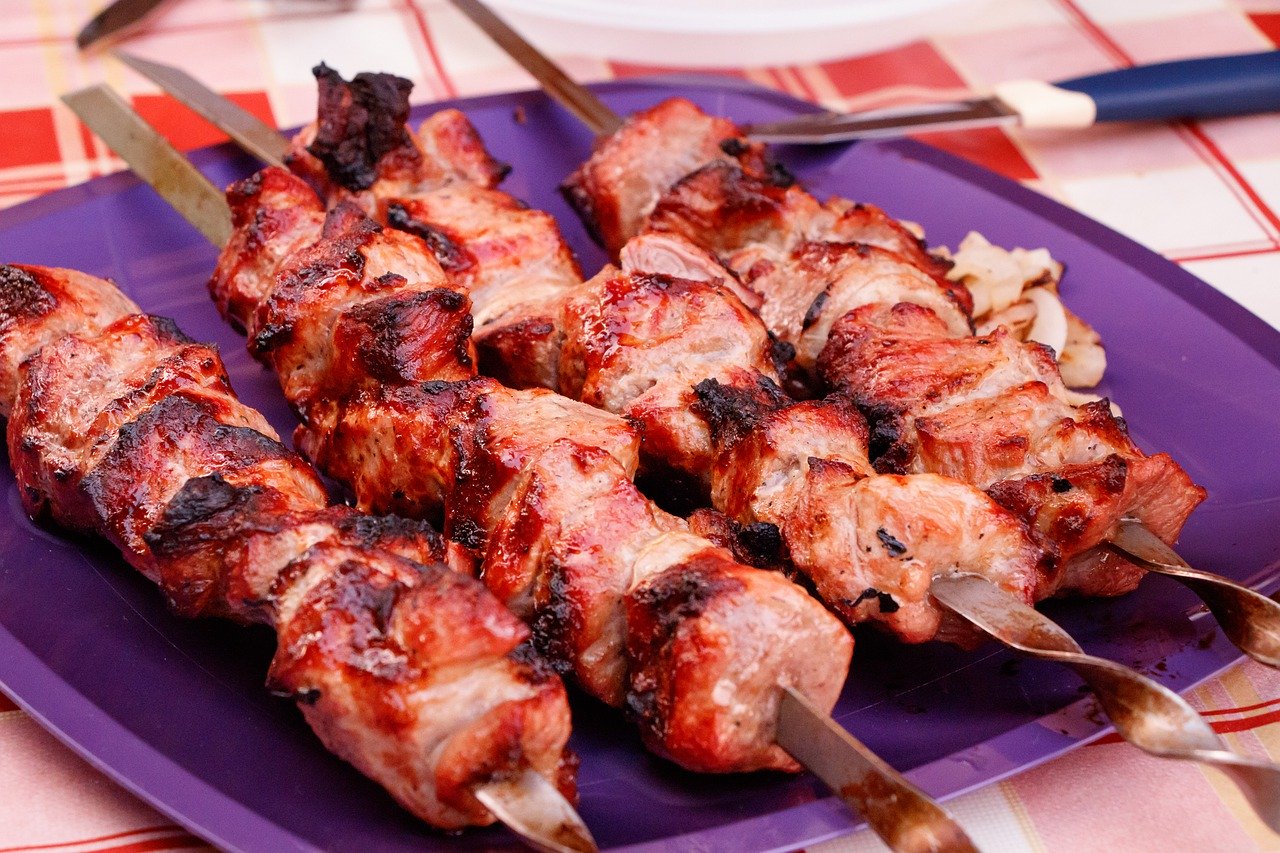 Kebab and Biriyani go hand-in-hand and Lucknow is the perfect place to try it. Lucknow, the land of the Nawabs is an old and bustling city of Uttar Pradesh which is well known for its Awadhi cuisine.
A walk along the chowk (busy market place) of the city will familiarize you with its Tunday and Galawati Kebab. Kebabs are made with minced meat, slowly grilled in skewers to a crispy brown. The true recipe of these extremely soft and juicy kebabs are hard to guess as they consist of nearly 150 ingredients.
The Lucknowi Biriyani is a dish sent to us straight from heaven. This dish of rice and meat cooked together in earthen pots with secret spices is a mystery to the rest of the world.
Although, you'll find biriyani in Hyderabad which has a completely different taste than the one from Lucknow. Lucknowi Biriyani has its influence from Persia and its delicate Nawabi flavor and aroma will take you by surprise.
Where to eat: Try Biriyanis from Idris Ki Biriyani and Lalla Biriyani in Lucknow.
8) Rosogolla and Cadbury-mishti, Kolkata
Kolkata is definitely the sweet spot of the country with its heavenly sweet delicacies. Roshogollas were originally developed in Kolkata and are still the most loved sweets of the region.
They are extremely spongy sweetmeat dumplings made out of milk and then dumped in a sugar syrup to get fluffy filled with sweetness. During the winters they taste even better as they are made with Nolen Gur (date palm jaggery).
Cadbury-mishti is an intrepid marriage between chocolate and Sandesh (a Bengali sweet made with coagulated milk or Chena) which seemed to have brought the best of both the worlds together. It is a must-try if you are a chocolate lover.
Where to eat: Kolkata is filled with sweet shops almost at every lane but to get the authentic taste visit Balaram Mallick and Radha Raman Mallick; KC Das and Grandson; Hindusthan Sweets.
9) Rabri jalebi of Varanasi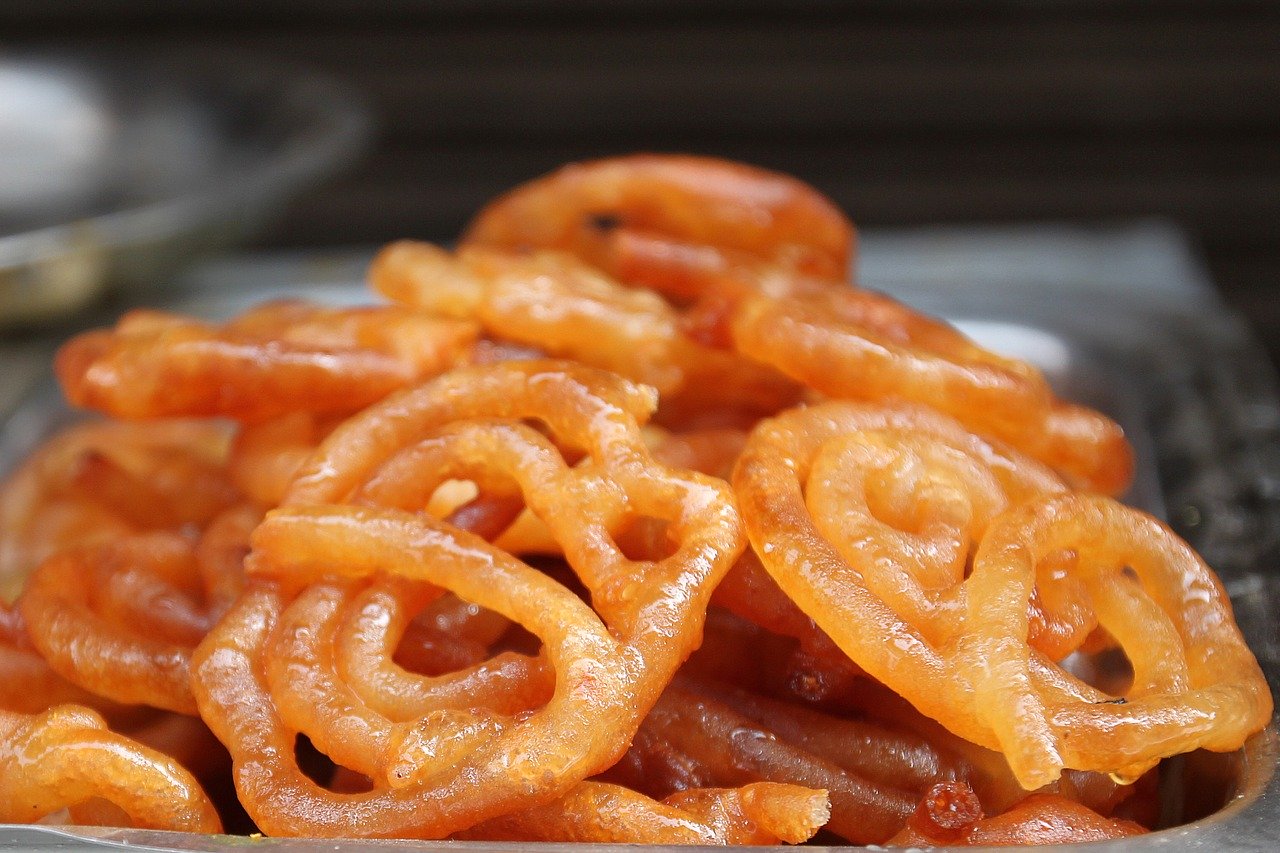 Varanasi or Benaras is a city of Uttar Pradesh older than history itself. Being a religious place for the Hindu pilgrims at the banks of the Ganges, Varanasi is a paradise for vegetarians as meat consumption is prohibited here.
Enjoy various veg delicacies and desserts sitting at the ghats of the city. The very popular street food among the locals is the Rabri and Jalebi but, they taste best when eaten together.
Rabri is a thick and light dessert made with milk and topped with nuts and dried fruits while Jalebi is a sweet, crispy snack.
A trip to Varanasi remains incomplete without a benerasi Paan, betel nut leaf served with tobacco, areca seeds, dried fruits, and fennel seeds. They serve as a mouth freshener after the meals. Opt for a meetha paan to enjoy it without tobacco.
Where to eat: Rabris and Jalebis are sold in the area like hotcakes at almost all food stalls in the city.
10) Momos and Gundruk Soup of Sikkim
The North-Eastern state of Sikkim is one of the least populated states of India. Situated on the lap of the Himalayas, the cuisines of Sikkim is very much different from the rest of the country. One of the best street foods you'll find in the local stalls is momos.
The Sikkimese momos are a combination of Tibetan and Nepalese cuisine. Soft doughs of flour are kneaded well into small round pieces that are filled with spicy veggies or minced chicken/meat and are folded into an intricate pattern by expert hands before steaming them. The momos are served with a red-hot sauce and a clear soup or thukpa.
Gundruk Soup is a very popular vegetable soup among the Sikkimese household. They are served hot with chillies and various seasonings and are perfect for the winters.
Where to eat: Try them out at Roll house and Taste of Tibet in Gangtok.
It's probably hard to soak up all those flavors in one go but, definitely try them out as a trip to India remains incomplete without the local cuisines.
You May Like To Read:
Author's Bio: Sudiptaa Sen is a travel writer from Kolkata, India writing articles about this and that. She is definitely a travel enthusiast who loves to explore life from different perspectives and lives to tell the tale.