Namibia, just above South Africa is a place full of diversity in terms of landscapes and wildlife. Namibia is popularly known for its ever-shifting dunes and deserts and is house to some of the highest dunes on the world.
Other than dunes and deserts, Namibia is a land of treasure, culture, rich history, diverse landscapes and diverse wildlife. It is one of the best destination to visit if you are an adventurous and venturesome soul.
Namibia is a very young country in terms of independence; it has developed a lot since its birth after independence but still needs quite a lot of development.
It is however, quite a peaceful country in comparison to other African countries in terms of political stability. You can enjoy your trip here. Here are some of the best places to visit in Namibia:
10 Best Places To Visit in Namibia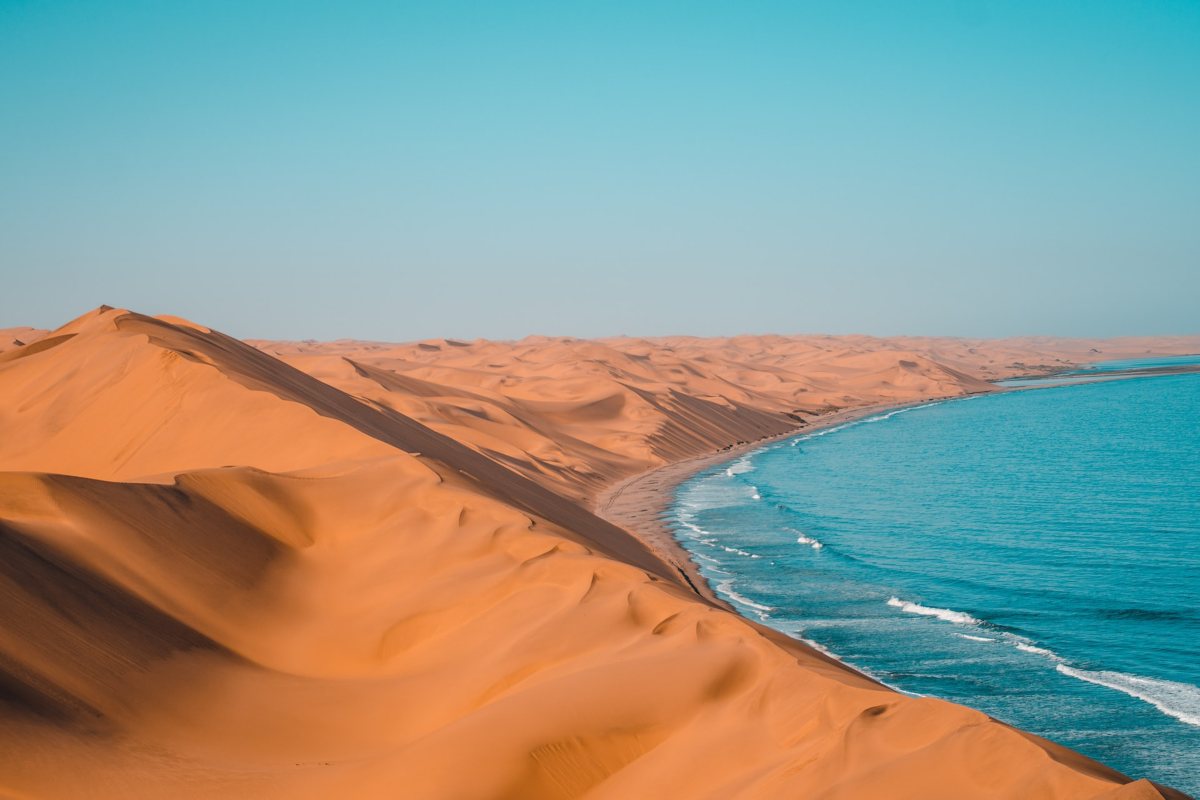 1. Sossusvlei
This beautiful pan of scorching sand and huge dunes lies in the depth of the Namib-Naukluft National Park. The main tour attractions here are the huge dunes, some as high as 350m above sea level.
The rapid winds are always at work to change the shape of the desert by creating and destroying dunes. This is one stunning location.
2.  Swakopmund
This beach resort is still very much European and you can experience the German reign in this small beach town. The coastline is peppered with European architecture buildings.
Amongst the things to do here include visiting pubs, restaurants, bars, arts and crafts markets and enjoying the splashing waves on the relaxing beach.
3. Etosha National Park
This is the one National Park in Namibia that you should not miss at any cost. This park is popularly from a long time back and gives you the chance to see some rare animal species.
This is one of the best destination for nature and animal lovers. Going on a safari and exploring around are the main things to do here.
4. Kaokoland
This small carved village is home to the Himba people for centuries and is often visited by tourists who visit the Etosha Park. This is a stunning piece of land with twisting and turning rivers, mountains and the Grand Canyon.
5. Skeleton Coast Park
This is quite a curious and fascinating park, best for adventurous souls. Here the arid desert meets the violent Atlantic Ocean making a dangerous coastline.
The name skeleton has been justified by the presence of vacant and degrading boats, convoy ships, skiffs and tankers. You can also find hyenas and Namid elephants here.
6. Twyfelfontein
This dusty area situated in the Kunene Region is simply a wondrous site to visit. The main tour attractions are the unique old rock art found here. You can visit altogether sixteen different such sites in this region; each having its own unique rock art. Moreover, the rolling savannahs and high mountains are a sight to behold.
7. Spitzkoppe
This is one fascinating site and have similarities with the beautiful mountains of Switzerland's Matterhorn. The main tour attraction here are the many rock paintings you can find at the bottom of the mountain. Other things to do here are observe the numerous bridges, caves, arches and unique rock formations.
8. Windhoek
This is a nice, calming city in the heart of Namibia. It is famous for its freshwater springs which has made the land fertile and green. Tourists here like to enjoy the nightlife because of a number of amazing bars. The old German building and architecture are also amazing to look at.
9. Caprivi
It is basically a strip of land with climate and habitats not seen in other parts of the country. This piece of land serves as a bridge for migration of animals between the land and coast. The place is regaining its glory after the civil war and is a must visit place.
10. Kolmanskop
The haunted city of Namibia is a spooky place to visit and witness the abandoned life. This town was one the richest town and was well flourished because of the diamond boom but the city got abandoned somewhere in between the mid-20th century. Tourist love to take picture of the emptiness and the dilapidated and crumbling houses and buildings.
Conclusion
Namibia is a great country in western part of Africa to visit. It is a safe country apart from few burglary, mugging and street crimes. If you play safe, Namibia is an amazing place to be.
From diverse landscapes, diverse wildlife and beautiful nature, Namibia has it all. There are many things to do here and you will definitely enjoy every moment staying in Namibia.
Read Also: