Ready to visit Cost Rica? Awesome. Here are ten best places to visit in Costa Rica.
Costa Rica is a central American country famous for its natural sites such as beaches, volcanoes and mountainous areas. People who love being in a natural surrounding and away from the busy of life of city and take a visit to Costa Rica and enjoy the some of the best days of their lives there. To the visitors' advantage, Costa Rica does not have a very strict visa policy; in fact, people from many countries are even allowed on arrival visa.
Here are a few sites you can visit in Costa Rica and make the most out of your visit:
Best Things to Do & Places to Visit in Costa Rica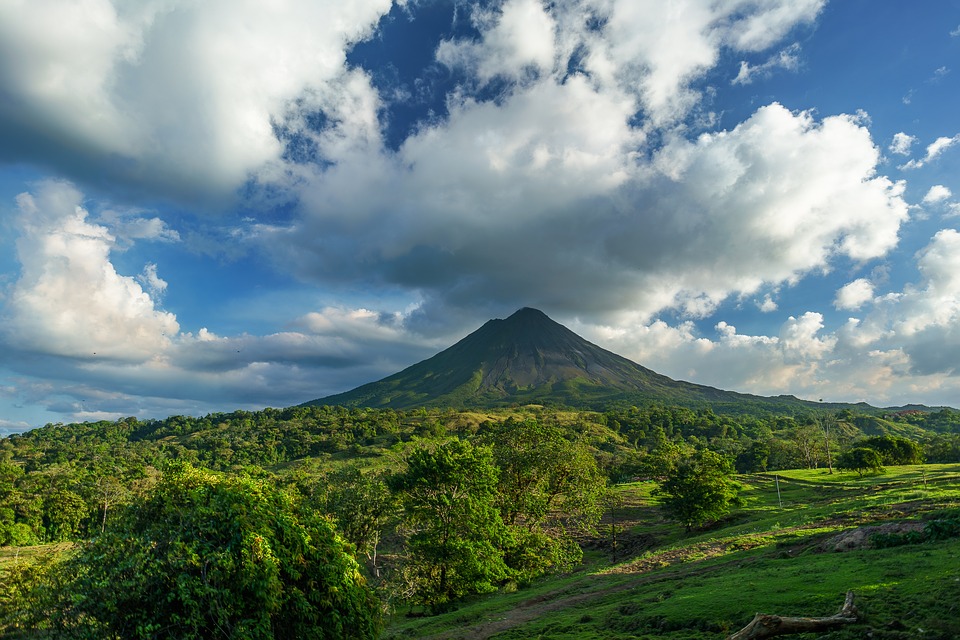 1. Arenal Volcano
The volcano is located in North-Western Costa Rica at the center of Arenal Volcano National Park. The volcano is one of the seven famous active volcanoes of Costa Rica.
The site is a good hiking spot and has several hot springs in the area. People can go there on a nice sunny day and enjoy the nature's bounties.
2. Corcovado National Park
Located in south-western Costa Rica, it is the largest national park in the country. It is one of the most biodiverse places in the entire world.
It has a huge variety of wildlife animals including scarlet macaws, hermit crabs, spider monkeys, tamandua anteaters, pumas, tapir, white faced capuchin and so on. One can visit the park in daylight or even book an overnight visit with the park's management.
3. Lake Arenal
It is the largest lake in Costa Rica with a huge variety of underwater species and birds flying over the river. This place offers a jaw dropping view of the volcano and the faraway green lands.
The most popular activity for visitors here is windsurfing as the winds are quite strong from November to April.
Apart from windsurfing, stand up paddling, hiking, biking, kayak fishing, kitesurfing and wakeboarding are also very popular activities in the area.
4. La Fortuna Waterfall, Costa Rica
Located in central Costa Rica, this waterfall is an amazing sightseeing spot for tourists. You can visit the waterfall by paying $15 for a ticket.
You can also go down the waterfall either by hiking or by using the staircase that is built in the hillside. Further, you can also refresh yourself by swimming in the stream, and there is no need to worry as there is a lifeguard at duty who has got your back.
5. Cahuita National Park
It is a marine national park that offers tourists to experience snorkeling in its protected marina area with hundreds of marine species including sea turtles, fishes and plants.
The national park is also home to several kinds of animals and birds including green ibis, kingfisher, toucan, sloths, raccoons, pacas and white faced capuchins.
You can also visit the park if you want to spend some good time at a beach as the park contains some of the most beautiful beaches on the country.
6. Bahía Drake
Famous for its historical background and beautiful natural elements, Bahía Drake is a bay located at the coast of southwestern Costa Rica.
The travel to Bahía Drake using a car is extremely difficult due to the rugged landscape; however, it is worth the struggle because when you reach there, you will realize that the place is one of the most beautiful ones you have ever seen or will see in your life.
7. Tenorio Volcano National Park
The national park is popular due to the volcano it contains. Even the name of the park is drawn from the volcano's name.
The place offers great hiking opportunity to the ones interested. Adding to this, it is an amazing sightseeing spot.
8. Palo Verde National Park
Another outstanding sightseeing spot that features floodplain, tropical dry forest, limestone ridges and seasonal pools for the visitors to witness.
9. Carara National Park
Established in the 1978, the park has a very diverse variety of animals including the Scarlet macaws, American crocodiles, white-tailed deer, red brockets, kinkajous, mantled howler monkeys, egret, kingfishers and so on.
10. Manuel Antonio Beach
Why not spend a beautiful sunny day at one of the best beaches in Costa Rica? The beach is huge and has amazing looks.
Read Also:
50+ Incredible Things To Do in Costa Rica