Want to explore South Korea? Don't miss out the following best places to visit in South Korea.
South Korea known as Republic of Korea is a country in Eastern Asia which shares a strong military border with North Korea. Korean people are highly qualified with an average literacy rate of  98% approximately.
South Korea is basically a hilly country rich in valley beauty and also small coastal plains, in total it is a beautiful country to be visited and have a long list of places to visit in South Korea that it is difficult to choose the top ten places to visit in South Korea.
South Korea  is only country where baby born is thought as one year of age. In South Korean culture every man  must serve for the military for 21 months at least. It is famous for it Cherry trees which is also a cause of greatest attraction for the tourists. There is a list of the top attraction of South Korea.
Best Things to Do & Top Places to Visit in South Korea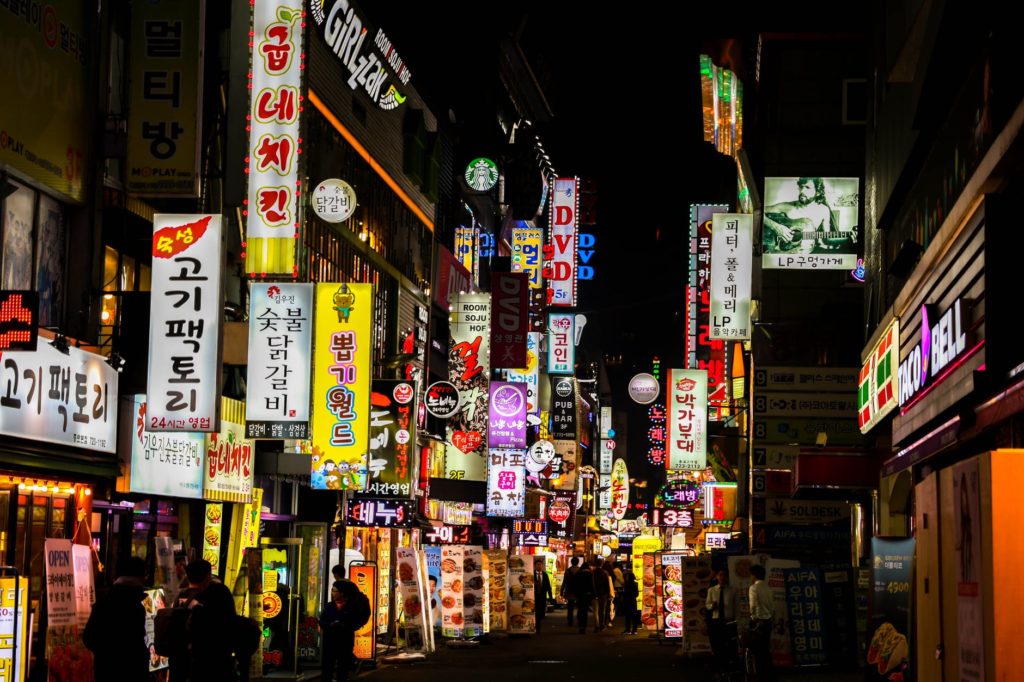 #1. Gyeongbokgung Palace
Palace of the four gates was built in Joseon Dynasty for being their Royal Palace. This palace is the greatest attraction for the tourists because of its breath-taking unique construction style.
Within those palace there are multiple course of buildings each reflecting its purpose of construction. Every moment spent here gives you a harmony to be enjoyed and all its visitors get captivated in the charm of this palace.
#2. Namsan Seoul Tower
What to talk about this biggest attraction of South Korea, what a master piece of construction in the heart of the city. This tower is famous for this heaven like visit of the city at night.
Its love increases with a number of restaurants and cafes welcoming their visitors all the day and over the nights. Its a great place to be visitors with all the loved one.
#3. Lotte World
Lets move for the live performances and increase the charm of the visit by coming and spending time in this beautiful park.
Its a place for great fun and a must visited place for the tourists located in Seoul but can be reached very conveniently. This adventurous and magical park is greatest attraction for the tourists from all over the world. The visitors with less or more time come there to enjoy thrilly rides like Gyro Drop and Gyro Spin. Great Places to visit South Korea so don't miss this place.
#4. Bukchon Hanok Village
Another top attraction of South Korea is the Village of heritage reflecting the charm of Korea. It gives the view of traditions of Korea by its type of buildings.
To make one's trip to Korea more remember able one should visit "Eight Scenic Spot of Bukcon" and its impossible to get rid of its charm.
#5. Namiseom Island
One more greatest attraction ti South Korea is this splendid  island which increased its fame after been seen in a famous Korean daram after which thousand of the people got magically attracted towards this island.
This island is not so big in area but yet contains all charm for its visitors. This island still protects its natural beauty and its enhances its beauty.
#6. Changdeokgung Palace and Huwon
Changeokgung Palace and Huwon is one of the top places to visit in South Korea. This place was also constructed in the reign of Joseon dynasty and has also serves as royal place for a long period.
This building has been constructed with a great care and by taking in consideration its geographical factors of the surroundings and also the environmental effects.
This eye catching building is believed as each in culture and has been in the list of UNESSCO World Heritage in year 1997, which is an achievement for South Korea and a major attraction for its visitors.
#7. Insa-dong
Another best places to visit in South Korea. Awe-inspiring street of traditions, culture and heritage of Korea. There are numerous things to do here and a bundle of reasons to be a visitor to this historical street.
It grabs a lot of visitors not only because of its yummy traditional foods at different food points but also a number of shops their traditional handicrafts and having tea at its hanok buildings which is just amazing and makes it one of the main reason to visit South Korea.
#8. Hongdae
How to complete your journey without visiting this powerful, energetic and cultural site, containing streets with a lot of points to be stopped and watched like cafes, restaurants, malls, clubs and bars.
All fun just in one site. Now this site has become more popular among its visitors and tourists because of and addition of Yeongnam-dong's Gyeongui Line forest park. This provide its visitors relaxation. Its scenery, shops all around and walking tracks give a feel of easing the soul. All these qualities has made Insa-dong a major attraction to South Korea
#9. Myeong-dong
This little area is filled with joy of all kinds. This trendy site is just very popular in visitors and especially  among youngsters.
A lot of point are there to take some time to stop and see like its malls, food streets and fashion spots also. Spread just on a kilometre but winning the hearts of its visitors  Myeong-dong sets latest trends.
Its also gives amazement by its department stores, duty free stores, branded  shops, star icons and much more. Not just getting and purchasing something but window shopping can also  be enjoyed.
#10. The Garden of Morning Calm
In the list of best places to visit in South korea, it is one of the best place you should visit and make your journey in South Korea memorable.
It is a perfect place for relaxing your soul. After visiting all other famous and busy points of South Korea get here for ease now. What a fantastic view and breath–taking greenery, rich in natural beauty and the real picture of South Korea.
Flower beds in different gardens, lush green plants and trees soothing the soul. This mind blowing picnic plus vacational point is also very famous and is a top attraction for the tourists to South Korea.
South Korea is always welcoming thousands of visitors from all over the world every year. Its a country of natural beauty and heaven for its citizen.
South Korea is considered as developed and also rich in literacy and natural beauty. South Korea is most active country in connectivity and globally attached to whole world.
Its fashion industry is like the setters of the trends. Along with all these things there are a lot of places and reasons for the tourists to get attracted towards this beautiful country. These places are ready for warm reception any time and will definitely leave  life lasting memories to your life.
If some one is planning for a vacational trip then this tremendously beautiful country is a perfect match for picnic with all family members or friends.
Read Also:
What is the Capital of South Korea?
Best Hotels to Stay in South Korea