Check out the top accommodations and best hotels to stay in Paris!
Paris, the city of love, romance and art, is a popular tourist destination for several people around the globe.
Thousands of tourists come to the city every year to spend time with their families, friends and loved ones.
One industry that flourishes during tourism is the hotel industry and it is also a very competitive industry with hundreds of players fighting for greater market shares.
In this fierce competition, some hotels have managed to gain a competitive advantage over other through their superior service, and they are getting benefits for their hard work through better profits.
Best Hotels to Stay in Paris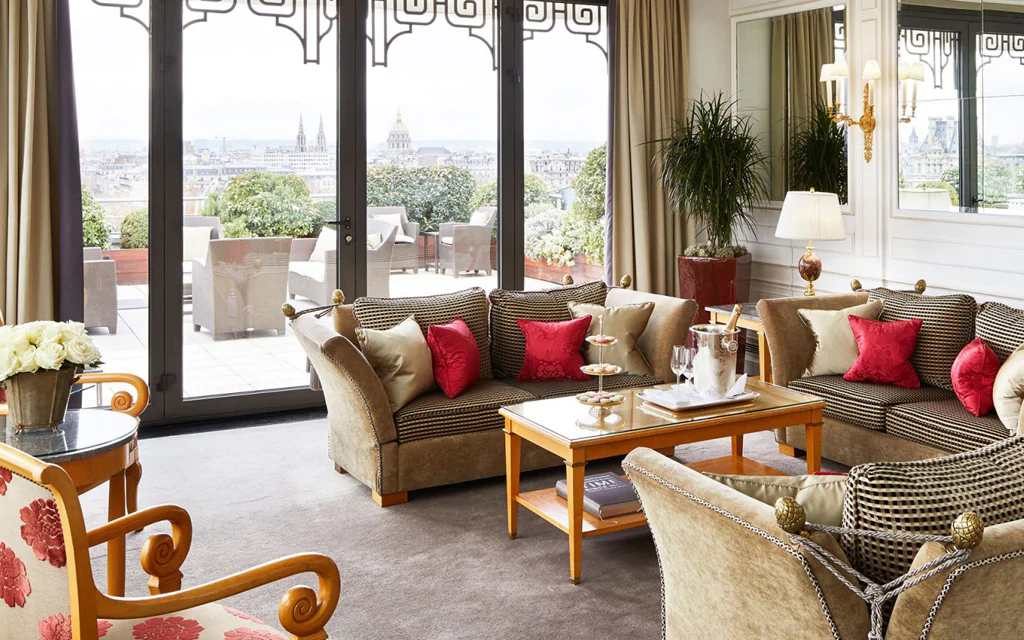 #1 Ritz Paris
The hotel is situated very near to Place Vendôme and the Palais Garnier. Ritz Paris has a specialty over other hotels due to its room design. The 'apartments' in Ritz Paris is designed with historic art and architecture.
Golden and white colors are used a lot. The hotel has a suite named after the famous designer 'Coco Chanel'. This suite belonged to her previously. There is a bar in the hotel named 'Bar Hemingway' and a restaurant named 'L'Espadon'.
#2 Le Meurice
The hotel was considered to be one of the first luxury hotels when it was built in 1815. The hotel has a rich artistic background and it is also said to have hosted the famous Picasso's wedding dinner.
Le Meurice also hosted Dali's Parisian home for over three decades and when the hotel was being renovated, the designers got help from Dali in designing the place.
#3 Le Bristol Paris
The hotel has been very popular amongst celebrities and officials for several years. It was one of the favorites of Charlie Chaplin and Rita Hayworth. Moreover, during the world war 2, the hotel hosted many government officials including the American Embassy guests.
The hotel offers one of the finest cuisines around Paris and its restaurants have received several awards and accolades for being so good through the years.
#4 The Peninsula Paris
It is one of the Paris's palace grade hotel. The hotel was not very successful previously, but recent renovations and efforts of skilled designers have it one of the best hotels in Paris.
It has five dining venues which means that its guests will hardly have to go out for eating. The hotel refined and airy public places with high quality wood, stone work and around 40,000 pieces of gold leaf.
#5 The Four Seasons Hotel George V, Paris
The hotel features 18th century artistic elements, comfortable and luxurious accommodations and beautiful and cozy living spaces. Although the rooms are a bit old-fashioned and do not match the modern hotels' standards, this hotel has very spacious and clean rooms.
#6 Park Hyatt Paris
The hotel is situated very close to Musée du Louvre and the Palais Garnier. The hotel is based upon a brown, beige and while color combination which gives its guests a luxurious feel.
Chef Jean-François Rouquette cooks extremely delicious food there and the guests do not feel the need to go out and have something to eat.
#7 Shangri-La Hotel Paris
In the list of top accommodations and hotels to say in Paris, Shangri-La Hotel Paris comes at number seven. The international hotel chain has also set up one of their hotels in Paris. Just like their other hotels around the world, their hotel in Paris is also equally luxurious and accommodating to the guests.
#8 Hotel Splendide Royal Paris
The hotel is designed with earlier classic decorations and colors instead of modern art and glamor.
This is why it is more famous amongst royals and officials instead of celebrities and teenagers who seek glamor and flashy lifestyle.
#9 La Roch hotel and spa
The hotel is a popular destination amongst people who seek relaxation and calmness instead of busy city life.
The hotel is also very famous for its amazing delicious cuisine. It is famous for its 'home feel away from home'.
#10 Mandarin Oriental Paris
The hotel is a perfect example of a modern day hotel with an excellent spa, modern decorations, restaurants, swimming pool and other services. The hotel aims to provide its guests with the best luxurious stay possible.
The staff is busy in serving the guests to the best of their abilities from the very start to the end.
Must Read: