In Downtown Manhattan, it's all about the neighborhoods. Each one spices up the authenticity of the legendary New York vibe with its own flavor. 
Between them all, you can bar hop, laugh it up, sing your own tune, go gourmand…there's something for every taste. 
Exploring each neighborhood doesn't make it any easier to choose a favorite. Here's what each part of lower Manhattan brings to the table to help you make the most of it!
To make the most of it, you don't want to be dragging luggage along. So drop it off at Stasher, an easily accessible luggage storage chain with locations in New York.
Five Things To Do In Downtown Manhattan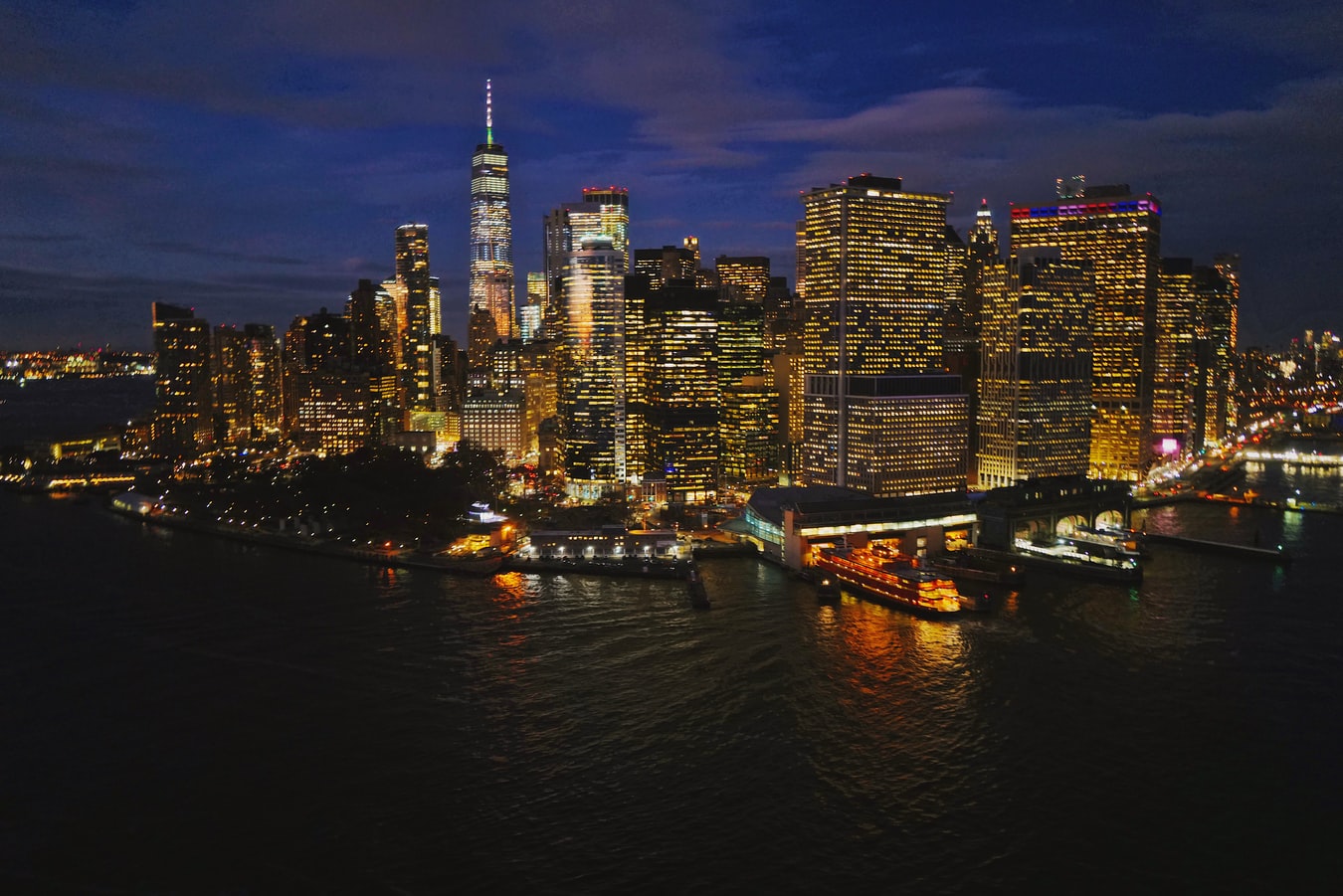 1# It Takes Two Villages
At it's tip, downtown splits into two distinct villages which complement each other quite well. 
On the West Side is the West Village, better known as Greenwich Village. Greenwich Village is a progressive, diverse and colorful zone. Arguably the most artsy atmosphere, the streets are lined with art galleries, off-broadway venues like Cherry Lane and indie cinema houses like IFC Center.
Stonewall Bar, birth of the gay rights movement, still stands as a symbol here. It's easy to step into the past at places like Employees Only, a faithful recreation of a prohibition speakeasy. 
Some of the most well known comedy clubs are here too – Comedy Cellar and the Village Underground, which also hosts live music . Stop in and you might catch a famous comedian trying out new bits!
The East Village needs no nickname. It's simply punk rock heaven. St. Marks Place is in the East Village. St. Marks is an iconic and idolized street where heroes of the new wave movement like Lou Reed and Debbie Harry developed their styles, shopping and playing gigs. A must-hang!
2# Better Than So-So Soho
Soho is a lively, creative neighborhood on the west side. Soho stands for "south of Houston". The legendary Bowery Ballroom is Soho and it's worth checking the schedule to see who's playing. Whoever it is, when you see someone play at Bowery, you may not be a fan on the way in, but you will be on your way out!
Soho loves bakeries. Dean and Deluca was born here and a must-stop is Dominique Ansel Bakery, birthplace of the cronut, a delicious cross between the original French croissant and that New York original, the donut!
Plus, a real former prohibition speakeasy, Fanelli's Club at 94 Prince St., is still open (now legally) for business. Grab a drink there and sip the feeling of genuine freedom. 
3# Go Lower East
Lower East Side is the neighborhood that will argue for their rights as the artsiest neighborhood. It's actually a perfect course for a bar crawl.
Head over to Alphabet City. It used to be a bit sketchy but has now become more gentrified, young and hip. Alphabet City is named for the lettered avenues that cross the lower streets. Many of the bars in Alphabet City also showcase live music from some undiscovered but talented new york musicians. 
Lower East also rivals the West Village for comedy. If your sense of humor is a little more "alternative", try Caveat or Old Man Hustle.
Definitely hit Ace Bar on East 5th Street. Still as cheap as when it opened in 1992, it boasts good time games like darts, pinball, skee ball and pool. 
4# Three Cheers For Tribeca
Tribeca is nestled by the Hudson river and is considered the more "upscale" downtown neighborhood. If you are in Tribeca in late April, catch some quality flicks and maybe spot some visiting celebrities at the Tribeca Film Festival, a project initiated by Robert Deniro to revitalize the neighborhood following the devastation of 9/11. 
It's full of swanky restaurants but a little on the expensive and residential side. 
5# They Built This City
Hope you have a big appetite because you're going to want to have two authentic dinners in downtown Manhattan. 
The first one should be in Little Italy. While all the kitchens will be wafting with the aroma of authentic mama italiano cooking, have a slice at Lombardi's, literally the original, first pizza parlor in all of New York City. Take it to go as you wander along gazing at some of the best street art in Manhattan. Resist the temptation to scarf a cannoli!
Because you need room for Chinatown. It's a bustling nook where it feels like the New York City of old will never die. Nom Wah Tea Parlor is officially the oldest restaurant in Chinatown, having opened a century ago, when gang turf wars were still a thing. 
Surely no matter which village or side of Downtown Manhattan you settle on, you won't find a lack of things to do!
You May Like To Read:
Author: Giorgos Mouratidis