The truth is that Cancun is a destination that attracts too much attention, it is the gateway to the Yucatan Peninsula, and to a world of things to do in Cancun. After taking a couple of days to discover the area. Did Cancun manage to captivate us? Absolutely yes.
It's a place to spend wonderful jetlag, relaxing on the beach and tasting the varied and wonderful Mexican food. In this post, we list you 20 things to do in Cancun and the best ways to make the most of your stay in Cancun.
But first, let us tell you that Cancun is divided in two parts. The first is the city of Cancun, where the inhabitants, hotel workers and retirees live, where you can see the day to day life of the common people.
And to the south of the city there is a 25 km road, bordered by a lagoon on one side and extensive beach lines on the other. This is what is known as the Hotel Zone and where most of the accommodation, resorts and tourist attractions are concentrated.
What Things To Do in Cancun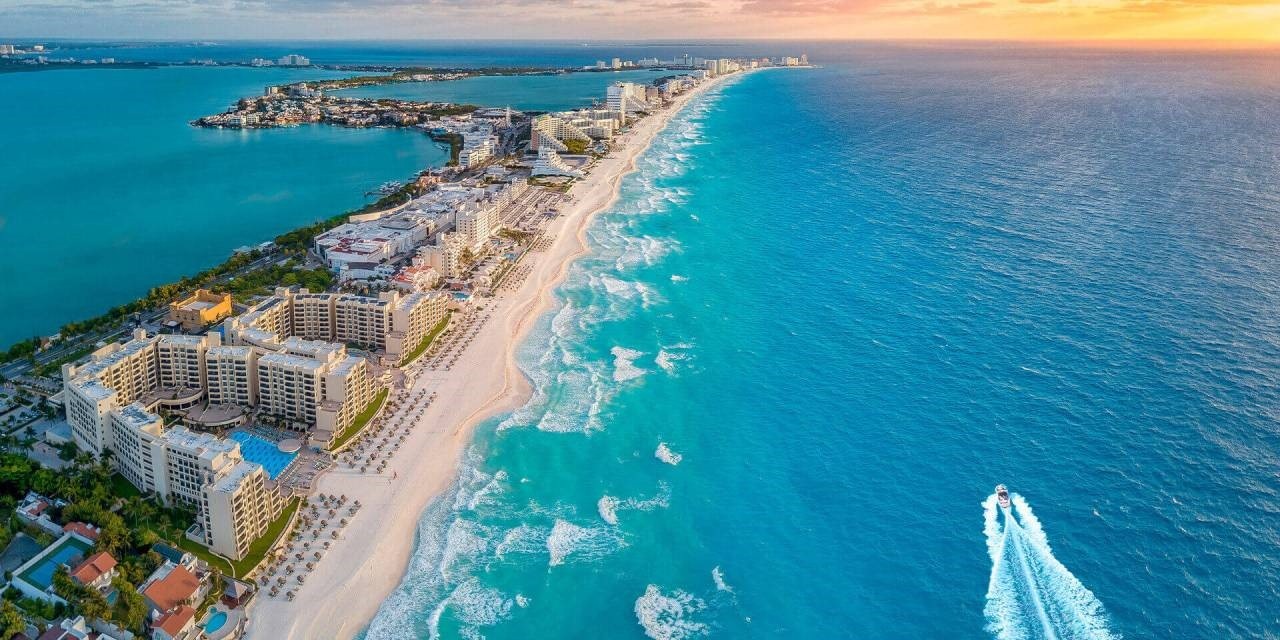 #1. Visit The Iconic Beaches
All travelers (or almost all) arrived in Cancun with a mission: to enjoy its beaches, as they are among the most beautiful in the Caribbean, but which are the best beaches in Cancun?
Playa Delfines
Caracol Beaches
Tortugas Beach
Linda Beach
And there are sure to be many more as Cancun has about 20 km of beaches (not including the nearby islands). Its colors are characteristic of the Caribbean.
#2. Stay In An All-Inclusive Hotel
Live the experience of staying at one of the famous all-inclusive resorts, even if it's only for one day. These hotels have everything you need to spend a wonderful vacation, the spaces in these hotels are generally spacious and have daily activity routines.
The food at these is prepared by the best chefs in Mexico and even the world! If you look hard enough you can find some very interesting offers.
#3.Visit Parque de las Palapas
Give the city of Cancun a chance to get to know its less touristy areas, the less touristy area is possibly the most authentic and you should visit it as well.
A good place to breathe in the local atmosphere is the "Parque de las Palapas", where you can also eat tasty and very cheaply.
#4. Live The Party At Coco Bongo
If you like to go out at night, a mythical place is Coco Bongo. Here you can live a party atmosphere at all times, the music is amazing and they do special events with famous DJ's, this is where you can live the Spring Break in Cancun to the fullest.
#5. Find History And Culture At The Archaeological Sites
Not many people know it, but in Cancun there are three archaeological zones: San Miguelito (3 USD), El Rey (2 USD) and the Temple of the Scorpion Yamil Lu'um (free).
If you plan to visit other Mayan ruins like Chichen Itza or Coba and Tulum, you can skip these, but they are still worth visiting. It is always nice to get close to the memories of past cultures.
#6.Enjoy The Shopping Time At The Exotic Malls
If you want a break from the beach and you feel like doing some shopping (even if it's just to look at it) you can go to one of the shopping malls, like Plaza las Americas (in Cancun Downtown) or La Isla Shopping Village (in the hotel zone), where there are restaurants at the foot of the lagoon (be careful with the crocodiles when approaching the lagoon) and a huge panoramic waterwheel.
#7. Take Your Souvenir Photo At The Cancun Sign
Travel to Playa Delfines for a souvenir photo with the famous colorful "Cancun" sign. If you don't want to wait in line, arrive early in the morning!
#8. Start Diving At Underwater Art Museum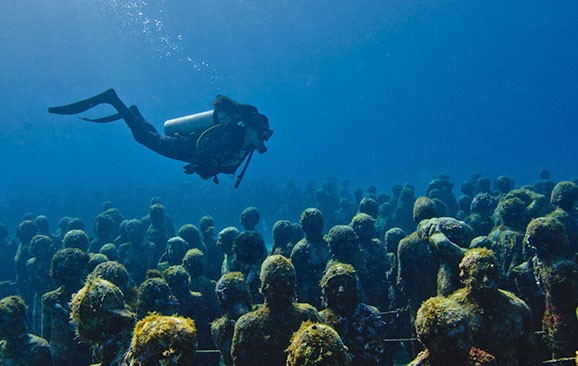 Diving is one of the best things to do in Cancun, and there is no better place to start than at the Underwater Art Museum. It is located underwater between Cancun and Isla Mujeres and has over 500 underwater sculptures. Without a doubt it is an original place.
Curiosity: the sculptures are made of a special marine material, which easily allows the proliferation and growth of corals. If you don't dive you can visit it by glass boat (47 USD). If you dive, the tours are around 100USD.
#9. Have Fun With The Best Water Activities
Both in the lagoon and in the sea you can do water sports. The waves are not as strong for surfing, but you can always rent a paddle board, a jet ski or see Cancun from above in parasailing. Only the popcorn is missing to enjoy these wonderful views!
There are passes that include lots of activities, excursions, boat rides, etc.
#10. Taste One Of The Richest Gastronomies In The World
Take the opportunity to try one of the richest gastronomies in the world. There are quality restaurants in Cancun, and although prices in some restaurants are a little higher than in the rest of Mexico, you'll see that the local specialties are worth trying. One option is to join a gastronomic tour or a taco tour, and even take a Mexican cooking class.
#11. Climb To The Cancun Scenic Tower
If you want a view from the heights, but don't want to risk any extreme sports at high altitude, you can climb the Scenic Tower of Cancun.
It is located at km 4.5 and its platform that turns 360 degrees reaches 80 meters, from where the sunsets have to be brutal. The price is $18.50 USD.
#12. Go Aboard To The Spanish Galleon
Something original to say goodbye to Cancun is to get on a replica of a Spanish galleon and go out at sunset on the Caribbean.
These cruises usually include dinner (very tasty and & huge) and, although it seems like a touristy one, it can be a good ending to your visit.
The Best Tours From Cancun
Although the truth is that the best thing about Cancun is to use it as a base to enjoy numerous day trips, each one more beautiful. We recommend these:
#13. Go To The Tulum Ruins
Visit Tulum and its archaeological site. It is only 130km from Cancun, which makes it a perfect day trip. You can use some Cancun airport transportation service, this way it is easier and you will have more time to do more activities, it has a very good price and it is recommended.
#14. Visit Chichen Itza
Another must see is Chichen Itza, an archaeological area of almost 7 square kilometers, where the Temple of Kukulcan stands out, nothing more and nothing less than one of the 7 wonders of the modern world.
There are many tours that leave from Cancun and take you to visit Chichen Itza (this one for example includes 2 days of tour, one for the visit of Tulum and another for Chichen Itza and the sacred cenote).
#15. Take a Ferry To Isla Mujeres
Take a ferry and go to Isla Mujeres, a wonderful island, where Playa Norte stands out, probably one of the most beautiful beaches in all of Mexico. You can also take a small boat and explore Isla Contoy.
#16. Go To The Cozumel Island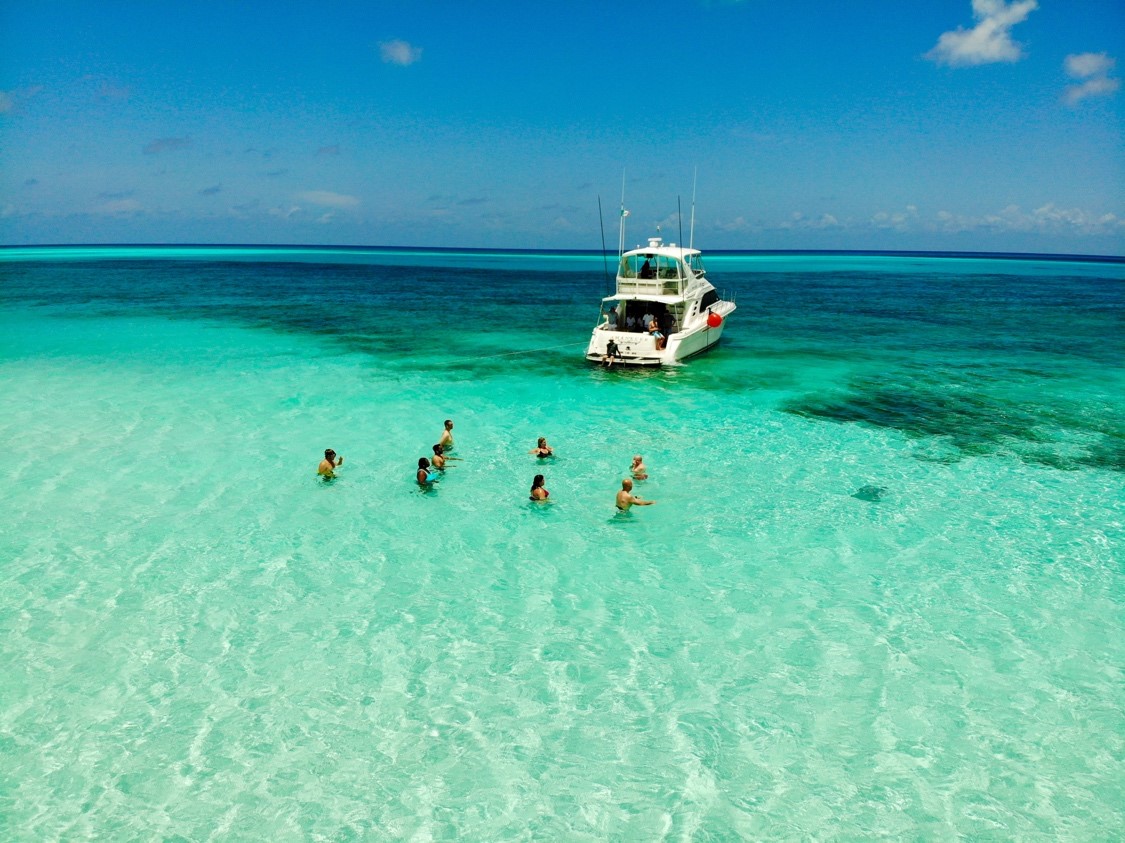 Another highly recommended island is Cozumel. There are tours that leave from Cancun and take you to the most beautiful aquatic corners of the place, being Cozumel's Sky the most famous and charming area.
#17.Swin in a Cenote
Take a swim in one of the cenotes of the Riviera Maya. These geological formations are unique to this region of the world. You can even practice scuba diving and watch the impressive beauty of these.
#18. Visit Nearby Colonial Cities
If you like colonial cities, a great idea is to rent a car, with some company that includes free mileage, such as use a Car Rental Cancun with City Car Rental and making a road trip of a couple of days (at least) to visit Valladolid, Izamal and Merida, cities very safe to drive and walk in its main streets.
#19.Explore The Coba Ruins
Another beautiful excursion is the Coba ruins, one of the most interesting archaeological sites in the Riviera Maya. If you don't have a car, join to a tour which also includes entrance and swimming in a cenote.
#20. Make a Responsible Tourism in Cancun
Finally, we recommend you something not to do in Cancun (and in the Riviera Maya in general). We have seen that there are many activities with animals on offer… don't be part of this business!
That even though, the caretakers and parks are responsible and do not mistreat the animals, they get stressed by human contact. This is exactly why, although many recommended Xcaret Park, we prefer other destinations.
Hopefully these 20 best things to do in Cancun and the recommended tours have pleased you. Have you been to Cancun? What did you think about this destination?
You May Like To Read:
Author: Arthur Russel