United Arab Emirates is commonly known as UAE is a federation of seven emirates. Which are Abu Dhabi (which serves as the capital), Ajman, Dubai, Fujairah, Ras Al Khaimah, Sharjah and Umm Al Quwain. UAE is situated at the southeast end of the Arabian Gulf.
The official religion is Islam and Arabic is national language. The country has seventh largest oil reserves and seventeenth largest gas reserves.
People from all over the word visit UAE for many purpose e.g. entertainment and adventure, shopping festivals, job, hiking the deserts and many more. Top ten places to visit in UAE are:
Best Places to Visit in UAE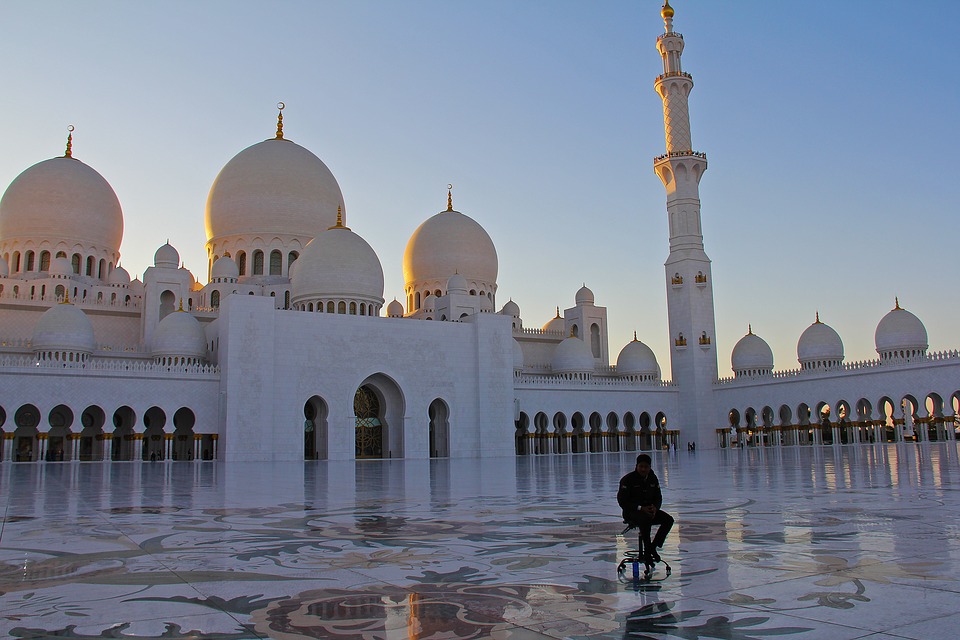 1. Burj Khalifa, Dubai
The gigantic and immense Burj Khalifa stands first in the list of top ten places to visit in UAE. The massive and monstrous building is the tallest man made structure in the word and highly appealing for skyscraper lovers.
It took 5 years to complete this huge building and was opened to public in 2010. It contains hotels, apartments, parks. You can have a view of whole Dubai from its observing deck.
2. Sheikh Zayed Mosque
The magnificent Sheikh Zayed mosque is the largest ritual place for Muslims, covering an area of 30 acres. The iconic landmark contain eighty-two white domes. About 41000 people can offer prayer in the mosque at the same time.
3. Palm Jumeirah
Palm Jumeirah is an artificial archipelago having the shape of palm tree. The giant archipelago is clearly visible from space. Its exceedingly large body makes it one of the top ten best places to visit in UAE.
It is well known for its baroque hotels, posh apartment towers and restaurants. There are thrilling underwater parks having dolphins, seahorses and sharks. You may ride on a cruise to visit around Palm jumeirah. The beach clubs are the fantastic place to chill out.
4. Sharjah Art museum, Sharjah
Sharjah art museum has the most diverse art in the whole UAE. It has collection of art from the artists of United Arab Emirates and other Middle East countries including modern and contemporary art. It was inaugurated in 1997. It's a coolest destination for art lovers in UAE.
5. Al Ain Zoo, Al Ain
The true family destination Al Ain Zoo was founded in 1968 by Sheikh Zayed. Located in the foothills of Jabel e Hafeet the zoo has an area of 400 hectors and have almost 4000 wild animals and birds.
The zoo is famous for its safari, birds show and dinosaurs trails. Despite of being very spacious it is remarkably clean.
6. Khalifa Park, Abu Dhabi
Khalifa Park gets attraction for people of all ages like youngsters, kids, families. On entrance, a dancing fountain welcomes its viewers. A train can be used to see the whole park in less time and to avoid sunny day.
Khalifa Park is stretched along the ring road on east and occupies an area about 5, 00,000 sq. meters. The flowers of almost all kinds especially from Middle East give charismatic view to the nature lovers and make it the top  UAE attraction for people of all ages from everywhere.
7. Corniche, Abu Dhabi
Another top most attraction for the tourists to UAE is Corniche. Corniche is situated in Abu Dhabi, capital of UAE, stretched along Corniche road about 8km. Corniche is a complete vocational spot for families which includes separate playing area for children, family places, beaches for water elegance, restaurants, cafes what more to want. It forms a curve like appearance that makes it more charming on watching.
8. Jebel Hafeet, Al Ain                     
It is a mountain situated on the border of UAE and Oman. It is the beauty of Ain. If you wish to see whole city Ain, just reach to the top of Jebel you will see the nicest view of whole city.
The tiny houses, the curved roads and the toy looking cars give very charming view from the top. There is also sitting grassy area on its top to sit and enjoy the fascinating view of mountain and also of the whole city makes it an attraction for tourists.
9. Al Bidyah Mosque, Fujairah
Al Bidyah Mosque is known as the oldest mosque of the country. With a stunning Muslim architect of this mosque which consists of four beautiful domes and just one pillar, palm leafs are spread, colorful rugs are stretched, mud material for construction mesmerize its viewers and makes it the top attraction for the tourists to UAE.
Not only Muslims visitors but people from all religions come and indulged in the love of Muslim literature. Thousands of thousands people come to visit it every year and get charmed every time.
10. The Hajar Mountains, Eastern UAE
On the elevation of about 3009m, these Rocky Mountains are situated on Eastern side of United Arab Emirates. The Hajar Mountains are the highest in whole eastern Arabian Peninsula. These spectacular mountains welcome its viewers a breathtaking view like no other can do.
There is about 30km road leading to top of the mountain. Driving to its peak the scenery offers you lavish scenes to be enjoyed on your drive, which makes it the top attraction of tourist to UAE.
The two largest states Dubai and Abu Dhabi grabs millions of tourists each year. These both are the economical hub for the country. Only the Burj Khalifa received a record number of visitor in the previous year which were 1.87 million people.  On the whole in 2017 15.8 million travelers visit UAE. The country has a goal of having 20 million visitors in 2020.
PS: More things to do and best places to visit in UAE will be shared soon.
Read Also: 25+ Most Visited Countries in the World