Russia "The Largest country in area" was once super power has a long list to visit in that top ten places to visit in Russia are difficult to list down.
Its area is largely in Asia and also a part is share by Europe. This beautiful country consists of a large range of landscape, awesome beaches and lavish valleys along with world class forests. Capital of Russia is Moscow which also a largest city and populous too.
Russia shares borders with many countries but main are Abkhazia and south Ossetia. The country is famous for having the oldest lake and also for its achievement of sending first human to space. Russia is also well known to be explored and adventurous too.
Once you get through this beautiful and largest country it could be proved a long lasting memorial trip for one's life. Historically this nation expanded magically and became Russian Empire by 18th century. Many beautiful places are there to visit in Russia but here is Top 10:
Best Places To Visit in Russia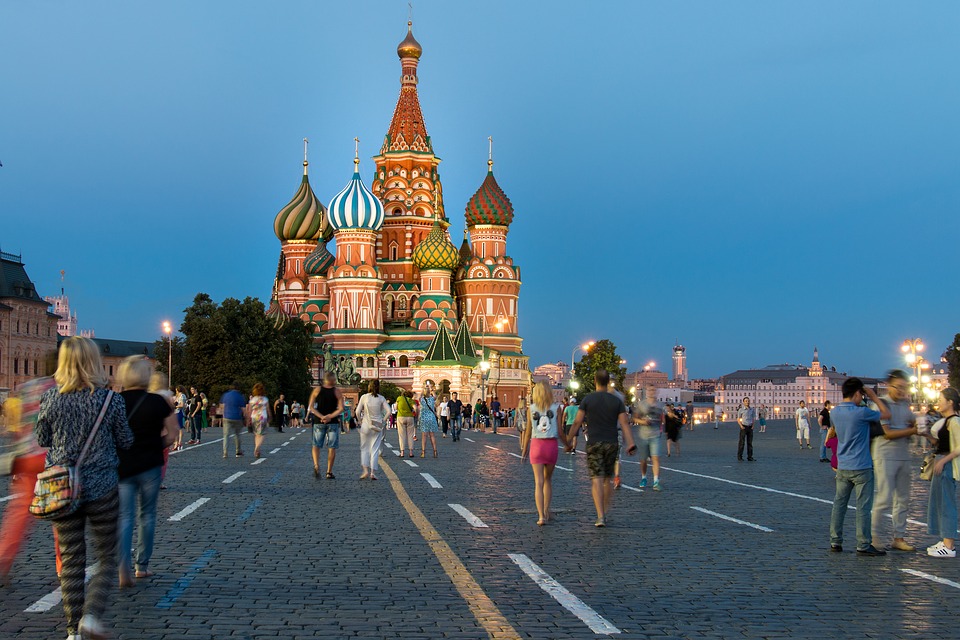 #1 Saint Basil Cathedral
This Church could be called as the heart of Moscow, a heart of attraction to Russia too.
This inspiring bonfire shaped building which is now a museum is a holy symbol of Russia and is a great example of Russian culture and architect. It was built in 1555 to 1561 and till now is a master piece of heritage as it is Red Square UNESCO World Heritage Site.
# 2 Hermitage Museum
The vast cultural and Artistic museum of Russia is a top attraction for tourists. This museum shows about 3 million different items of literature. It contains 6 buildings showing different cultural figures and has served as royal palace of emperors of Russia.
# 3: Moscow Kremlin
Kremlin is a heart of Moscow and not to miss place. It contains different official houses, different art museums and other magnificent buildings. This arsenal contain notable valuable gems, a vast range if jeweler that mainly consists of 190-carat diamond. What a wonderful possession.
#4 Suzdal
 Suzdal is not less than a treasure of Russia which was also capital for many Russian principals in history. This "Golden Ring" is one of the best places to visit in Russia. This historic city preserves many ancient museums reflecting the supreme past of Russian culture and heritage.
In a small area about 9 square kilometers and a less population of 10 thousand people Suzdal is always welcoming thousands of the visitors from all over the world for its 305 rich in culture monuments, about 30 churches and many civil buildings. Suzdal is a main door for the tourists to Russia.
#5 Lake Baikal
Wow what to tell about this lake which speaks itself, the ancient and the deepest lake in the world. It gives a breathtaking view to its visitors each time. Many of the tourists from every corner of the world come for this adventure and huts to see it. This lake is great things to do in Russia for all the tourists all over the borders. What an inspiring view is of this lake given by the boundary of vast range of     mountains. Its drops just look like the unique pearls and make it the heart of attraction for all the viewers.
 #6 St Sophia Cathedral, Novgorod
The oldest church of the world this Sophia church is considered. This is located in Kremlin and with its superb architect of glossy domes; it captures the attention of its visitors and captivates its viewers. This ancient Church is another best places to visit in Russia which grabs thousands of the visitors from all around the world.
 #7 Kizhi Island
A spectacular open air museum is waiting for a warm reception standing on the boundary of Finland along with White Sea to amaze its viewers. And also there is an amalgamation of the cultures from east to west in just a Church standing on the height of 120 feet.
Its architect consists of 22 beautiful domes which attract viewers and compel them to be captivated by their beauty. The beautiful wooden houses represent the ancient culture of Russia and are a top attraction to this country.
 #8 Mount Elbrus
5642 meters high mountain range, situated in south of Russia has always proved itself as a best attraction to this country. It's one of the highest among seven summits.
To explore the beauty of this inspiring mount a chair lift connected with strong cables can take you to the height of 3800 meters. What a scene of this mount from the height along with beautiful valleys, an eye catching and a perfect look of this heart of attraction of Russia.
 #9 Valley of Geysers
What a record making trip to Russia. Again this valley the second largest valley in the world is located in Kamchatka Peninsula. It is a discovered valley which was found in 1941 by the scientist of Tatyana Ustinova. It's a great Russian attraction especially for the science natured tourists also.
 #10 Trans-Siberian Railway
Trans-Siberian Railway is world's longest, which connects Moscow to Vladivostok. This is the main route of the tsars. This railway is most important to those travelers who want a night trip along with lavish accommodations which include facilities of all kinds like fully furnished rooms, clean washrooms and top class grades of train.
Vacations and travelling plays an important role for refreshing anyone's mind. And when it comes to the name of Russia, that is the top choice for all the visitors, about 17 million of people just visited the capital of Russia last year. Especially countries like Russia get most of their income from tourism. The above mentioned places cannot just amaze its tourists but also captivate minds of the visitors.
More Read:
Best Places to Visit in Europe