Although Macao is a small territory but it has a lot of beautiful places so it is vey hard to make a list of top ten places to visit in Macao. Macao Officially Macau is a sovereign territory of China till late 90s it was a region under Portugal. That is why Macao represents culture of both countries. Because of its special entertainment places like casinos, malls, Guia Hill , Macao Historic centre and many other famous places it is also known as Las Vegas of The East.
It is consist on the Macao peninsula and two islands of Jaipa and Coloane. The climate of Macao is Subtropical. Hot summers have short heavy showers, dry autumn is sunny and winters are relatively cold. In 2017 a total number of 32.6 million tourists visited Macao. In 2018 Macao set a record in number of visitors. Macao welcomed a total number of 35.8 million visitors in 2018.
10 Best places to visit in Macao / Macau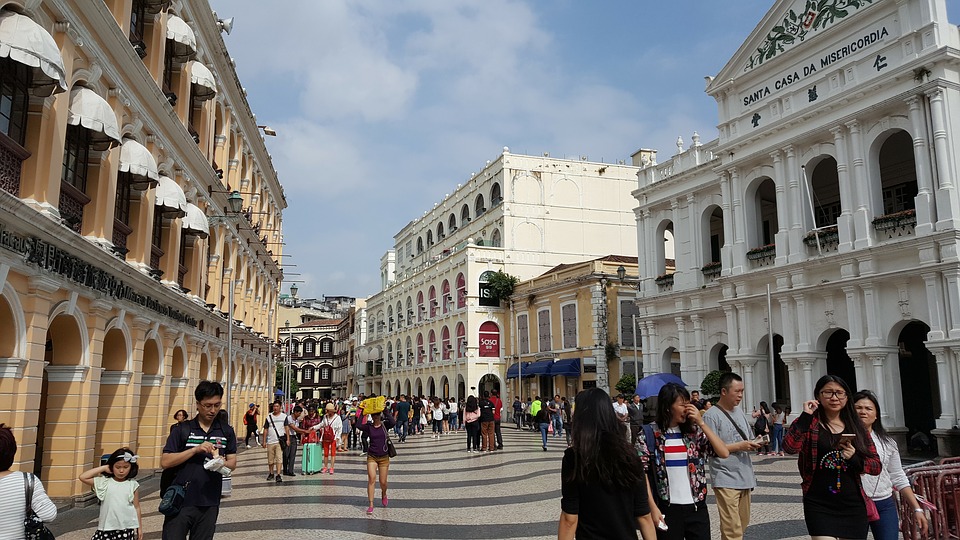 1. St. Paul's Ruins
One of the most popular tourist's attractions of Macao is the Ruins of St. Paul. The people who visit the site, the ruins bring them back in time of 16th century. Located near mount fortress and Macao Museum the Ruins are the most important old-age structure having enormous and immense stairway.
Statue of Jesus and Madonna add more ancient and historic view to the Ruins. The sculpture reliefs of devil, angel and Portuguese ships mesmerize the visitors.
2: Sanado Square
The square not only has the shops, offices and restaurants but also possess a name in the list of World Heritage site of UNESCO because of it magnetic and magical history in Macao.
If you plan a tour to Macao must go to the Sanado Square on Chinese New Year to enjoy the magnificent firework and glamorous lion and dragon dance, which makes it one of the top 10 places to visit in Macao.
3. The Venetian
One of the best hotels is the Venetian Macao which covers an area of 980000 square meters. It stands third in the list of top ten places to visit in Maco.
The 500 foot long canal and 51 Italian gondolas are inspiration by the Venetian of legendary Las Vegas strip. If you visit it must board on a gondola through resort canal for a lavish experience. Many tourists have tried their luck in the world's biggest casino in the Venetian.
4. AJ Hackket Macao Tower
Macao tower is a perfect attraction for buggy jumpers and sky jumpers, which is the second highest buggy jumping base in the whole world.
Macao tower is a star in the Macao's skyline. It is 338m high. The observation deck features scenic views, restaurants, and shopping malls. The dining in 360 degree café will give you an awesome experience.
5. A-MA Temple
Also known as the temple of seafarers and fishermen A-MA Temple is about back to 1448. This temple is devoted to the Chinese Goddess Matsu who is worshipped by seafarers and fishermen.
The ancient site is one of the top ten tourist attraction in Macao. Mazu statue, Hongren Hall, Hall of Avalokitesvara and Zhengjiao Chanlin are some worth seeing features of the temple.
6. Fisherman's Wharf
Fisherman's Wharf is one of the most visited and liked place for the tourists which is situated on the outer coast of Macau. It is just 5minutes distant from the ferry Terminal of Macau.
Fisherman's Wharf covers an area of 133,000 square meters approximately. Its Casinos on the theme of Europe, its jaint Malls, Awesome hotels like Legend Palace Hotel and the Harbourview Hotel, shopping areas, entertainment sites clasp thousands of the visitors from all over the world every year.
7. Giant Panda Pavilion
The greatest attraction to Macau especially for the families is Gaint Panda Pavilion. This pavilion is like a giant fan which occupies an area about 3000 square meters.
Giant Panda Pavilion is actually a natural park which contains different species of different animals, especially Pandas and is an interesting place for the animal lovers. This park is a greatest attraction for children. It contains gardens, playground and definitely beautiful Pandas along with their fellow animals.
8. Macau Museum
From the planning of the museum since 1995 to its opening in 1998 Macau Museum is totally historical building of Former Portuguese.
It is situated on the Fortaleza Hill which is an awesome location itself. This museum is Historical and cultural which contains a numerous valuable objects that reflect culture of different civilizations of the world.
It's the greatest attraction to Macau for the tourists specially the lovers of literature those who want to explore different nations.
9. Mount Fortress (Fortaleza do Monte)
One of the Historic centers of Macau is This Fort which is also in UNESSCO World Heritage. Mount fortress is also a military center of Macau and one of the top attractions to Macau.
It was built roundabout from 1617 – 1626 and is situated on a heighted mountain that is about 52 meters tall. This fort covers approximately an area of 8000 square meters.
The beauty of this fort is enhanced by the lush green trees on the top that give a breathtaking view to its visitors. This fort has been serving for different purposes since long such as a residence of Governors of the state, military centre, a weather observatory and last but not least, as a museum of Macau.
10.  Hac Sa Beach, Macau
The greatest natural beach of Macau is Hac Sa Beach literary means Beach of Black Sand. The vocational trip to Macau, how can it be completed without visiting this natural beauty of Water?
About having the length of a kilometer this beautiful beach carries a unique black color which is because of minerals presence; however for the prevention from disappearing now government has added sand by themselves which is of yellow shade so it is not totally black in color.
This charismatic beach is even busy in the summer season. Hac Sa Sports and also Recreation Park lies besides which make this beach more valuable.
More places to visit in Macao
There is a long list of luxury aand world class hotels in Macao. The venetian is already in the list of top ten places to visit in Macao. Others include Four Seasons Hotel, Galaxy Macao, Grand Hyatt Macao, studio city, hotel Royal, Grand Lapa, The Ritz-Carlton.
If you want to enjoy best nightlife you must visit The Ritz-Carlton. Grand Coloane is best for families. If you want to try your luck in best casino then go to The Venetian. All hotels have some special specifications and all provide free pool and  wifi services. So lets have a trip to Macao.
Read Also: 25+ Most Visited Countries in the World