Zinda Dilaan-e-Lahore has always been the foodies of Pakistan. No one can beat them in their spices and innovation regarding the food. All those foreigners and even Pakistanis from other cities, whenever they visit Lahore, the first thing they look out for is the best street food in Lahore.
People tend to ask their friends, or friends of their friends, or even sometimes strangers just to reach the best food attractions in Lahore.
Here we are, to solve this problem. We have got you a list of some of the most well-known and highly appreciated desi street food locations, that you must give a try!
Our main focus will remain on the original food of Lahore, i.e., the best desi food restaurants in Lahore.
54 Best Street Food Spots in Lahore You Must Try
1. Paye from Manoo Siri Paaye, Sultanpura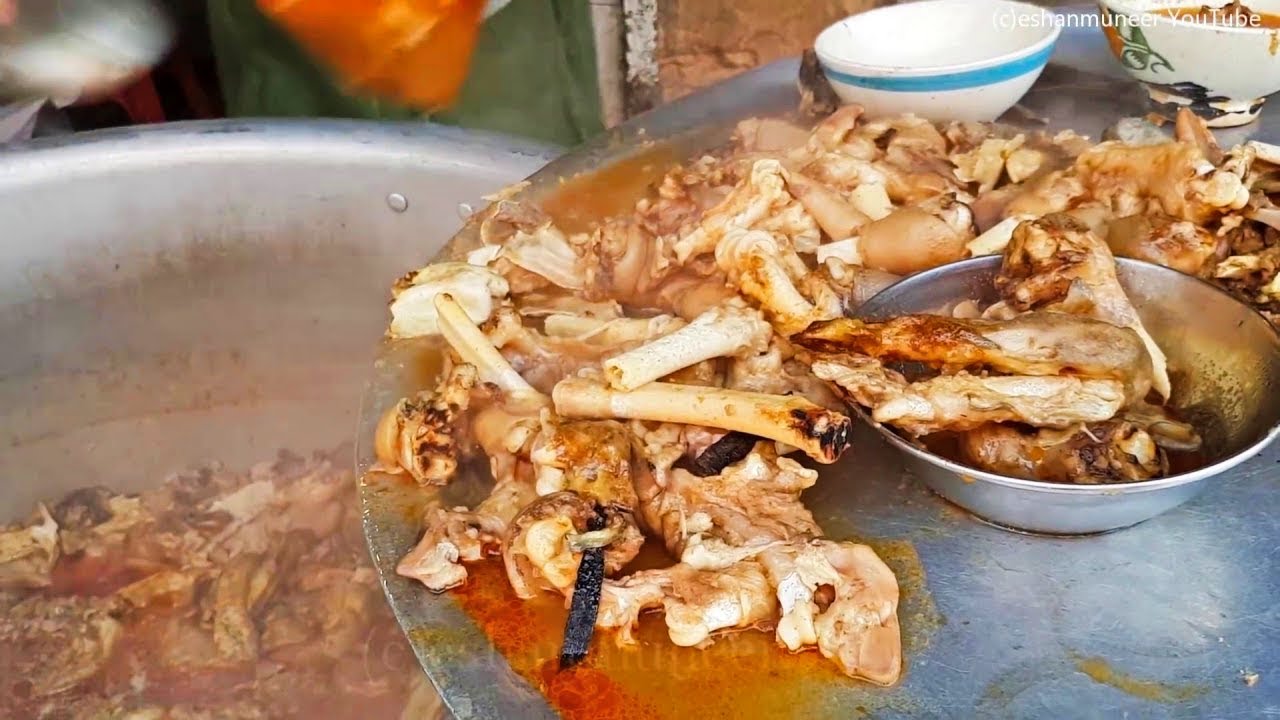 This forty years old Siri Paye shop has been serving through a single branch to the people of Lahore. You can visit them for their delicious and tender Siri Paye from Mon to Sat, from 5 am to 9 am. Try to reach a bit earlier to avoid the immense crowd. Indeed, it is one of the best places to eat in Lahore.
2. Kulfi and Falooda from Baba Ji Kulfi Walay, Muslim Town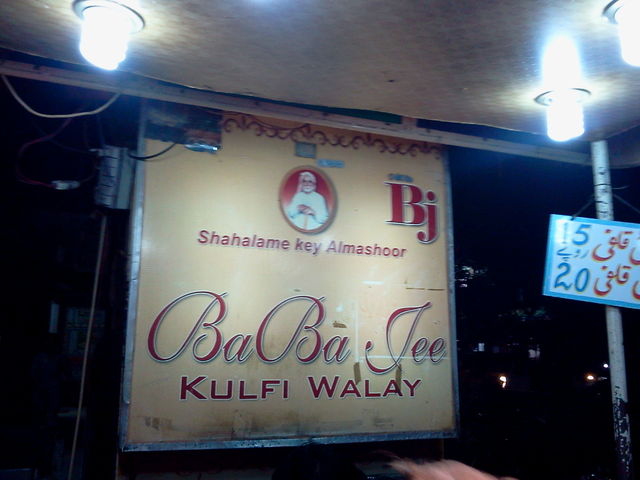 Established in 1960, Baba Ji Kulfi Walay has been serving the best kulfies and Faloodas in Lahore. Besides offering their kulfis and faloodas at low rates, they also provide some of the most mouthwatering items.
3. Beef Khoya Tikka from Shafi Tikka Shop, Saddar Bazar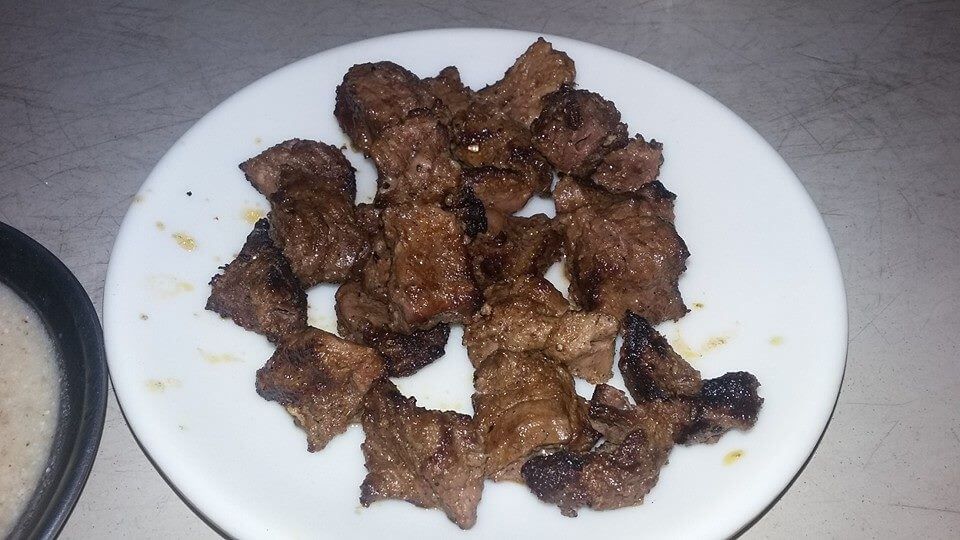 Shafi Tikka shop presents beef tikkas marinated in khoya along with their other secret spices. This khoya adds to the deliciousness and tenderness of the tikkas and their spices very aptly complement both the beef and the khoya.
4. Besan-Fried Rahu from Bashir Dar ul Mahi, Mozang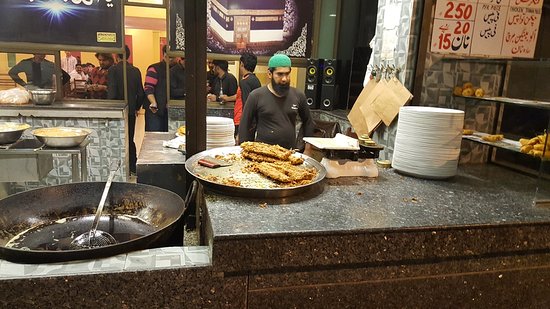 Bashir Dar ul Mahi, now known as the Aslam Dar ul Mahi, is located at Mozand road. There are several other besan-fried fish points in Lahore with the name of Dar ul Mahi, but this one is the original one with its taste and quality being the topmost among all. This deep-fried Rahu fish, coated in besan will surely be the best-fried fish you ever had.
5. Hareesa by Amritsari Hareesa, Nisbat Road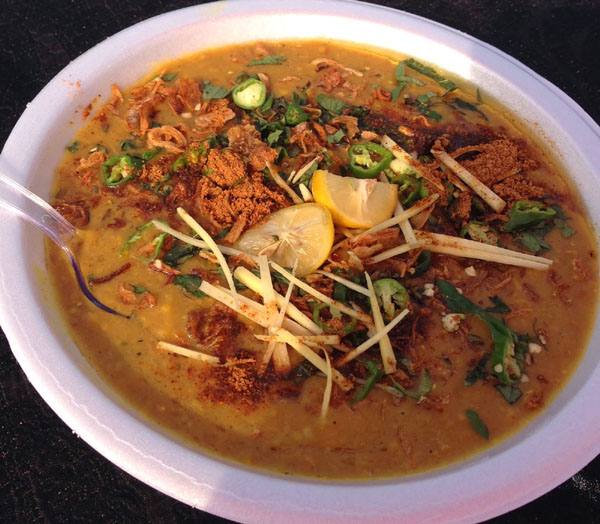 Hareesa is a dish made from wheat flour and meat, seasoned with some secret spices, having a porridge-like consistency. Amritsari Hareesa has been selling its mouthwatering hareesa since long in Lahore to both the locals and foreign food travelers. This is no doubt one of the best restaurants in Lahore to taste Hareesa.
6. Taka Tak From Cafe Riaz, Samanabad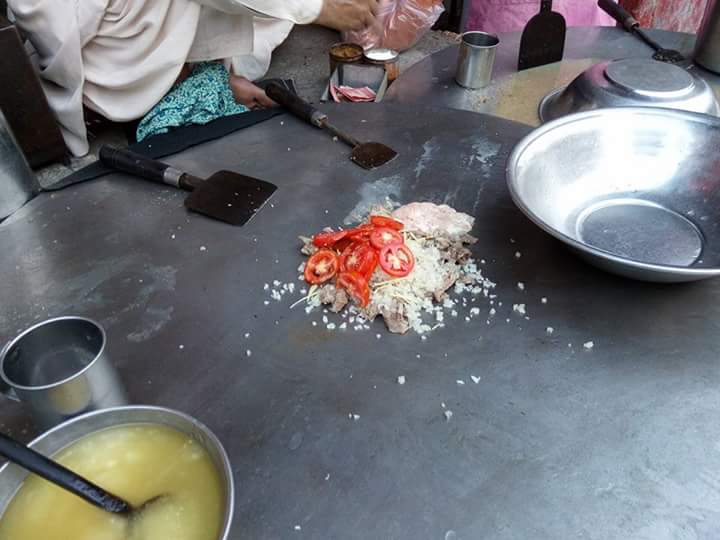 Taka Tak, better known as Kata kat, is a dish especially associated with Lahore. The taka tak from Café Riaz contains the traditional parts, i.e., the kidneys, brain, liver, heart, etc. with some of their secret spices that elevate the taste more than anywhere else.
7. Nihari From Waris Nihari House, Anarkali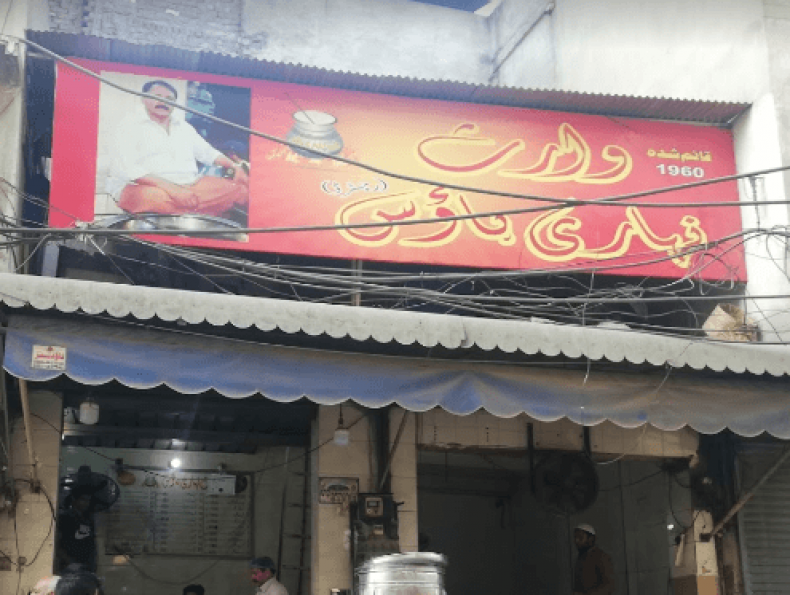 Some tender beef combined with the deliciously cooked brain (Magz) and bone marrow (Nali), topped with oil and spices turns into a dish, the Nihari that no one can dare to resist. Waris Nihari has been considered the top-notch Nihari available in Lahore.
8. Feeqay Ki Pera Lassi, Gawalmandi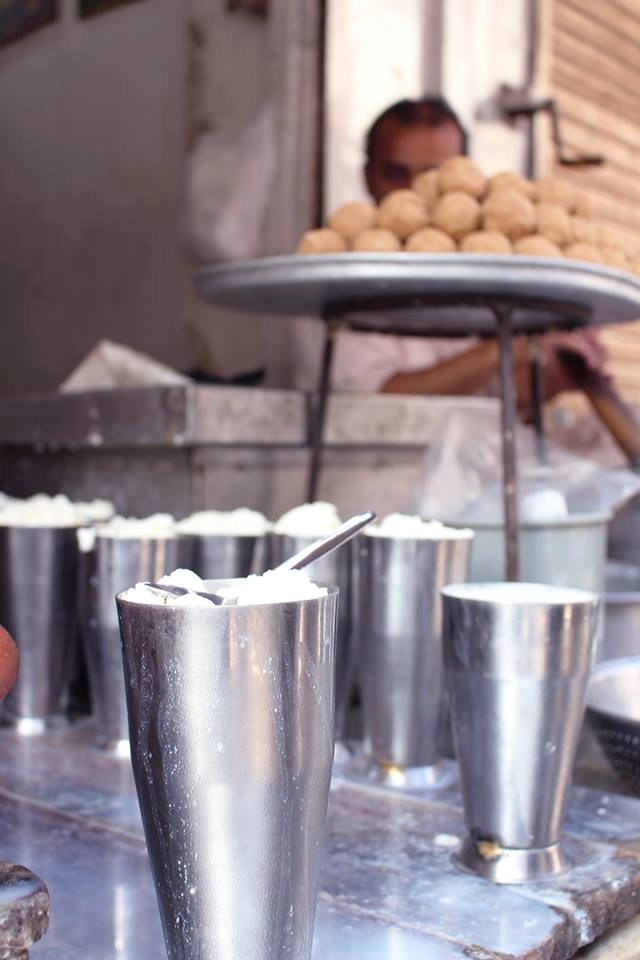 Feeqey ki lassi has the yummiest lassi topped with makhan and khoya is the delicious lassi that you must give a try.
9. Karahi From Butt Karahi, Lakshmi Chowk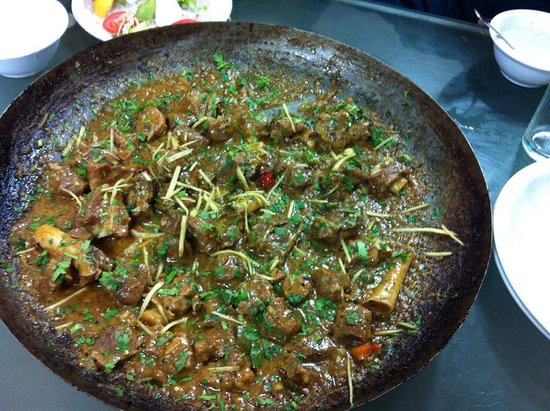 The specialty of Butt Karahi is their desi ghee and the tenderness of their meat. First of all, you get to choose on your own, the meat that you want to eat.
After that, it takes about half an hour to cook your meat to the level where it becomes the most delicious. The desi ghee used, adds both to its quality and taste.
10. Chanay From Jheela Chanay Wala, Amir Rd Shad Bagh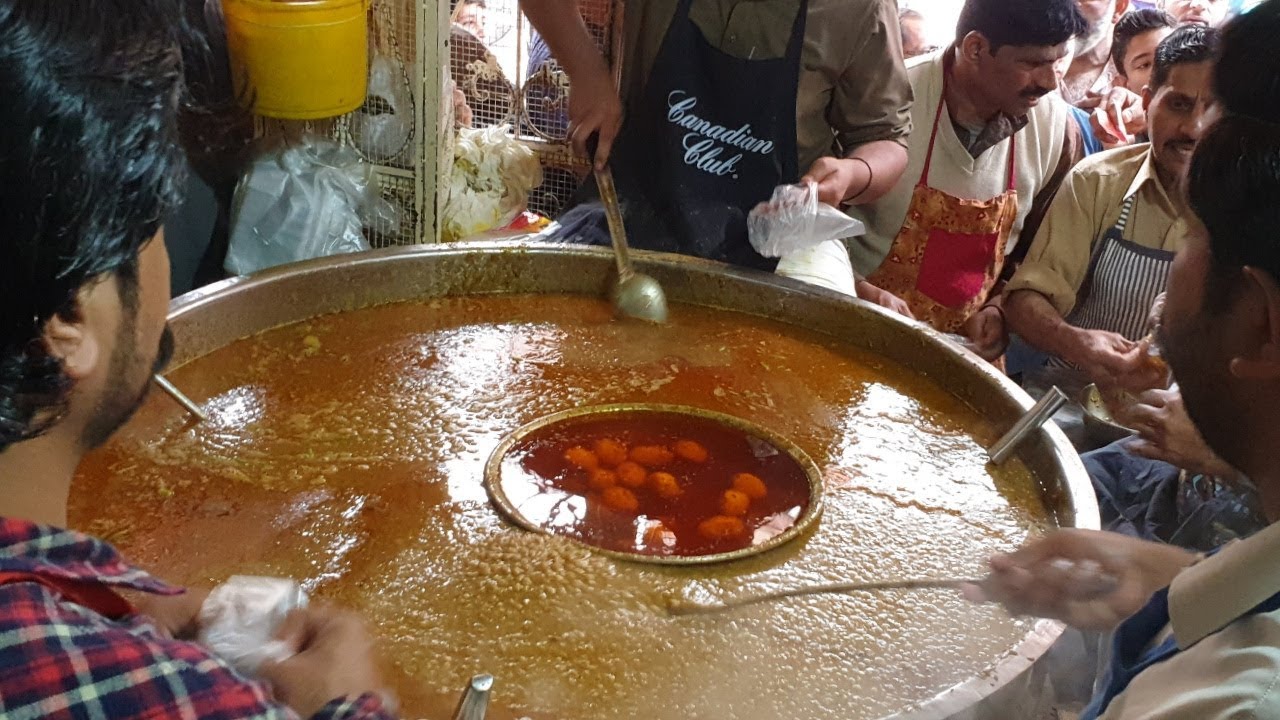 Since 1976, Jheela Chanay Wala prepares a huge pot of anda chanay every morning containing more than 200 kg anda chaney. If you want to have the best desi nshta in Lahore, head over to Jheela Chanay Wala, Shadbagh.
11. Mango Pista Badaam Ice Cream from Chaman, Beadon Road, Mall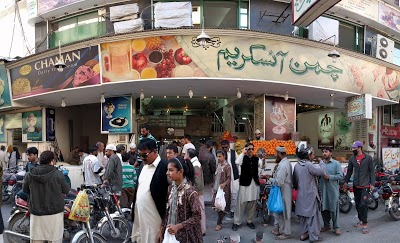 Chaman ice cream has long been known for its amazing ice creams with a wide range of different flavors. Whenever you happen to visit Lahore, do try their ice creams, especially during the winter nights. Mango pista badaam turns out to be customers' favorite flavor.
12. Anda Shami from Rangeela Burger, Main Mall Road Near Naqi Market
Rangeela burger offers a large variety of fast food items with their anda shami burger being the most famous one. With the shami being a perfectly balanced mixture of chicken, daal, and spices and the fried egg giving a mouthwatering flavor to the burger, Rangeela burger is a must-visit street food spot in Lahore.
13. Samosa Cholay from Best Samosa Shop, Ghalib Market
Their fried crispy samosa when combined with cholay gives one a delicious roller coaster tour. Whenever you visit Lahore, do give them a try.
14. Dumba Karahi from Ilyas Dumba Karahi, Truck Adda, Sabzi Mandi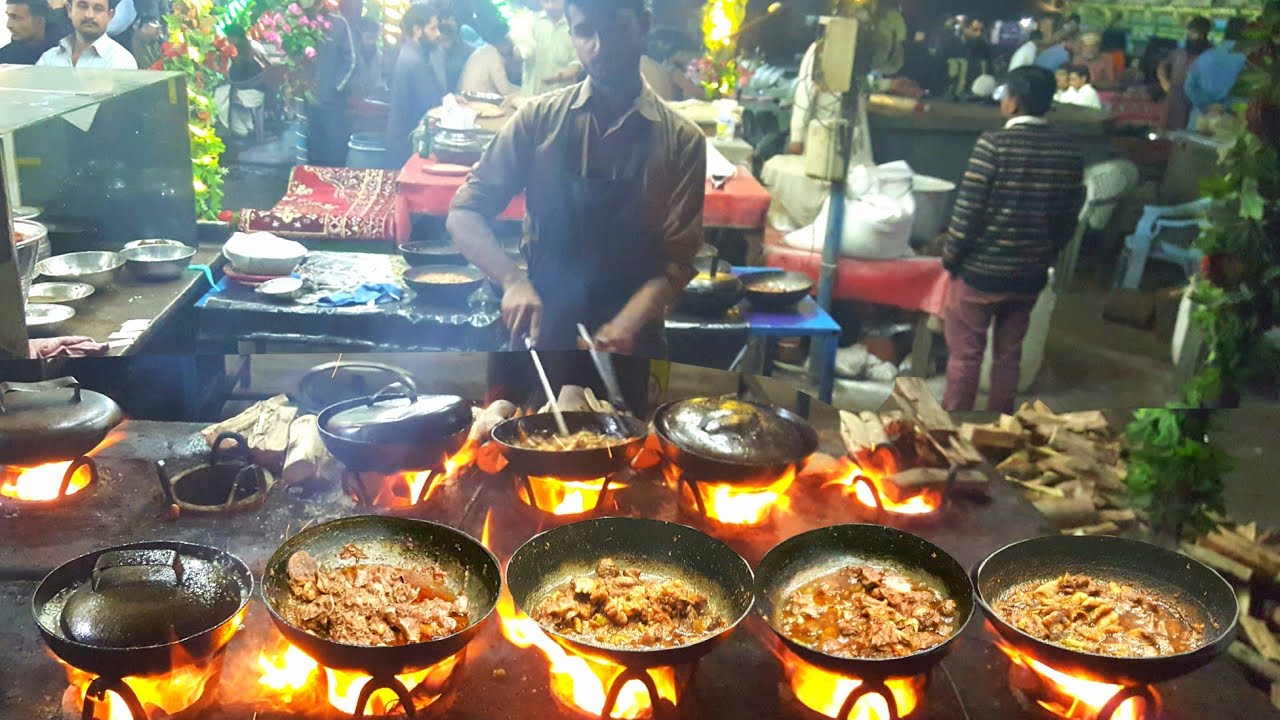 Ilyas Dumba Karahi, though especially known for their dumba karahi, they also offer other different dumba derived foods, e.g., tikka, qeema, etc. Among their Shinwari, sulemani and white karahi, Shinwari karahi is the most popular and delicious. They prepare the karahi in the Chaki originally derived from the dumba itself which leaves a special taste to the karahi.
15. Paitha and Gajar Ka Halwa from Butt Sweets, Lakshmi
There are a number of branches of the Butt sweets in Lahore, but their Lakshmi branch is the most popular one, especially because of their paitha and gajar ka halwa. Both these sweet dishes highly pleasing to one's taste buds.
16. Cone from Alamgir Waffle Cone, Main Market
Alamgir waffle cone is the best street food cone available in Lahore. Their cones are definitely a must-try food item for everyone. The crisp waffle and the toppings add to the sweet flavor of the cone and make it one of a kind.
17. Jalebi from Grato Jalebi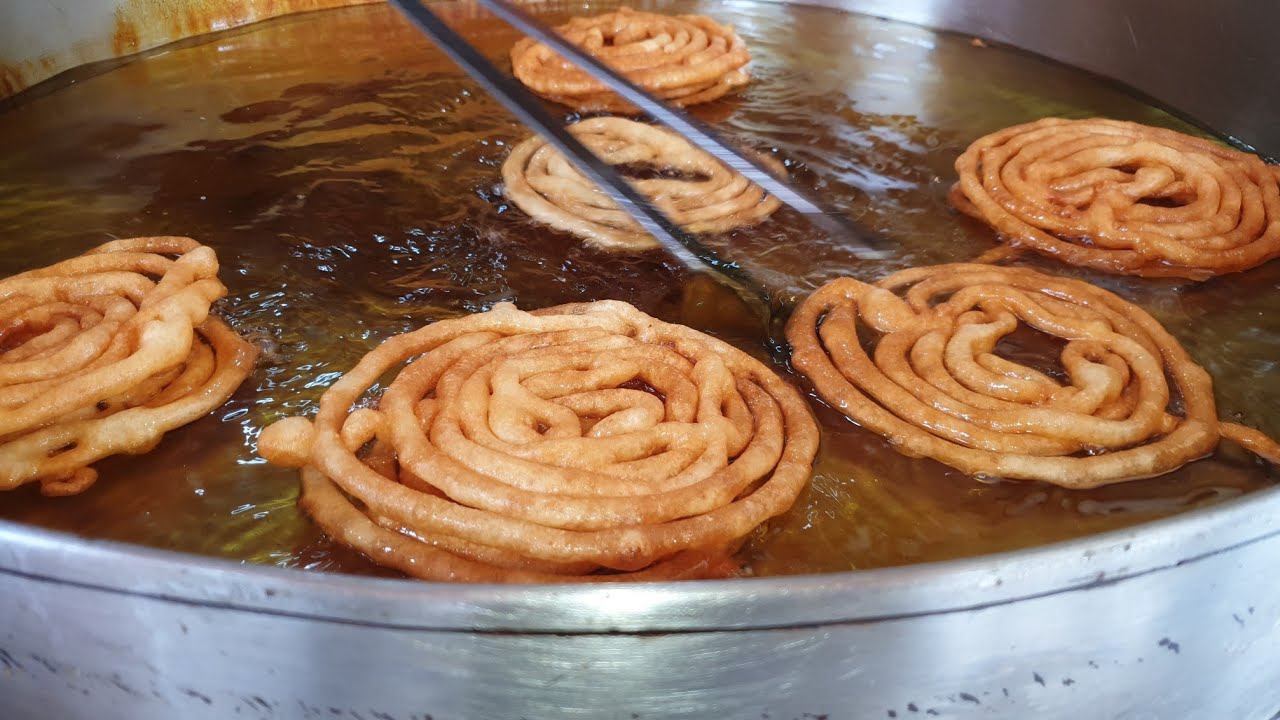 Jalebi from Grato Jalebi is one of the best desi foods in Lahore. They have a nation-wide network. The branch in Lahore offers samosa, pakora and namak pare along with Jalebi, but the Jalebi is the most delicious one. The sweet sheera and the amazing recipe make it everyone's most favorite.
18. Dahi Bhallay from Nafees Dahi Bhallay, Model Town
Nafees Dahi Bhallay has long been serving the people of Lahore with their utterly amazing and tasty Dahi bhallay. All their ingredients are used in a perfectly balanced way to turn into something that you will remember for a lifetime.
19. Qeemay Walay Naan from Khan Baba Restaurant, Chauburji
Their Qeemay walay naan is well-known by the Lahoris due to their immense flavor and high quality. The spices and the mutton used to make their naans something very special.
20. Doodh Patti from Goonga Chai Wala, Temple Road, Mozang
Dhoodh patti from the goonga chai wala is very famous among the masses in Lahore due to the amazing flavor.
21. Daal Mash from Latif Hotel, Copper Road, Lakshmi Chowk
Latif hotel prepares special daal mash that everyone enjoys to the core of their heart. This mouthwatering daal mash along with tandoori roti is something that you must give a try.
22. Doodh Jalebi from Gawalmandi
A shop in Gawalmandi provides doodh jalebi, a very traditional Lahori food. Eating the crispy and sweet jalebi immersed in hot milk provides great pleasure.
23. Rabri from Yousaf Falooda, Purani Anarkali
Yousaf Falooda in old Anarkali prepares Pakistan's most popular rabri. The rabri prepared from fresh cow milk makes the flavor-full and yummiest rabri.
24. Meethi Lassi from Jeda Lassi, Gumti Bazaar
Jedi ki lassi is one of the best street food pints in Lahore. Every traveler, either a foreigner or a Pakistani always visits him for his sweet and delicious lassi.
25. Taftan from Haji Nihari, Jail Road
Taftan is a sweet bread. The restaurant "Taftan from Haji Nihari" is immensely popular in Lahore as they provide flavorsome taftans that are loved by all.
26. Kunafa from Nisa Sultan, M.M Alam Road, Gulberg III
Nisa Sultan is a restaurant in Gulberg where you can find Turkish cuisine. This is the best places to eat in Lahore. Their Kunafa is the most liked among all other food items. If you ever happen to visit them, do order their Kunafa. You will definitely love it.
27. French Toasts from Cafe Hameed Sanda Road
Hameed Café is the favorite spot for desi nashta lovers and also famous for best breakfast in Lahore. They have their French toasts fried in butter. To complete your breakfast, they also offer malai wali chai with these French toasts.
28. Bund Plastar Café Hameed, Sanda Road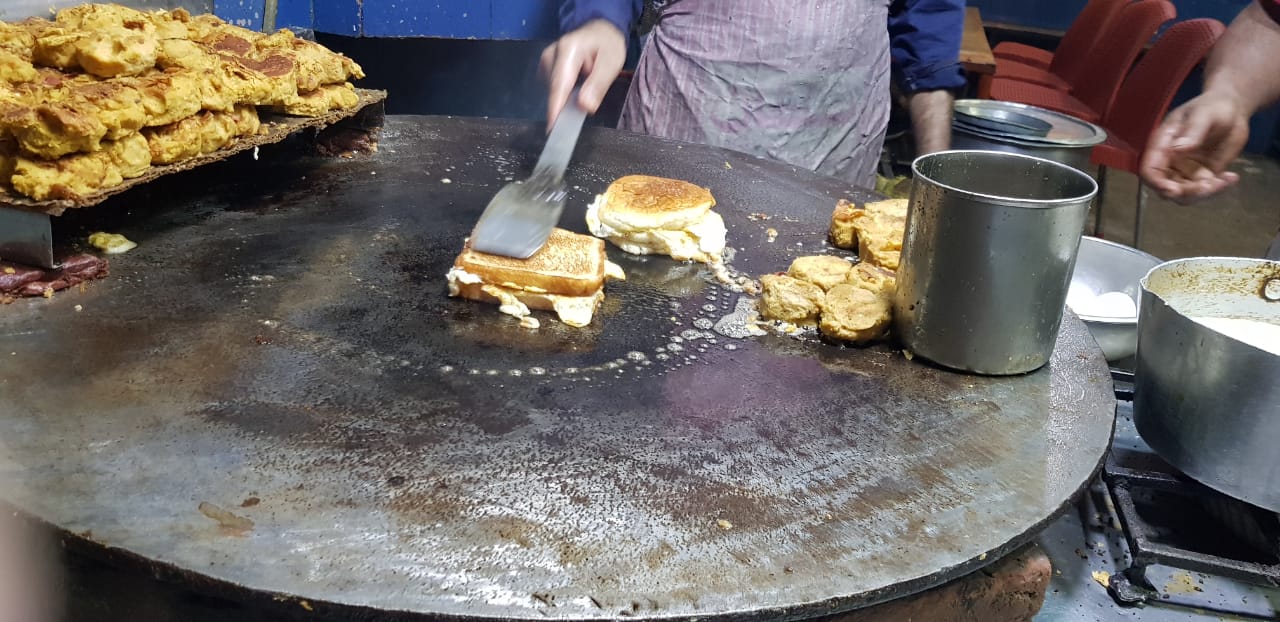 Besides their French toast, their bund plaster is another must-try delicious street food item.
29. Beef Burger from Liberty Burger
Liberty burger is the favorite food spot for every Lahori who loves burgers. Their beef burgers are definitely one of a kind. The delicious beef patty with the mouthwatering sauce makes one tasty burger.
30. Halwa Puri from Taj Mahal, Taxali Gate
Halwa puri is the true desi Lahori nashta and among all the halwa puris available, the one from taxali gate is something to prefer. The crispy puri and the tangy chanas will give you the best nashta encounter ever.
31. Samosa Chaat from Sheikh G Samosa Township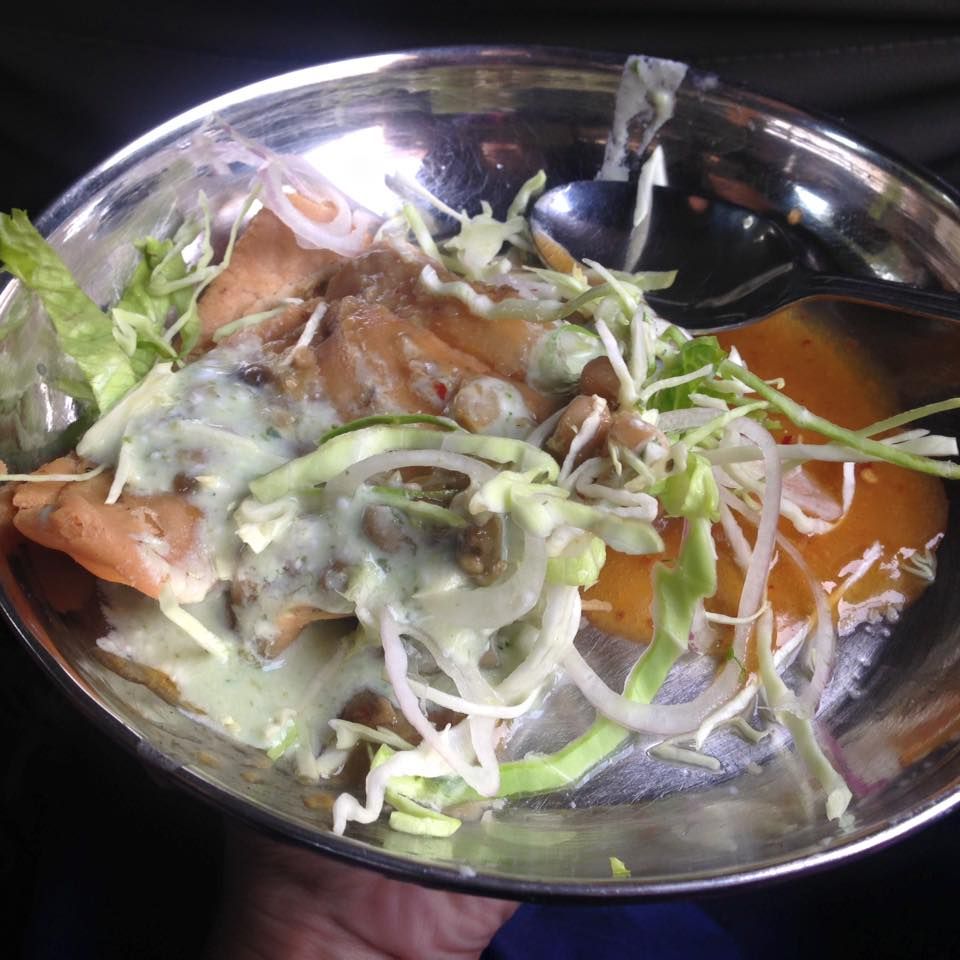 This unique chaat contains crushed samosas along with other ingredients like tomatoes, onions, raita, etc. and cholay being the main one among them. The whole mixture, the chaat, is known for its flavorsome taste.
32. Biryani from Jaidi Biryani
Biryani is for sure Pakistan's national dish and when it comes to Lahore, you will find numerous biryani spots, but Jaidi biryani is definitely one of the best biryanis available.
33. Seekh Kebab from Saeen Kebab, Mochi Gate
Saeen Kebab at the Mochi gate prepares highly delicious Seekh Kebab with tender meat and spices known only to them. Their seekh kebab are known for their amazing taste and quality at such low rates.
34. Daas Kulcha behind Khalifa Bakery, Mochi Gate
Daas Kulcha is a special kind of kulcha made by only a few bakers. This kulcha is the softest one that you will ever have. The aloo tikki and channey served with the kulcha turn into a complete Lahori nashta.
35. Daal Chaawal from Kashmiri Daal Chaawal, Lakshmi Chowk
Mong daal along with white rice and achar is Lahore's traditional dish made at every home. But the one served at Kashmir Daal Chaawal is something unique. Their special recipe makes the nation-wide recognized and famous daal.
36. Khatai by Khalifa Bakers, Mochi Gate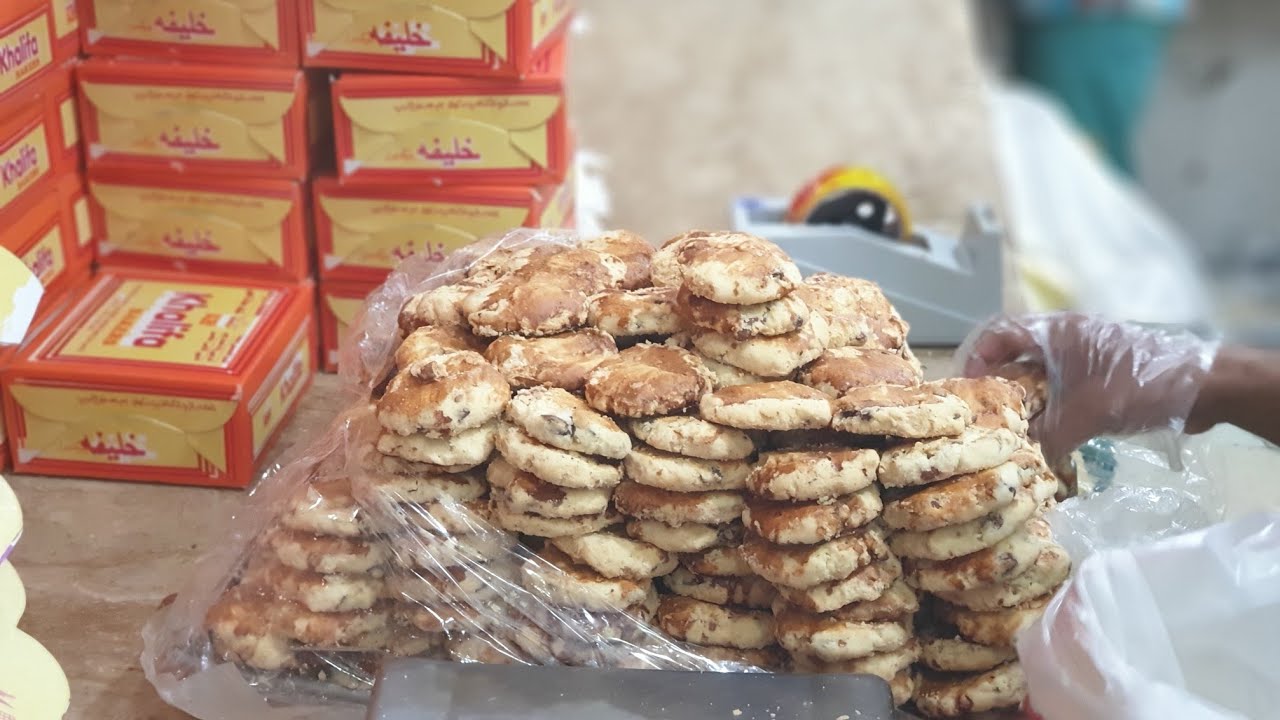 Khalifa bakers bake a variety of bakery items but their khatai is everyone's favorite. The khasta and mouthwatering khatai should be definitely tried by anyone who visits Lahore.
37. Bhayya Kabab, Model Town
Bhayya Kabab is one of the most loved seekh kababs in Lahore. Although they are surrounded by a number of imitations, if you manage to find the original ones you will definitely enjoy the most delicious kababs in your life.
38. Koozi Haleem, Secretariat, Lahore
Kozi Haleem is prepared manually with great effort and spices. Kozi Haleem is loved by all due to the originality in its flavor and quality.
39. Lahore Broast, Icchra
Lahore broast's juicy, tender and spicy chicken with a crispy coating is one of the best street foods in Lahore. A bit of it will take you on a ride to heaven.
40. MashAllah Paratha, Jail Road
MashAllah Paratha prepares the most delicious parathas in Lahore and when their parathas are served with their anda pyaz, the combination becomes irresistible. This is one of the favorite sehri points for the Lahoris.
41. Muhammadi Nihari, Chauburji
Another of Lahore's famous Niharis is the Muhammadi Nihari. The delicious Nihari in a desi setup is what every Lahori craves. Visit them to have a true desi experience.
42. Sabir Sajji House, Near Kareem Block Iqbal Town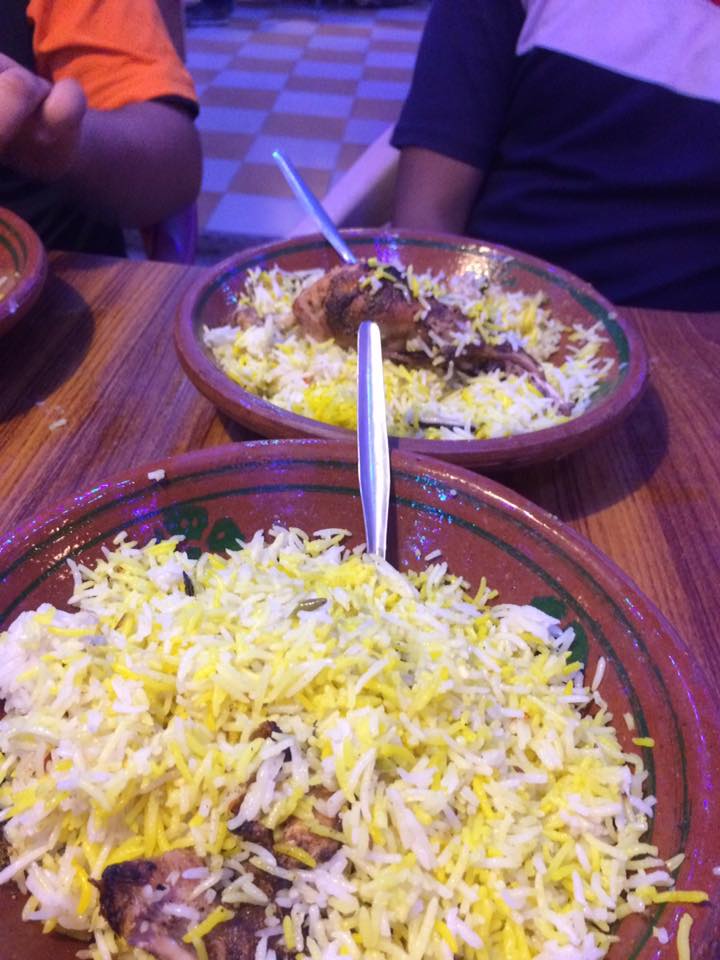 Though Sajji is a Blochi dish, it is getting immense love in Lahore, too. Roasted Chicken with Kabuli rice is definitely a mouthwatering combination. Sabir Sajji is one of the most famous Sajji walas in Lahore.
43. Sajji at Sultani, Gurumangat Road, Gulberg
Another delicious Sajji in Lahore can be found at Sultani. They are known for their remarkable taste and low rates as compared to the deliciousness they provide.
44. Arif Chatkhara, Taxali Gate, Shahi Mohalla
Arif Chatkhara is known for their Chatkharedar desi food in Lahore. Their tawa piece is truly unmatched. The sour and spicy chicken leg roasted on a large tawa waters one's mouth and when eaten satisfies a true food lover to his very soul.
45. Gol Gappay, Lawrence Road
You will find small wanders all over Lahore city, selling their gol gappas. But Lawrence road is where you will find the largest setup for the yummiest gol gappas. The tangy water and the delicious gol gappas attract every true food lover.
46. Kashi's Cafe & Kashgari's Mamtu, Anarkali
Kashi's Café is selling the most affordable and delicious dumplings in Lahore. They serve vegetable, chicken and beef dumplings. Must try their healthy and delicious dumplings.
47. Ahmed Burger, Sham Nagar Chauburji (TRY THEIR ZINGERS!)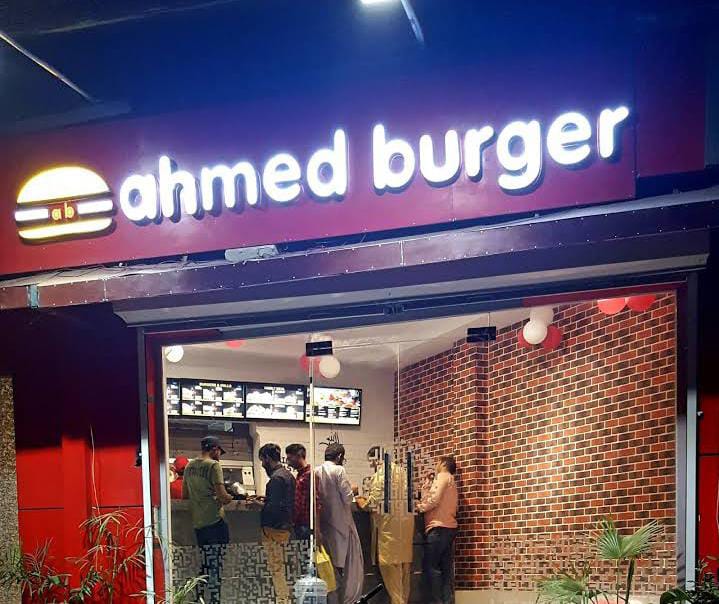 Ahmed Burber in Chaburji is especially known for their zingers. You can also try their other food items, but their delicious zingers with crispy and juicy chicken are something that you will remember for a lifetime.
48. Qalandari Daal Chawal, Township Akbar Chowk
Their daal chawal are just like their name, truly qalandari. The amazing taste of this daal chawal will make you forget even the spicy biryani. The yummy daal chawal with chopped onions and aloo tikki is another must-try for Lahoris.
49. Coffeetee, Gulberg
Coffeetee in Gulberg serves amazing coffees and teas. But their coffee is their specialty. This nerve awakening and delicious coffee is every coffee lover's most favorite.
50. Daleem e Khas, Main Market
Daleem e Khas serves a wide range of desi food, but their matka biryani is known by all. The biryani cooked in a sealed matka is found only at Daleem e khas. This matka biryani has the most delicious taste, not found anywhere else.
51. Ashraf tikka, main market, Lahore
Their taka tak, grilled chops, and chicken karahi are the top dishes on their menu. Ashraf tikka with their secret spices and quality tender meat prepares the most delicious BBQ and other desi food items.
52. Walima house, Brandrath road for palak gosht, pulao and roast
Palak gosht is a very traditional and desi Lahori dish. If you are searching for a true desi palak gosht, walima house, Brandrath is your place. Visit them for their yummiest palak gosht, pulao and roast.
53. Palao Paradise Canteen Opposite High Court On The Mall
Besides biryani, palao is another Lahore's favorite rice dish. To find the most delicious and desi palao, visit palao paradise canteen. Their fresh and tasty palao will become your all-time favorite.
54. Dhaka Bhaiya Biryani, Garhi Shahu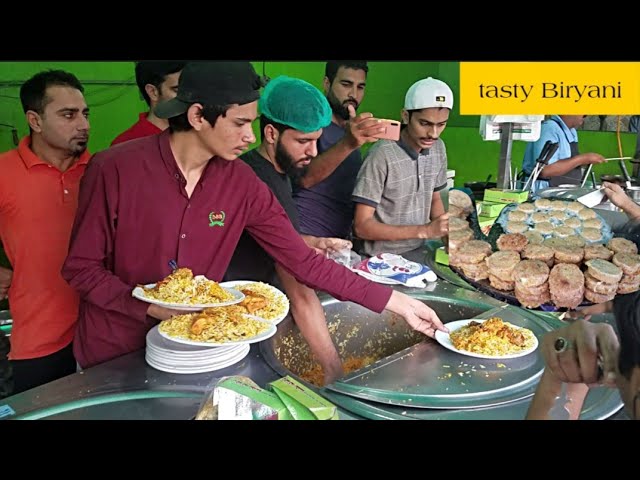 Another Lahore's favorite biryani spot is at Dhakka Bhaiya. They serve a variety of other dishes too, but their biryani stands out among all. Their finger-licking biryani is a must-try for all.
And here the list comes to an end, but the Lahori desi food does not. Try them all and thank us later ?. You will get to know why Lahore Lahore ay.
Read Also: