Certainly, there are the infinite advantages of Mohare Danda Trek. Why to choose Mohare Danda Community Trek Blog includes all the facilities, and amenities that you can get experience in this adventure.
With these advantages and benefits, you feel easy to choose 5 Days Short Mohare Community Trekking from Pokhara or the best classical 10 Days Mohare Danda Trek.
Mohare Danda Trekking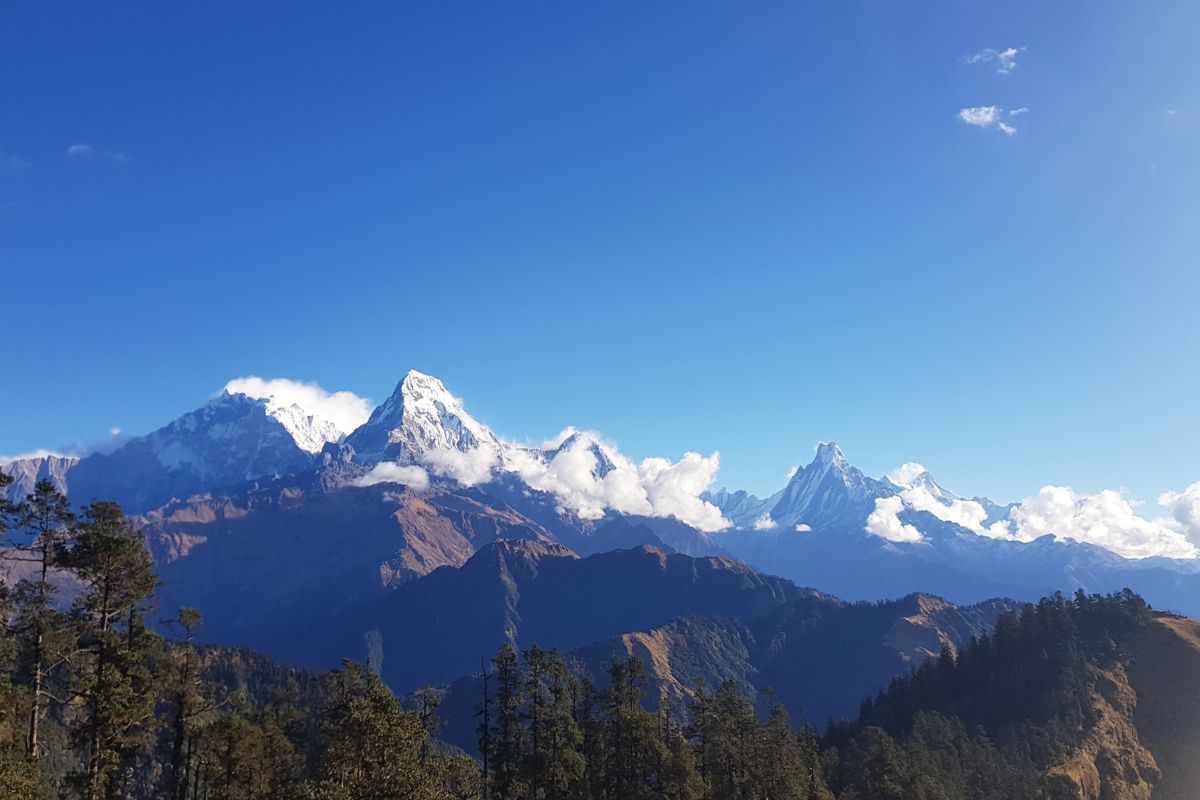 Mohare Danda Trekking is one of the new trekking routes. But it represented as the most popular trekking in Nepal with homestay and community lodge accommodation, even in a short period. The Circuit Community Trekking Trail of Mohare Danda Trek spread over the southwest of the Annapurna Conservation Area. However, you can combine with ABC Trek, Short Poon Hill trek, and Khopra Trekking easily.
As others Trekking Package in Nepal, this Mohare Danda Community Trek offers the spectacular Mountains views of the Himalayas. Similarly, experiencing rural lifestyle, spending moments with local people, participating and helping in their day-to-day jobs, get close to the local products, tasting local food, and tidbits are the other benefits of Mohare Danda Community Trek.
In the same vein, peaceful Virgin Nature, beautiful ridge Trekking Trail, Viewpoint offering magical sunset and sunrise, and complete circuit trekking route are other reasons to choose this trek in Nepal.
These Benefits of Mohare Danda Community Trek makes its own different position among other Short Easy and Best Trekking in Nepal. However, these are not only the reason to select Mohare Danda Community Trek for your next Community trekking in Nepal.
Trekking Trail Nepal is collecting other rewards and reasons that only possible to experience with Mohare Community Trek. Here we have answers to your question WHY TO CHOOSE MOHARE DANDA TREK?
Let's Discuss Advantage and Benefits Why You Need To Experience Mohare Danda Community Trekking in Nepal.
No Trekking Permits Requires
Every best and popular trek in Nepal, needs Trekking Permits and TIMS from related department. However, all trekkers do not need to buy Permits and TIMS for 10 Days Mohare Danda Trek Itinerary.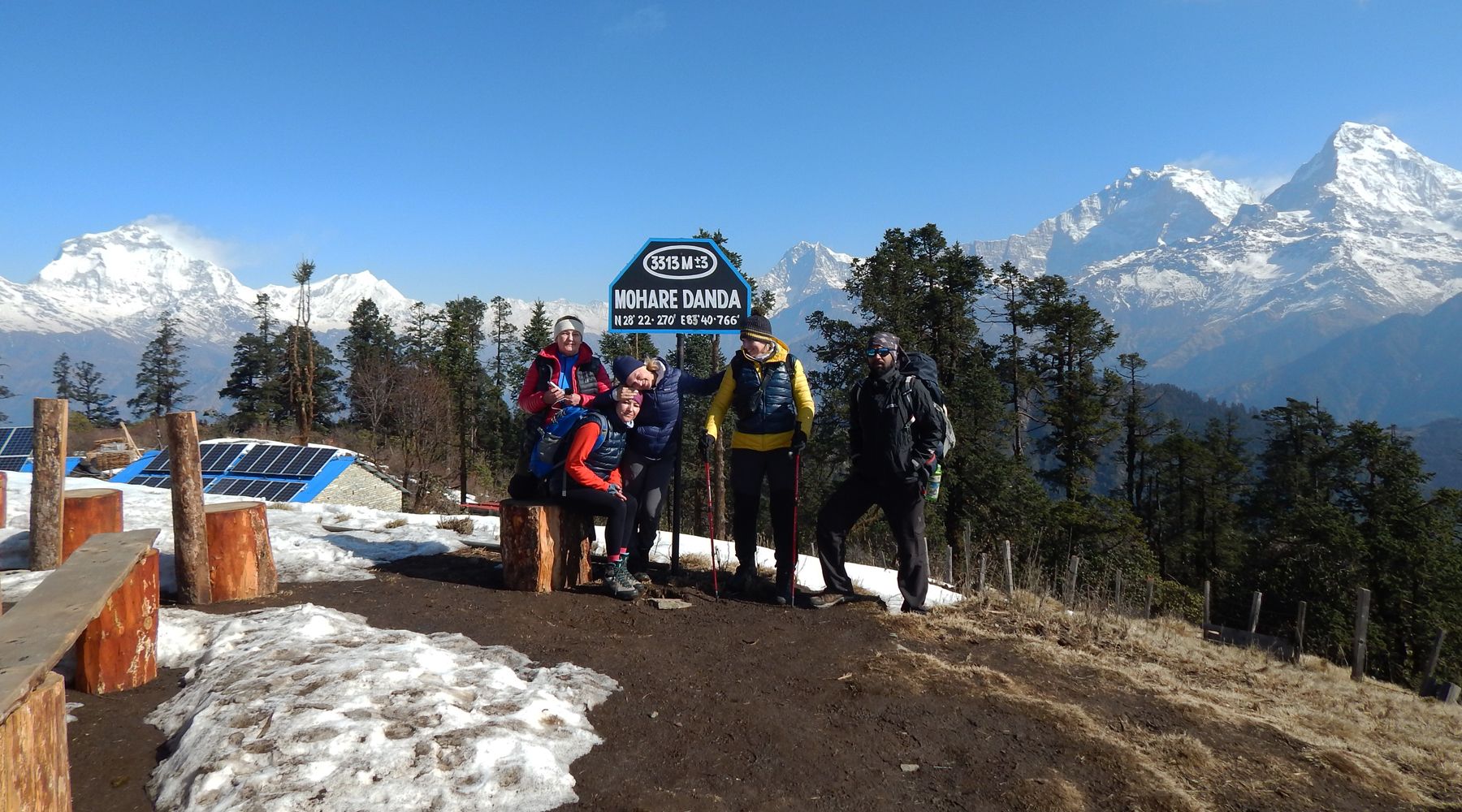 Although Mohare Trekking Route is outside of Annapurna Conservation Area, it is not far. Mohare Community Trekking area is next stick to the border with Poon Hill Area. With this benefit, you can save the money to Permits fees in this Mohare Danda Community Trekking in Nepal.
Free Internet Services
The whole area of Mohare Danna Trek comes under Nangi, Ramche, and Histan Valley. Nangi is the first village connected with wireless internet connectivity with tough efforts of Mr. Mahabir Pun
All community lodge of Danda Katari, Nangi, Mohare Danda, Danda Kharka, and Tikot has internet services. Not only this internet is fast but it also comes without any fee because the Mohare area is prominent for rural internet connectivity. However, in the village of Banskharka (Suntala Kharka) as the first day of trekking there are no internet services now. They are working on it.
NOTE: It is normal not to get any internet connection some time due to technical issues. Since all, it works on wireless repeaters which also needs electricity. Natural actions like wind, rain, and out of electricity may affect the free internet services on Mohare Danda Community Trekking.
Free Drinking Water
Mohare Danda is the First Community trekking trail in Nepal to uplift the economic life standard with tourism activities. Above all the whole villages, community lodge, and home stay follow the system to protect the ecological cycle as possible. No doubt Mohare Danda Trek is of one best example of Eco-Friendly Trekking.
To protect nature, Mohare Danda Trails offers free drinking water in each community lodge, which stops you from buying bottled water which ultimately controls the plastic waste. In short, every trekker gets Free Drinking Water in each community lodge as benefits and one answer why to choose Mohare Danda Trek.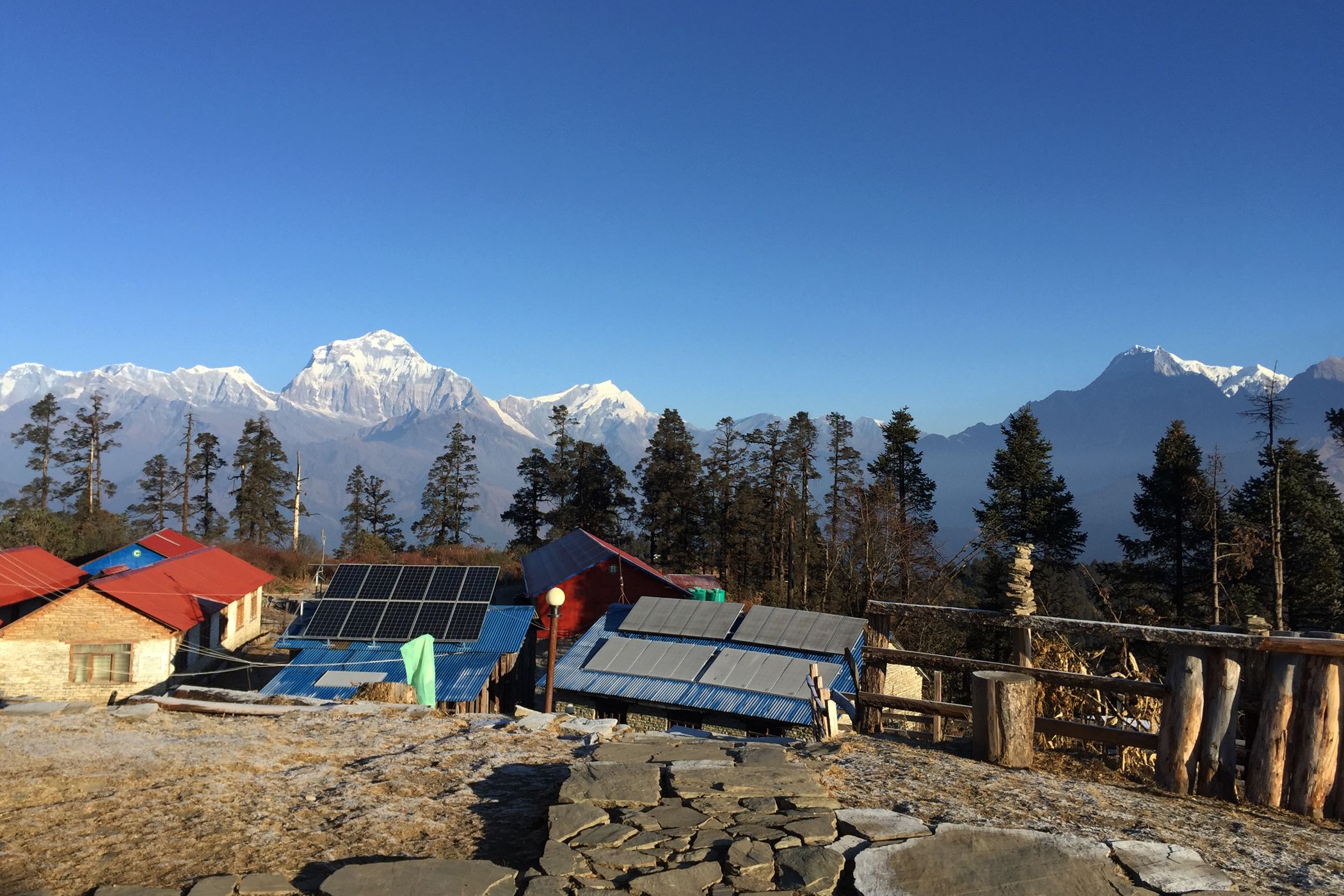 NOTE: Home Stay offers boiled drinking water and Community lodge offers micro filter water for drinking. Free Drinking Water facilities is one advantage that helps you to save money for more trekking in Nepal.
Free Electricity Facility
Almost all the best and popular trekking routes in Nepal, charges you for the electricity you use. This means you have to pay when you charge any electronic, or electric gadgets. And the pricing goes high when you reach high altitude while rates base on per hour use of charging point.
But, Mohare Danda Trekking in Nepal, offers free electricity charges for all-electric gadgets for trekkers.  Which directly benefits you to save money and experience Nepal Trekking in standard even in low budget. In conclusion, free electricity charging facility for your gadgets and devices is another reason to Choose Mohare Community Trek Nepal.
Common Reason Why Mohare Danda Community in Nepal Trek
Every Mountain Trekking in Nepal has its unique features which make them The Best in Nepal Trekking. However, Views of Himalayan Mountains, Nature, and its People are common highlights for most of the trekking package, routes, and trails.
In this Blog Why to Choose Mohare Danda Community Trek, we also give you more reasons to prove Why Mohare Community Trek is the Best Trekking in Nepal.
The Views of the Himalayas Mountains are common. You will see over 42 mountain peaks in panoramic from 3 different Himalayas range from single orientation. Above all, you will see 3 Eight-Thousander Mountains from each Himalayas range. These 3 Mountains are Dhaulagiri 1 from the Dhaulagiri Himalayas range, Manaslu from Manaslu range, and Annapurna 1 from Dhaulagiri Himalayan range. These are the 7th, 8th, and 10th Highest Mountains of the world, respectively.
The Circuit Trekking Trail of Mohare Danda Trek is gives you another reason to choose Mohare Danda Community Nepal Trekking.
You can start this Community Trek in Nepal from many places and end in a different one. No limits to this, you can combine the different local traditional villages to add more adventure. Villages like Narchyang, Poon Hill Ghorepani, Ghandruk, Flame Danda, Lespar Village, Tatopani can include easily. Furthermore, you can combine other treks like ABC Trekking and Mardi Himal Trekking for longer Mohare Danda Community Trek.
More Reason To Select Mohare Community Trek
Equally distribution of spending to every citizen of villages which you cross in this Mohare Danda Trek. With this, you help locals to uplift the economic level of this area through your Community Trekking.
Since this is not old trekking, you will also benefit with virgin trekking trail, peaceful nature, off the beaten route, traditional and rural lifestyle, and many more.
Experiencing traditional food, snacks, and drinks are one reason to choose Mohare Danda Community Trekking in Nepal.
Easily customization itinerary is another point that makes Mohare Danda Trek the best one. Short Mohare Danda Community Trek can be completed in 4 Days from Pokhara and longer needs up for 14 days. You have verities of choices as your days available.
This Mohare Danda Community Trek is easy to moderate level trek with a maximum height of 3,313 ( Mohare Hill ) is one best Short Best Trekking in Nepal.
Will you dear to Choose Nature, Lead The Trail, Experience Real Nepal, connects with local people to take Nepal Trekking Adventure to Next Level? Here Trekking Trail Nepal just mentioning the Benefits of Mohare Danda Community Trek that you can take advantage of. However, more discussion about Why to Choose Mohare Danda Community Trek is more practical after you experience it.
Read Also:
Author Bio:
Namaste?? This is Apar Datta, founder of Trekking Trail Nepal. I consider myself a passionate adventurer, trekking leader, and informing writer specializing in the Himalayas Trekking, Trails, and Nepal. It takes 17 years of experience as a porter, guide, leader, and manager to become a founder and moderator in the part of trekking community in Nepal. 
As you all know Nepal is one of the most beautiful countries in the world. However, its natural, cultural, people and historical wonders are still hidden from the world, except the Highest Mountains of Nepal Mt. Everest. Not only Nepal is cheap for holidays, but It also offers a complete deal that contains verities of aspects like, untouched nature, rich bio-diversity, welcoming people with adventurous trails.
The job of porter, guide, and leader allows me to travel all over Nepal. Above all, it helps me to experience Nepal's diverse aspects and vivid blend. In the meantime, I get a chance to fulfill my dream of hiking in different countries. Mt. Kinabalu of Malaysia, Chomolohari Base Camp with Tiger's Nest of Bhutan, On the Water's Edge aka Khao Lom Muak; Thailand. Similarly, Frozen River trekking in India, Mount Rinjani Trek; Lombok Indonesia, Pu Luong Nature Reserve aka Thanh Hoa; Vietnam, and many others.
My travel writing and stories come with real experience with depth detail with ground information, tips, and ideas mostly about the Himalayas, Trekking, Trail, and Nepal. I hope to share my travel and Nepal Trekking experiences which you find authentic and genuine and to share my ideas wholeheartedly and with relish.
NOTE: Writer is the active Member of Mohare Danda Trek, which is the first Community Trekking of Nepal.