Dubai is known among the top tourist attractions around the world and that makes way for some of the most extraordinary hotels in the Emirate.
You can find some of the most expensive hotels here as well. If you're looking for the most expensive and luxury hotels in Dubai, here we have a list for you to consider.
5 Most Expensive Hotels in Dubai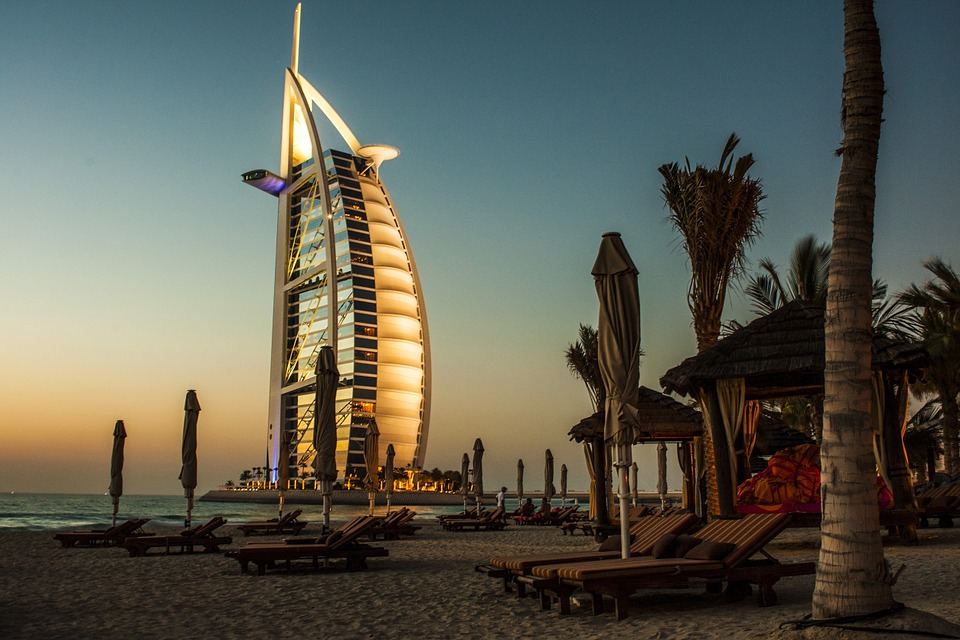 1. Burj Al Arab – $2200 – $25000 per night
This stunning structure was built to resemble a massive billowing sail and it's listed to be the world's first ever 7-star luxury hotel.
The room prices for a night start at $2200 here and it goes as high as $25000 a night and even more. For a real taste of luxury, you can even order helicopter transfers from the hotel's very own dedicated helipad.
Some of the fines services include chauffeur-driven Rolls Royce as well as private butlers. The hotel also boasts of 202 duplex suites that include lavish Royal Suite, 4 swimming pools with private beach access, Talise Fitness & Spa, and complimentary access to Wild Wadi Waterpark right throughout your stay.
The hotel offers a perfect multi-billionaire lifestyle to the visitors of Dubai and it satisfies the tag of being the most expensive hotel across Dubai.
2. Address Downtown – $550 – $3000 per night
Even though it's one of the latest additions to most expensive hotels of Dubai, the Address Downtown manages to become so popular in this short time span.
Actually, it's the invigorating and innovative modern vibe of the hotel that makes it a hot favorite among the tourists.
More ostentatious and glamorous than ever, the recent refurbishment will give it a real feel of the most expensive hotel of Dubai.
You can choose from amongst stylishly designed Fountain View, Premier, Deluxe, and Club Rooms which are so appealing that they satisfy even the most discerning international tastes as well.
There are some of the most comfortable and spacious Executive, Junior, Tower Suites, and Spa Suites as well which boast of some quintessential luxuries let alone those unsurpassable panoramic views on offer.
Right from the window of your room, you can have an unparalleled view of the iconic Burj Khalifa and the dancing fountain of famous Dubai Mall. Besides, all life luxuries are available here as well.
3. The Palace Downtown – $350 – $4900 per night
Located in the heart of city's Downtown, this beautiful city resort brings a luxurious lifestyle with ultimate comfort.
Everything here is bestowed with its own unique, individualistic architecture that justifies its position among the top most expensive resorts and hotels in Dubai.
This majestic hotel is infused with a unique charm of the captivating heritage themes of the Middle East. In fact, it's built on the bank of a beautiful manmade lake itself offering some really impressive vibes of everything that's going on in the surrounding downtown area.
A royal dining experience is ready to embrace you with sumptuous traditional delicacies being served in a thoroughly rich setting. The guests can also party outdoors while enjoying a host of glamorous and exclusive events.
There are 242 guest rooms in total which include 81 luxurious suites featuring authentic Arabian motifs and exquisite furnishings. There are private butlers available to the guests as well. 
4. Atlantis The Palm at Palm Jumeirah – $570 – $22000 per night
Palm Jumeirah, also known for Eighth Wonder of the World. One Palm, a newly exceptional residential development by Omniyat in Palm Jumeirah. Offers an unrivaled standard of beachfront living in Dubai.
The Atlantis is home to a wide array of water park and marine activities along with some rich experiences with the dolphins and sea lions.
The beautiful underwater aquarium makes one of the top attractions at this luxury resort that sits on the manmade archipelago in Dubai.
You won't just be able to visit one of the restaurants here serving most delectable cuisines but you may also take a helicopter tour or a boat cruise to satisfy your travel desires.
The hotel is also home to a fully-equipped gym and an exclusive spa experience that will pamper you like never before.
From deluxe rooms that overlook the sea partially to Royal Bridge Suites that offer stunning 360-degree views of the sea and Dubai's scintillating skyline, you have every luxury to serve you here.
5. Raffles – $550 – $11700 per night
A perfect combination of Egyptian aesthetics with the typical Asian style, Raffles comes wrapped in the mystery and energy Dubai has to offer.
It's one of the most exceptional hotels in Dubai on quite a few different fronts. The high price tag is very well justified by the service quality on offer here.
The massive pyramid-like structure of the hotel makes it quite unique to look at. It comes with 252 luxury rooms as well as suites that include the Signature and Club rooms.
Besides there are some exceptionally spacious Royal Suites as well that are synonymous to true luxury. The suites are available with private butlers, chefs, chauffeurs and a limo service.
So, if you've been looking for a truly luxurious experience, one of these most expensive hotels would dare to provide you with one. See which of them you can afford and have a luxury stay in Dubai.
Read More: 10 Best Places to Visit in UAE in 2019
Author: Allen Walker