Dubai has something fun and exciting for everyone including its little visitors. Kids can enjoy an amazing fun time at Dubai's numerous amusement parks which have dedicated areas brimming with recreational activities.
Among Dubai's impressive theme parks, LEGOLAND Dubai is one of the Dubai tourist places that offer a whole lot of fun experiences for children and those young at heart.
LEGOLAND Dubai is the first-ever LEGO-themed recreational park in the Middle East that welcomed visitors in October 2016. Sprawling 3 million square feet, LEGOLAND Dubai is one of the most famous indoor theme parks to visit in Dubai.
This family theme park especially concentrates on children and has a whole range of rides and activities to keep kids as young as two years old active and occupied.
Not just kids, grown-ups can also relive their nostalgic moments with their favorite LEGO childhood memories at this theme park. It boasts to be teeming with more than 20 million LEGO bricks!  LEGOLAND Dubai is one of the ideal things to do in Dubai during a family holiday. Here's a short guide on this spectacular amusement park for your reference.
An integral part of Dubai Parks and Resorts
LEGOLAND Dubai is nestled within the biggest integrated leisure and recreational theme park in the Middle East – Dubai Parks and Resorts. It is located on the Sheikh Zayed Road and takes approximately 1 hour and 30 minutes to reach from Dubai Downtown and Dubai International airport.
LEGOLAND Dubai has six unique zones that offer around 40 innovative and exciting rides and activities. The LEGOLAND Dubai further extends its excitements to a water theme park called LEGOLAND Water Park which is located close to LEGOLAND Dubai.
Top 'Not-To-Miss' Things To Do in LEGOLAND Dubai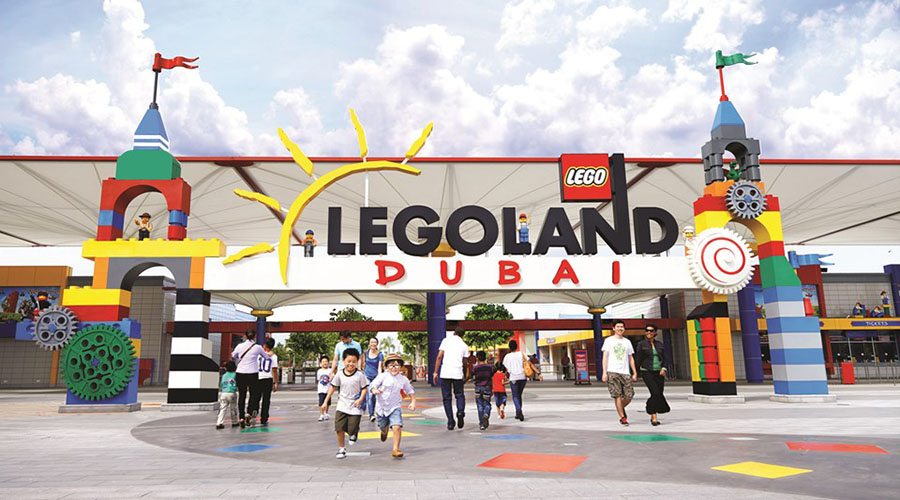 A trip to Miniland
Watch Dubai's iconic landmarks shrink to a minuscule scale at this mind-blowing arena. The Miniland comprises of Dubai's famous attraction built in miniature size with LEGO bricks. You can view the Burj Khalifa, Dubai Mall, Dubai airport all build completely out of LEGO bricks.
The arena also features world-renowned monuments and attractions from all over the world. You can also join in the fun and get creative with kids building city skylines out of LEGO bricks at 'Build a City'.
Explore the Kingdoms
Step into a medieval era filled with fantasy, castles and dragons. Gear up for some adrenaline rushing ride on Conquer the Dragon ride – a spine chilling roller coaster ride that accelerates to a speed of 60 kmph.  Young visitors can enjoy an exciting ride on Dragon's Apprentice or join their family on a treasure hunt at Lost Kingdom Adventure.
Let your kids get their first-ever driver's license
Kids aged 6 to 12 years can try their hand at driving a car, steering it through curvy lanes and earning themselves with LEGOLAND certified driver's license.  The theme park also has a Junior Driving School specifically designed for kids aged 3 to 5 years old.
Let kids explore creativity at Imaginations
Kids along with their family members can play around with their innovations at the Imagination zone where they get to build their own LEGO car and race them in a competition or make mechanical robots at LEGO Mindstorms. There is also an area filled with LEGO blocks to build whatever you want at the LEGO® Master Builder Academy.  Also, catch a thrilling 4D adventure movie at LEGO Studios 4D.
Watch tiny tots giggle in excitement at Duplo Valley
Dedicatedly designed for toddlers and small children, Duplo Valley offers a safe play area in a LEGO-themed landscape which also has Duplo Express – a petite train ride for our little visitors that takes them on a journey through the charming Duplo Valley.
Get an insight into LEGO making at the Factory
Take an informative tour of the behind-the-scenes of the actual process of LEGO manufacturing. Get an insight into how your favorite LEGO toys are made and at the end of the tour, you get to take home your very own freshly-molded LEGO brick as a souvenir.
Best time to visit LEGOLAND Dubai
Being an indoor amusement park, LEGOLAND Dubai is a great attraction to visit any time of the year. However, the summer months tend to be less crowded than the cooler months of Dubai which are also the peak season for tourists.
Another tip to keep in mind is that the amusement park gets crowded during weekends so it is better to book in advance and preferably during weekdays to avoid the overwhelming crowd and queues.
For all family holidaymakers wondering which attractions to visit on a Dubai holiday that would let their children have fun equally as grownups, LEGOLAND Dubai is the ideal place to include in your Dubai holiday plan.
This fascinating theme park will guarantee that there is never a dull moment and your kids will stay entertained throughout the time spent here at LEGOLAND Dubai.
Read Also: 10 Best Places to Visit in UAE
Author Bio: Monica Singh is a freelance travel writer by profession. She is particularly fond of travelling and loves to jot down her experiences and cultural diversities of different countries.