Nepal, home to the tallest mountain in the world-Mt. Everest and 8 of 14 eight-thousander mountains in the world are the ultimate trekking destinations and trekker's paradise.
If you are planning for trekking in the land of Eight-Thousanders, and walk into the countless picturesque trekking trails in Nepal, then you have come to the right place.
According to your time and budget, you can find a plethora of trekking options in Nepal. It is up to you what option you would choose for yourself and what level of difficulty are you looking for. If you are looking for easy trekking, it would take up to 5 to 7 days. Such as Ghorepani Poon hill trek, Ghandruk trek, Pikey Peak Trek, and Panchase treks are easy trekking in Nepal.
Whereas moderate trekking would take 12-14 days, Everest Base Camp Trek, Annapurna Base Camp Trek, Langtang Valley Trek, and Manaslu Circuit Trek are the best examples of moderate trekking. When talking about difficult trekking, it would take 20-29 days of trekking at a high altitude that demands a copious amount of physical pain. Some of the difficult trekking in Nepal are Everest three passes trek, 26 days Kanchenjunga Trekking, and 19 days Limi Valley Trek in Nepal.
Aside from what level of difficulty, you also have to consider the best time to trek in Nepal, before deciding which trekking trails you would like to choose in Nepal. The spring (March, April, and May) and the autumn (September, October, and November) are the peak season for trekking in Nepal. As it is the peak season, expect heavy traffic on the trails.
Now, if you are ready to dip your toes into the wonderland of the Himalayan Kingdom, then you might be wondering where to trek in Nepal? Aren't you?
If you are wondering then do not worry! Down below you will find the Top 7 Best Treks in Nepal in 2021 where you can choose your dream treks and create life-long memories.
Top 7 Best Treks in Nepal in 2021
1. Everest Base Camp Trek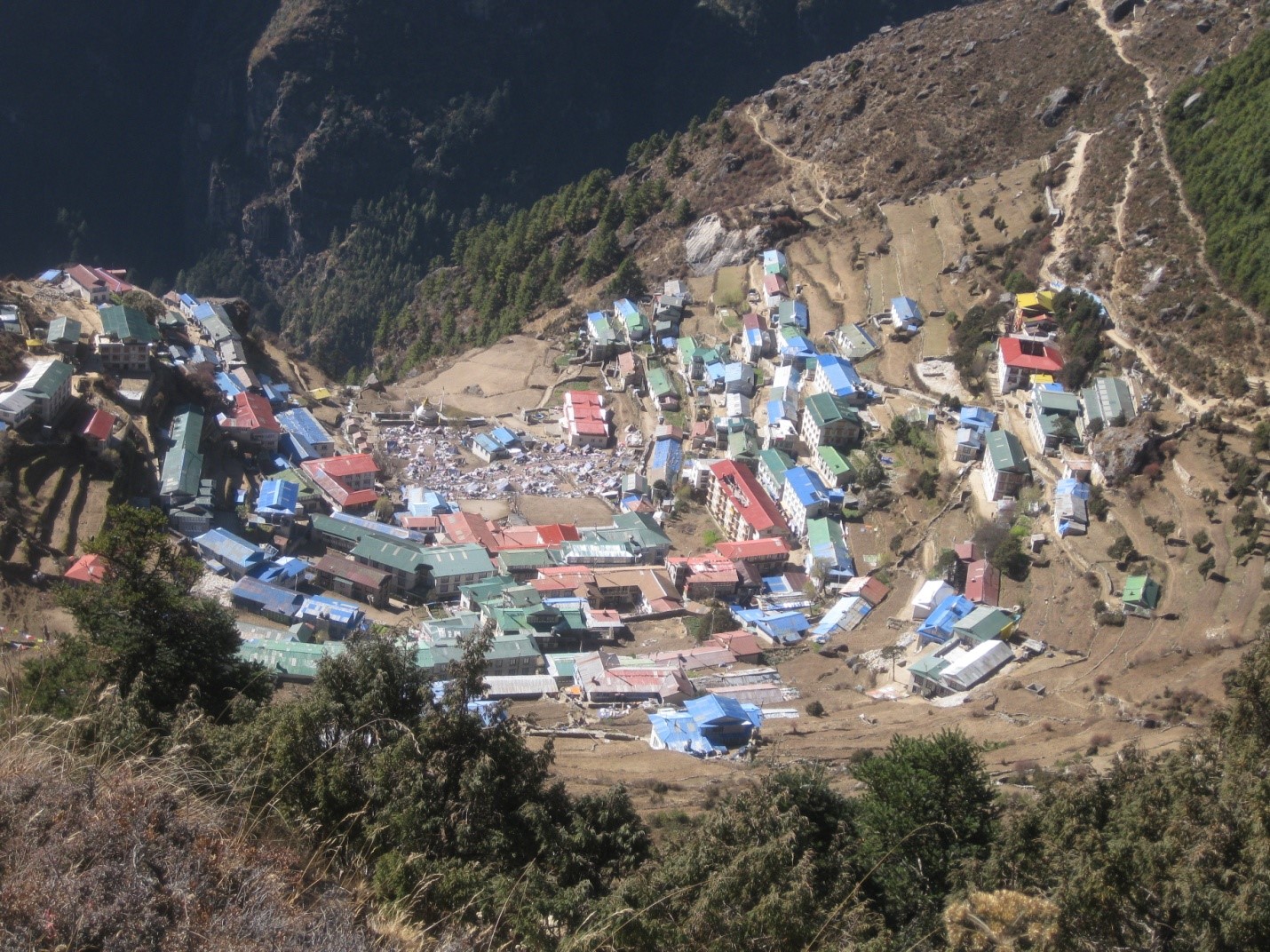 Everest Base Camp Trek is one of the most preferred treks in Nepal. Home to the world's tallest mountain and one of the oldest and largest Gompa -Tengboche monastery of Everest region, Everest Base Camp Trek is more than just a trek. Nothing beats trekking to the route of Everest Base Camp that takes you to the foot of Mount Everest at 5,364 m (17,598 ft).
Crossing through countless well-constructed suspension bridges draped with fluttering prayer flags, walking through many picturesque villages, prayer wheels, prayer stones (Mani walls), and prayer flags, you can see the heart of Khumbu- a hustling and bustling city with trekkers from all around the world-Namze Bazaar.
Aside from the awe-inspiring views of Mount Everest, you can have stunning views of Mt. Lhotse, Changri, Ama Dablam, and Nuptse. The infamous Sherpa culture and lifestyle of Sherpa people are intriguing which you can experience through the numerous monasteries, prayer stones (Mani walls), and gompa.
Talking about the Everest Base Camp Trek itineraries, they can be varying from 12 to 15 days. According to your physical fitness, you can choose a suitable itinerary for you but do not forget to choose the itinerary which allows you to have more acclimatization days. Because the trek involves trekking at a high altitude of 5000 meters, altitude sickness is the main threat to trekkers.
Lukla is the main trailhead for the epic Everest Bas Camp Trek. Landing at tiny Lukla airport is an adventure in itself one of kind to experience. You can feel the adrenaline rush while landing at Lukla airport.
It can be done all year round but the most favorable seasons are spring (March, April, and May) and autumn (September, October, and November). Expect heavy traffic jams on the trails during peak season.
Bonus tips: It is where the Kalapatther –a spectacular famous viewpoint of Mt. Everest is located. Hike to Kalapatther a hill above the Gorakshep and enjoy the crystal clear views of Mount Everest.
2. Annapurna Base Camp (ABC) Trek
The second most preferred trek in Nepal is the Annapurna Base Camp trek after the Everest Base Camp Trek (EBC). The trek to Annapurna Base Camp, at 4130 m (13,549 ft) height is simply awe-inspiring. It takes you to the tenth highest mountain peak in the world. Along with panoramic views of Mount Annapurna I, Annapurna II, Annapurna III, Dhaulagiri, and Machhapuchre (fishtail), you will get to see the numerous temples, monasteries, and shrines on this trek.
Not only do the trails run through the deep valleys of Annapurna regions that offer diverse landscapes, dense pine forest dotted with rhododendron flowers, terraced rice fields, and beautiful Gurung (one of Nepal's many indigenous communities) villages but the trail is also home to Annapurna Conservation Area.
Also known as the Annapurna Sanctuary Trek, this trek surely lured trekking enthusiasts with the most well-groomed itineraries among all the trekking routes in Nepal. It can be done comfortably in 12-15 days, but it can also be done in 10 days.
You can start your trek by fly into Pokhara which takes about 20-25 minutes or, within 7-8 hours of scenic drive from Kathmandu; you can reach the Pokhara- the second-largest city and the gateway to the Annapurna region. From here you can take another 45 minutes private Jeep ride to Nayapul.
Bonus Tips: You can choose to take a touristic route Ghorepani Poon hill trekking route to reach Annapurna Base Camp. It is the second most famous viewpoint in Nepal after Kalapatther. Here, you can find yourself surrounded by equally beautiful dozens of majestic Himalayas in Nepal, ready to greet you with unbelievable golden sunrise views.
3. Annapurna Circuit Trek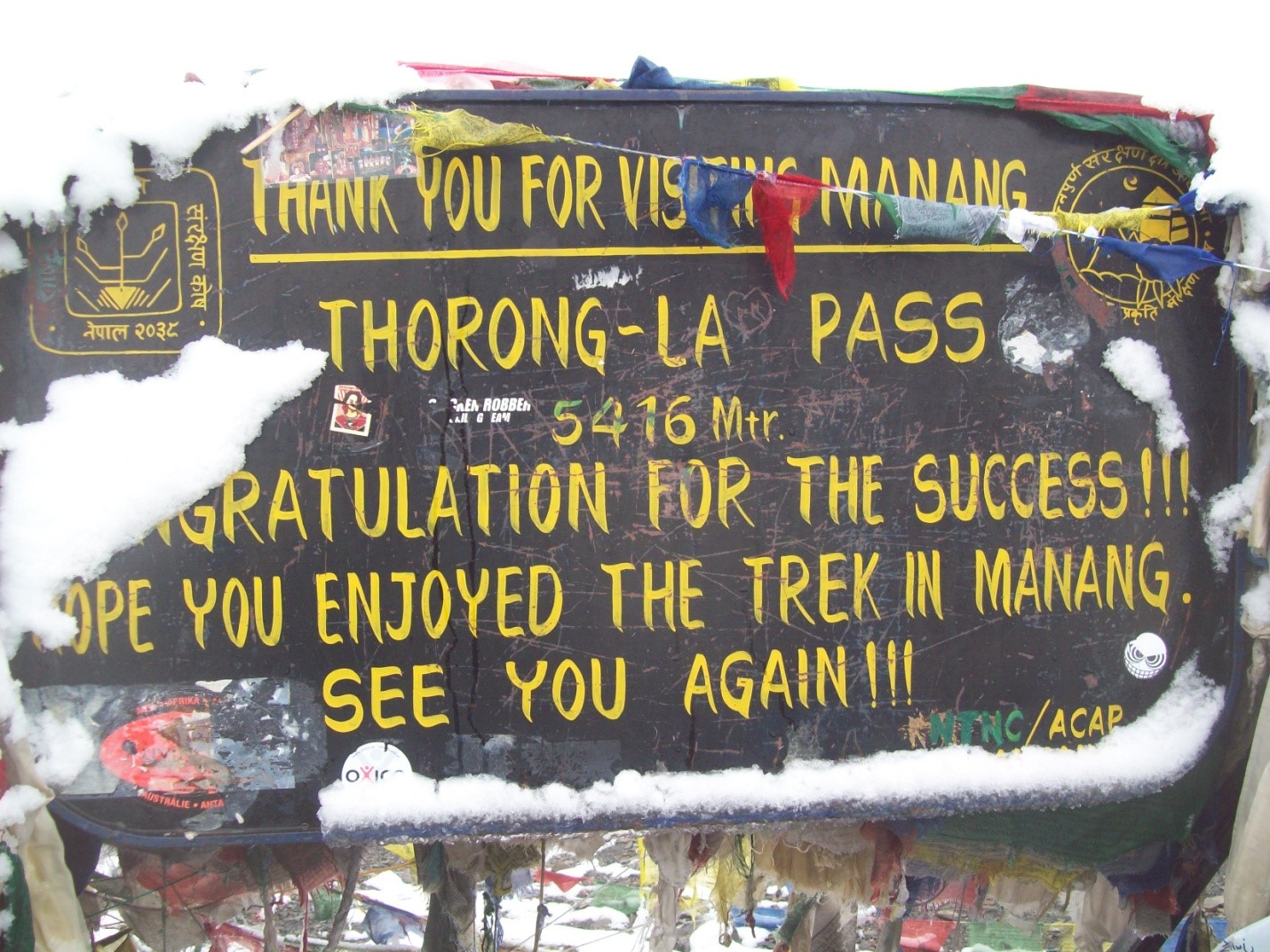 One of the most popular trekking regions, the Annapurna region offers the most in-demand Annapurna Circuit Trek in Nepal. The classic trek from the Annapurna region encircles the entire Annapurna massifs creating the circular path for its trekkers.
In this trek, aside from Annapurna massifs, protected by Annapurna Conservation Area, you can have stunning views of Mt. Machhapuchre (Fish Tail), Mt. Manaslu, Mt. Dhaulagiri, and Tukuche Peak.
Walking through the world's deepest Gorge Kaligandaki Gorge, and beautiful Manag Valley, Annapurna Circuit Trekking routes also offer to cross the highest pass at Thorong-La (5,416 m) marked by piles of stones and fluttering prayer flags. Likewise, the picturesque trekking trails lead you through the Muktinath Temple, beautiful Ghorepani, and a natural hot spring (Tatopani).
Pokhara is the ultimate gateway to the Annapurna region. If you are thinking of doing Annapurna Circuit Trek, book a flight to Pokhara from Kathmandu, or you can take a local bus from the new bus park or purano (old) Bus Park which takes you about 6-7 hours of drive.
Bonus Tips: Seeks blessings from Muktinath Temple- a sacred pilgrimage to both Hindus and Buddhist people. It is also known as the Muktichhetra "place of salvation" where you can take bath in 108 sprouts known as Mukti Dhara and wash away your all sins.
4. Langtang Valley Trek
Another popular trek in Nepal is Langtang Valley Trek. Diverse landscapes, beautiful meadow, old monasteries, chortens, prayer stones (Mani walls), and prayers wheel will introduce you to the Buddhist culture of Tamang and Sherpa.
The highlights of the trek include the ancient monastery of Kyanjin Gompa, situated near Tserko Ri. On top of that spectacular view from Dorje Lakpa, Langtang Ri, and Langtang Lirung will leave you speechless. Traversing through the Langtang National Park- home to abundant flora and fauna, red panda, Himalayan bears, deer, and pheasants, this trek will take you to the most beautiful place in Nepal. Also, known as the "valley of glaciers" Langtang valley has over 70 glacial lakes.
If you are ready to trek beautiful Langtang Valley, then the trek starts at Syabrubesi, which is the main trailhead in the Langtang region. It is an easily accessible trek from Kathmandu.
Bonus Tip: Add extra days to your trek and combine Langtang Valley Trek with nearby Tamang Heritage Trek. You can have a real taste of authentic Tamang culture and learn about the lifestyle of people living in remote parts of Nepal.
5. Ruby Valley Trek
Ruby Valley Trek is one of the best treks in Nepal which falls under the beautiful Ganesh Himal region. As the name suggests Ruby Valley is the hidden gem of Nepal. Lying in between the Langtang National Park and Manaslu Conservation Area, Ruby Valley Trek serves you the spectacular mountain views of Ganesh Himal, Langtang Himal, and Manaslu Himal.
Traversing through the stunning diverse landscapes, terrain rice fields, and green meadow, you can experience the rich culture of Tamang and Gurung people. This rewarding trek gives you the perfect opportunity to discover the rare beauty of abandoned ruby mines.
Like Langtang valley Trek, this trek also starts with a 7-8 hours drive to Syabru Besi from Kathmandu. From here, strolling from tea house to tea house of beautiful villages such as Ghatlang, Somdang, and Chalis Gaon, you will continue your trek to Ruby Valley.
The best time for this trek is spring (March to May) and autumn (September to October) for this trek.
6. Upper Mustang Trek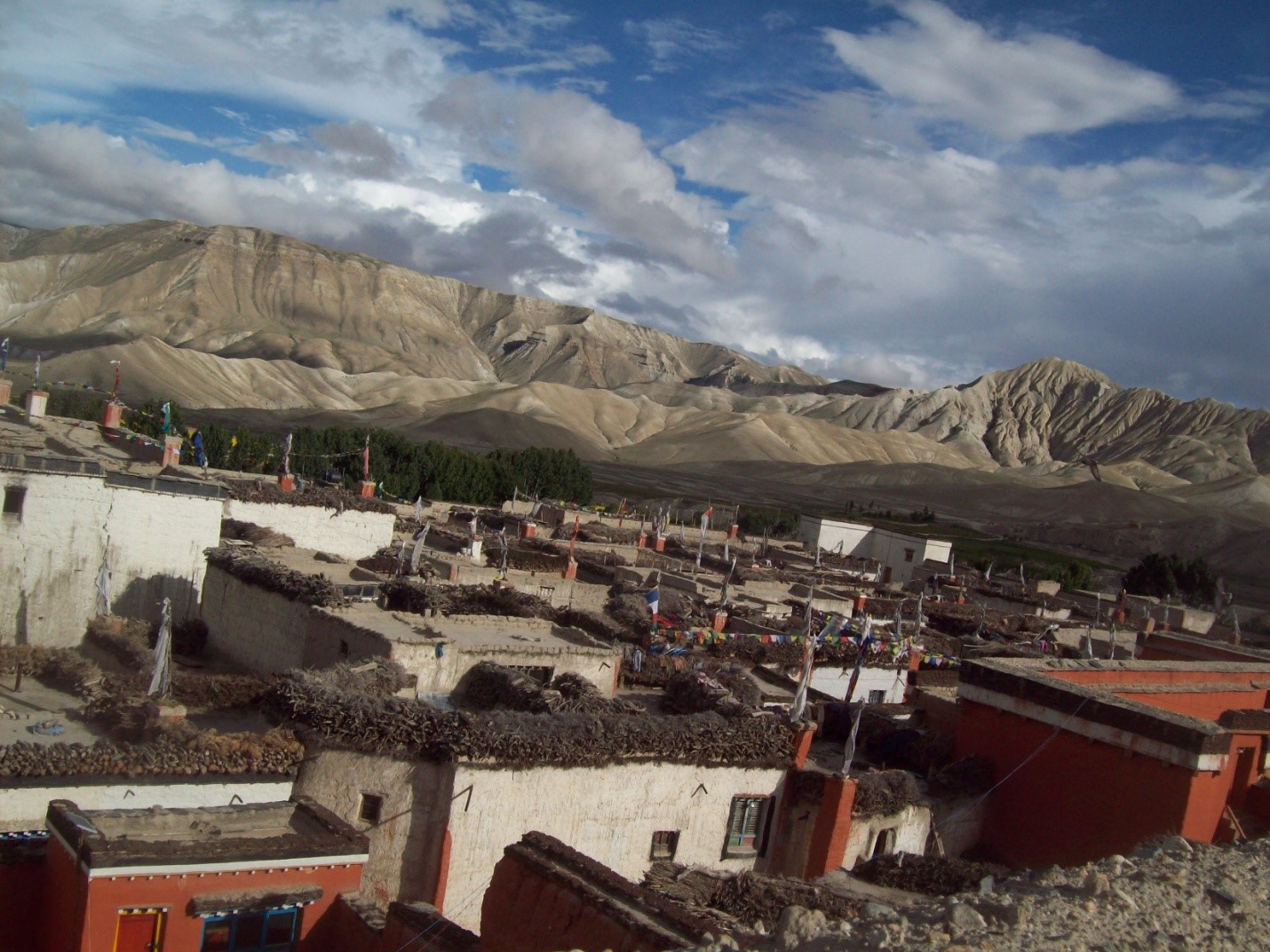 The forbidden Kingdom Of Nepal, Upper Mustang Trek is a trek to the Trans-Himalayan region of Nepal. It is a restricted area trekking, therefore; you need restricted area trekking permits to do this trek. The hidden kingdom offers its trekkers historical and religious monuments.
Not only that you have to pass through the Annapurna Conservation Area on the route of Upper Mustang Trek, which lets you enjoy the panoramic mountain range of Dhaulagiri (8,167 m), Annapurna I (8,091 m), and Manaslu Range (8,163 m).
Lies in the desert rain shadow area of the Himalayas; Upper Mustang is famous for many shades of brown and crumbling sandstone cliffs. Following the ancient salt caravan route, you can experience the Tibetan cultures and traditions in the ancient capital Lo-Manthang where you can explore the old king's palace, and the 200 years old monastery named Chode Lhakhang.
Upper Mustang Trek needs to take two connecting flights: Kathmandu to Pokhara flight which takes approximately 25 minutes and 20 minutes of Pokhara to Jomsom flight.
The best time for this trek is spring (March to May) and autumn (September to October) for this trek. As it is in a rain shadow area you can also trek during the monsoon season.
Bonus Tip:   Visit Upper Mustang in May to Celebrate Tiji  (Prayers for World Peace) Festival. It is a fascinating annual festival celebrated for whole days continuously.
7. Manaslu Circuit Trek
Manaslu Circuit Trek is another popular restricted area region trek in Nepal. The trek goes around the eighth highest mountain in the world-Mt. Manaslu. It is truly an epic journey in the Himalayas where you get to explore the raw Himalayas and untouched natural beauty.
The isolated trekking trails of Manaslu Circuit Trek will let you enjoy the mesmerizing views of Manaslu (8,156 m), Cheo Himal (6,820 m), Himlung Himal (7,140 m), Kang Guru, and Annapurna II. The highest point of the trek is Larkya La Pass (5,167 m). It is a rewarding trek that takes you to the land of monasteries and hamlets called Tsum valley surrounded by stunning Ganesh Himal, Sringi Himal, and Boudha Himal Ranges.
This trek is perfect for the cultural immersion trek where you can have a cultural interaction with the friendliest people. Through the ancient old monasteries like Rachen Gompa and Mu Gompa, you can have a deeper knowledge of the rich history and cultures of people.
Manaslu Circuit Trek starts with a scenic drive to Besisahar. It can be done all year round but spring (March to May), and autumn (September to November) are the peak seasons for trekking in Nepal.
The Takeaway
Unarguably, Nepal is one of the most well-known destinations for mountaineering and trekking. There is no other country like Nepal that serves diverse trekking trails which presents equally stunning mesmerizing mountain peaks, pristine lakes settle in mountaintops, vibrant culture, charming villages, and chaotic small towns.
There are other tons of famous treks in Nepal that deserve equal attention and rightful glory. Truly speaking, it is quite impossible to include all the trekking routes in Nepal. You can comment down below and let me know your favorite trek, you have done in Nepal.
Read Also:
Authors Bio: Sushila Thapa Magar, I am working as a full-time content writer at Nepal Adventure Team. I am an obsessed reader and writer by choice, and a traveler by heart.